MOST WANTED
The Silky Smooth Primer You Need Right Now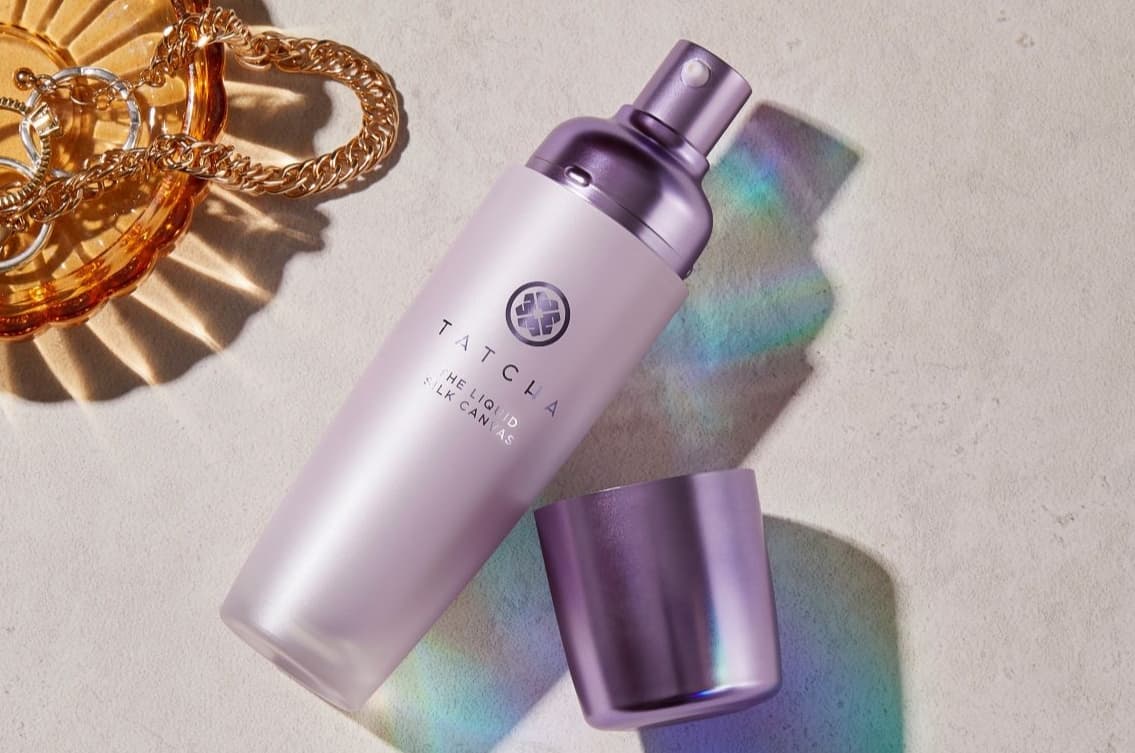 I can't get enough of Tatcha's range – particularly the hydrating
Dewy Skin Cream
, bestselling
Rice Polish Deep
and soothing
Kissu Lip Mask
(to name a few). However, there are two products that I've somehow shockingly overlooked until now – the Tatcha Silk Canvas primer and its latter counterpart, the
Tatcha Liquid Silk Canvas primer
. Both of these Tatcha primers have been formulated with silk extracts and promise skin protection as well as a flawless, long-lasting canvas for your makeup. So, as someone who is always on the hunt for a do-it-all primer, I couldn't resist giving the Liquid Silk Canvas a try…
TOP LINE ON TATCHA LIQUID SILK CANVAS
As a devotee to the brand, the chance of adding a Tatcha primer to my beauty routine is a dream come true. After all, if there was anyone who could help me end my quest for the perfect primer (and perhaps even make me excited about primer?!) it would be this skin-loving brand. Introducing the Liquid Silk Canvas, an oil-free formula infused with three different kinds of Japanese silk extracts. As the names indicate, the main difference between the Tatcha Liquid Silk Canvas and original (and worshipped) Tatcha Silk Canvas is the packaging and texture. The Silk Canvas is a rich, velvety pressed balm that comes with a disk for you to extract it with ease, while the Liquid Silk Canvas comes with a pump applicator. The latter is likely to be an easier option for those of us who find ourselves 'on the go' (as in, running to get out of the door once we've finished our 20-step skincare and makeup routines).
EVERYTHING YOU NEED TO KNOW ABOUT TATCHA LIQUID SILK CANVAS
Tatcha states that both the Silk Canvas and Liquid Silk Canvas are suitable for all skin types, and that it's just down to personal preference when it comes to choosing a texture of one's liking. I personally love a primer that feels weightless, especially considering how many skincare products it's being layered over. As for the Liquid Silk Canvas, it's designed to hydrate, protect the complexion from environmental stressors, and diminish the appearance of fine lines and pores (yes please).
The first thing that struck me was its texture – it wasn't quite as light as I expected, but nevertheless did feel lovely and left a nice sheen to the skin. It's worth noting that it's very lightly fragranced (which I personally love). I chose to use about 1 pump and a little bit extra, although 1 pump will probably be enough for most users. Essentially, it made my complexion look good (with a hint of a glow) before makeup – great starting point. I waited about 1 minute to apply my go-to foundation and the rest of my makeup, and whilst I can't say I could see a significant difference in terms of how my makeup looked right there and then, it did seem to help my made-up face still look good towards the end of the day (something that can be very tricky with my skin's oily tendencies).
THE VERDICT ON THE TATCHA LIQUID CANVAS SILK REVIEW
In all honesty, I find primers, the OG skincare-makeup hybrid, to be one of the trickiest beauty products to shop. The premise of a primer is simple, right? To create a protective barrier between your skin and makeup that helps makeup look better and last longer. This, however, never feels quite as straightforward in practice. Given that it needs to sit perfectly on top of one's SPF, moisturiser and other skincare without peeling, feeling too heavy and clogging our pores, it can feel like it's simply asking for too much. Luckily, Tatcha really has come to the rescue on this occasion – this primer doesn't peel and is so far getting on well with my favourite foundation. I only have two very small qualms – I would love for it to be even lighter (but that's because a lot of my skincare is already very rich in texture), and it doesn't seem to work quite as well with some of my other foundations (and this is to be expected as primer and foundation combos can vary so much from formula to formula). Overall though, we have a winner.
MORE ON TATCHA
If you do happen to love rich textures, you may want to try the original Tatcha Silk Canvas. And, if you're yet to experience the overall magic that is Tatcha, what are you waiting for? This skincare brand knows exactly how to elevate your makeup routine. Set your makeup – and refresh your face throughout the day – with the Tatcha Luminous Dewy Skin Mist, £ 48,00. There's also the Tatcha The Camellia Cleansing Oil, £ 48,00, which makes makeup removing time an actual joy. Or maybe treat your pout to a little pot of gold with the luscious Tatcha Camellia Gold Spun Lip Balm, £ 28,00 – it sits perfectly under many a lip product.
Read More
• Tatcha Dewy Skin Cream Review
• Tatcha The Rice Polish Deep Review • Ultra Violette Daydream Screen SPF 50 Review
• The Ordinary Multi Peptide Lash and Brow Serum Review • Olaplex No8 Intense Moisture Mask Review