IN FOCUS
All About the Menopause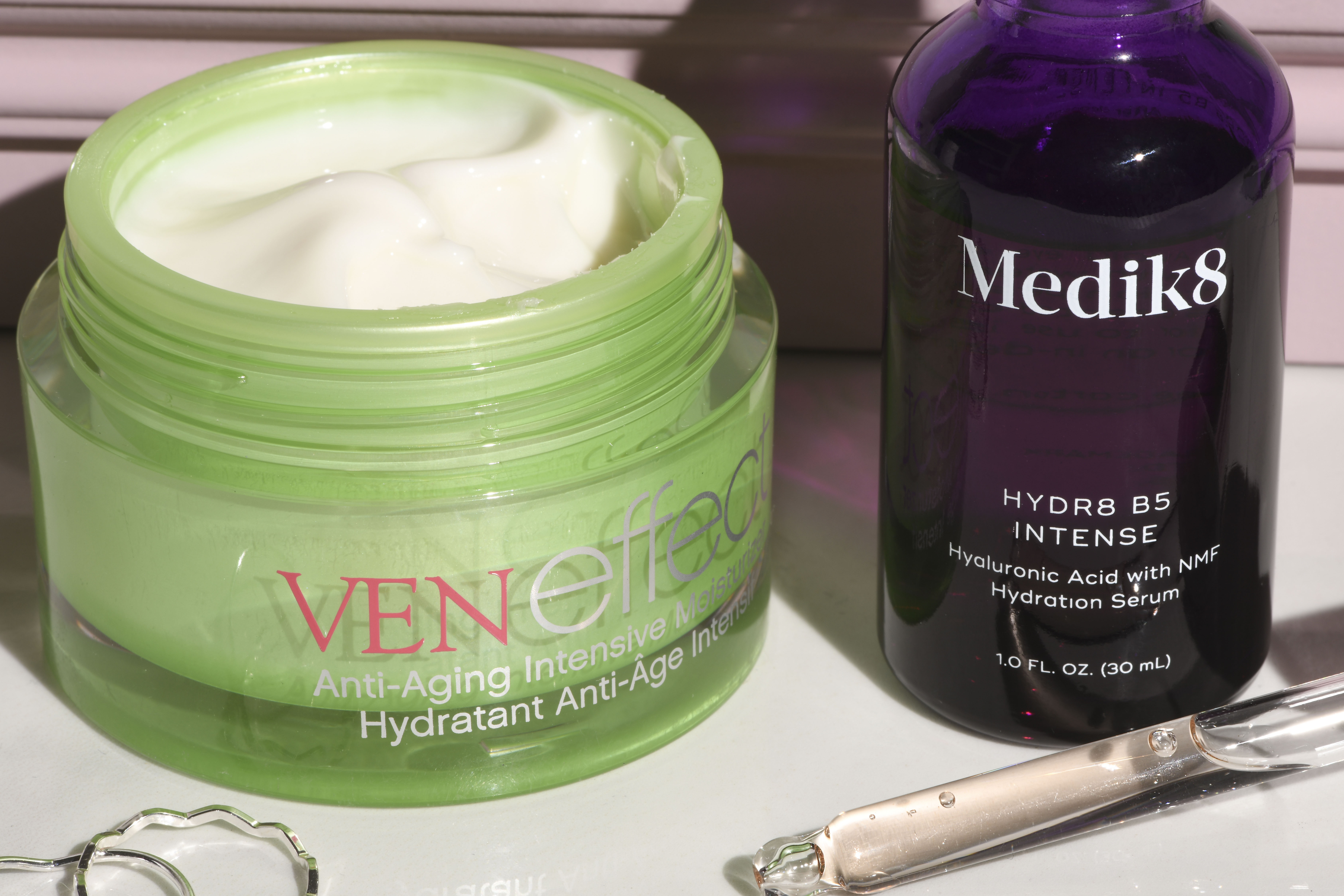 At long last it feels as though the menopause, something that every woman will go through at some point in their lives, is finally receiving the attention it deserves. Celebrities like Lisa Snowdon, Meg Mathews and Mariella Frostrup are talking frankly about their own experiences. In the case of Meg Mathews, launching a website and becoming an advocate for helping others through the menopause, while Lisa Snowdon has a podcast dedicated to the topic. Menopause can affect all areas of your beauty and wellness routine, so we've compiled a comprehensive guide...
WHAT IS THE MENOPAUSE?
Hormones rule so many aspects of our lives, from moods to breakouts, so it's no surprise that when they dramatically drop off as the menopausal stage of our lives begin, we see a lot of changes. The menopause is a gradual process as the body produces less and less estrogen, and usually begins between the ages of 45 and 55. Hot flushes are just one of the 34 symptoms of the menopause, and it's possible to get any combination from one or two to all 34.
MENOPAUSAL SKIN
"Pre-and-post menopausal skin requires special care that targets improving elasticity and reduces redness and dullness," explains Dr Rebecca Booth, gynecologist and co-founder of VENeffect. "When our ovaries 'retire' from the call for fertility, there is a corresponding retirement of estrogen. This results in a number of skin challenges including both blemishes and ageing signs."
Primarily, menopause affects skin in four major ways. First, loss of volume; the dramatic decrease in our estrogen levels means that our skin becomes thinner and we stop producing collagen – the protein that gives structure and plumpness to our skin. Next, there's a significant decrease in the amount of hyaluronic acid that we produce which leads to skin feeling dry and dull. Plus, the ceramides that help build the skin barrier are also compromised by the decrease in estrogen levels, meaning skin is more prone to redness, blemishes and sensitivity. As our hormones struggle to find a new balance skin may also breakout or we may even experience acne.
PRODUCTS FOR MENOPAUSAL SKIN
"Phytoestrogens, or plant estrogens, have been shown to offer many of the same benefits of estrogen" explains Rebecca, so try cleansing with Veneffect Pore Minimizing Cleanser, £48.00, which contains phytoestrogens to help boost luminosity, while willow bark helps to keep blemishes at bay. Fight dehydration every morning and evening by replacing lost hyaluronic acid. The wonder ingredient that holds 1000 times its weight in water is readily available within skincare – we like The Ordinary Hyaluronic Acid 2% + B5, £7.90 and Medik8 Hydr8 B5 Intense, £20.00. Follow with a rich facial oil like Eve Lom Radiance Face Oil, £60.00 which contains omega-rich, nourishing and calming hemp seed oil.
Retinol is known to help your skin boost its own production of collagen and ceramides too, but in the past, it has been unsuitable for sensitive skin. The latest formulas, however, are blended with soothing ingredients, and encapsulated to avoid causing any irritation, try Dr. Dennis Gross Advanced Retinol + Ferulic Texture Renewal Serum, £76.00 and apply twice a week to begin. Take a tip from Meg Mathews who confesses to carrying moisturiser around with her all day long and applying when needed. We like to keep the travel-friendly La Mer The Moisturizing Cool Gel Cream, £130.00 to hand for top ups throughout the day.
Hot flushes are a symptom that many women report, and as Rebecca explains "mist is your friend after 50! Mist is an easy way to gain luminosity and cool the skin, offsetting redness, flushes and providing a calming effect, it's why we created our water-based Veneffect Skin Calming Mist, £48.00."
MENOPAUSE AND YOUR HAIR
When estrogen levels start to decrease, there's usually an effect on your hair. Reduced estrogen causes the growth cycle of hair to shorten, meaning that your hair sheds earlier, so it simply can't grow as long anymore. Another hormone, androgens actually increases production during the menopause and can cause the hair on the scalp to thin, reducing both the length and diameter of each hair – which leads to a loss of volume and overall hair thickness. Your hair may also feel brittle and dry thanks to night sweats and hot flushes, which zap the body of essential water.
PRODUCTS FOR MENOPAUSAL HAIR
Start by keeping your scalp in good condition, Rebecca Booth recommends "washing hair less often, as a natural decrease in sebum (another result of changing hormones) will result in a dryer scalp." We suggest a weekly application of Oribe Serene Scalp Soothing Leave-On Treatment, £44.50, which soothes itchiness, hydrates and gently exfoliates, helping to keep dandruff at bay. To help boost volume and thickness without depleting locks we recommend investing in Olaplex, in particular .
MENOPAUSAL EFFECTS ON YOUR BODY
"In nearly every part of your body a receptor releases estrogen," explains Meg, so when this drops off, often very suddenly it can cause a host of surprising symptoms including dry, itchy skin, brittle nails and sleep problems. Rebecca recommends "cutting back on carbs, especially liquid carbs such as sugar laden beverages and energy drinks and increasing phytoestrogens and probiotics in your diet to help offset hormonal decline."
MENOPAUSE AND YOUR MIND
Many of the symptoms associated with menopause affect the mind, including anxiety, foggy brain and memory loss. Don't suffer in silence, if you're feeling low, head to your GP and ask for a referral to a Menopause Clinic – of which there are 27 in the UK – all offering expert advice and medicine to help. Take a tip from Meg and "print off a list of symptoms and tick all those that you're suffering from to take to your GP, this will make it really easy for your GP to diagnose you quickly and correctly."