IN FOCUS
How To Give Yourself A Gua Sha Facial At Home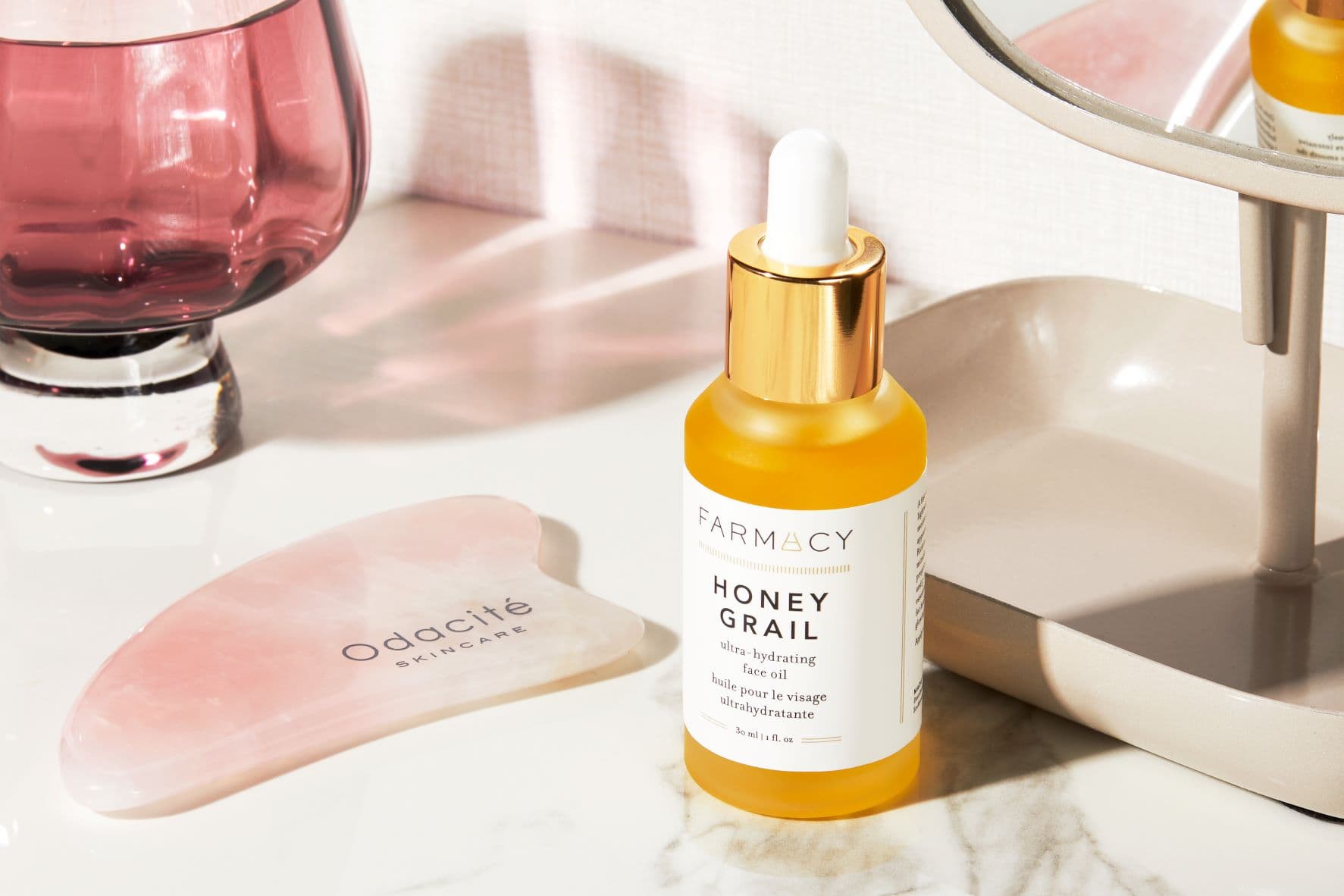 Gua Sha (pronounced gwah shah) has received a lot of attention of late. While the technique has only gone mainstream in the West in the last four years or so, it has been used in Chinese medicine for centuries. Over the past few years, plenty of beauty brands have added Gua Sha tools, or boards, to their product line-up as the technique is known to help boost your circulation and offer a lifted effect.
We spoke to Joanna Ellner, a classically trained, board certified acupuncturist who has a degree in Chinese medicine, to find out how to use a Gua Sha tool, including how to hold it and how often you should Gua Sha. Read on to discover our guide to Gua Sha…
What Does Gua Sha Mean?
According to Chinese medicine, qi is the energy that flows through your body. Gua Sha comes from the Chinese word for scraping and has been used as a traditional healing technique across China and Southeast Asia for centuries. Gua translates as 'scrape' and Sha means 'petechiae' which are flat, red spots. The practice uses a tool to apply pressure and remove any blockages that prevent your qi from flowing freely.
What Are The Benefits Of Gua Sha?
A study in 2007 found that Gua Sha boosts microcirculation, while other benefits are said to include easing inflammation and helping with pain and tension. Gua Sha on your face helps to encourage lymphatic drainage, which in turn helps to reduce puffiness, increase radiance and provide a more lifted, sculpted look.
Why Your Gua Sha Tool Should Be Warm
"Always warm your Gua Sha tool before using them," Joanna tells us. "Some people keep them in the fridge, but this goes against the central principles of Gua Sha." Warmth is central to Chinese medicine because warmth promotes flow. "Flow of nutrients, flow of qi and flow of blood," explains Joanna. You can warm your Gua Sha tool up between your palms or run it under the hot water tap for a few minutes to add gentle warmth. "We're trying to boost the microcirculation and blood flow to help nourish the muscles and fascia, and you can't do that with coldness," says Joanna.
How To Hold A Gua Sha Tool
"Hold your Gua Sha tool in your dominant hand and use your other hand to lift the section of the skin you're focusing on," Joanna directs. "This will help give you a sense of control and also regulates the movement and flow, preventing you from dragging or pressing the skin. Gua Sha for your face should be gentle, so much so, it should feel almost hypnotic." To maximise the benefits, hold your Gua Sha tool halfway down and ensure as much of the board is in contact with your skin as possible.
The angle you hold your Gua Sha tool matters, so does the pressure you apply. "I see a lot of people with the greatest intentions using the Gua Sha at a 90-degree angle and being quite firm with it to the point that it looks quite painful," says Joanna. "The best way to use your Gua Sha is with upward movements at a 45-degree angle, so it's almost sitting parallel to the skin. This way you've got the perfect contact for lifting and sculpting, and you're not dragging or denting your skin."
How To Use A Gua Sha Tool
"I always recommend doing one side of your face first, so you can compare the other side because it really is amazing the level of lift and de-puffing that Gua Sha can do," says Joanna. "I like to start at the side of my chin and lift across to the jawline as far as my ear. Then I follow under the apple of my cheeks and up to my cheekbone. Essentially, I start at the bottom of my face and work up to my forehead."
Gua Sha for the face is all about lifting up. "If you're using Gua Sha on your body, it's more likely for medicine and you're trying to release trapped pathogens, so the movement is downwards," says Joanna. "On the face, we're always trying to nourish, lift and enhance."
You can Gua Sha on freshly cleansed skin, but applying a lightweight oil, such as Farmacy Beauty Honey Grail Hydrating Face Oil, £44.00 or REOME Active Recovery Broth, can help with the flow as well as nourish your skin. The latter is Joanna's debut formulation which she has created in line with traditional Chinese medicine practices using the latest, most innovative scientific ingredients. It's a lightweight yet incredibly nourishing serum-oil hybrid that helps to strengthen your skin's barrier.
How Often Should You Gua Sha?
As with all beauty and wellbeing techniques, consistency is key. While you will notice immediate results, including a more lifted, radiant complexion, you need to incorporate it into your routine. "Do it every day if you can. It's better to do it for three or four minutes every day rather than 10 minutes per week," says Joanna.
What Are The Best Gua Sha Tools?
From rose quartz and jade to stainless steel, Gua Sha tools come in all shapes and sizes these days. Joanna buys the tools she uses in her treatments from a certified acupuncture practitioner and recommends doing your homework before investing. In terms of which material to opt for, "bian stone, nephrite and jade are three precious stones that have relevance in Chinese Medicine and acuptuncture, and all make good Gua Sha boards," says Joanna. In fact, bian stone was first used as an acupuncture needle thousands of years ago.
The weight of a Gua Sha tool can make a difference, according to Joanna: "Bian stone has a heaviness to it that lends itself to Gua Sha. For the face, I find silver, stone and stainless steel are too hard, while resin and plastic are too lightweight and don't have enough presence in your hand."
Does Gua Sha Hurt?
No, Gua Sha on your face should not hurt or leave any bruising. If it does, you're applying too much pressure. "This is a practice that should take you out of your mind and into your body. It should feel really good and should allow you to get into a flow that puts you almost into a mediative state. Be gentle with your skin," says Joanna.
Read More
• How To Detox Your Skin
• A Simple Skincare Routine For Beginners • Best Winter Face Creams
• What Is Double Cleansing?