IN FOCUS
Should I Use Chemical Or Physical SPF?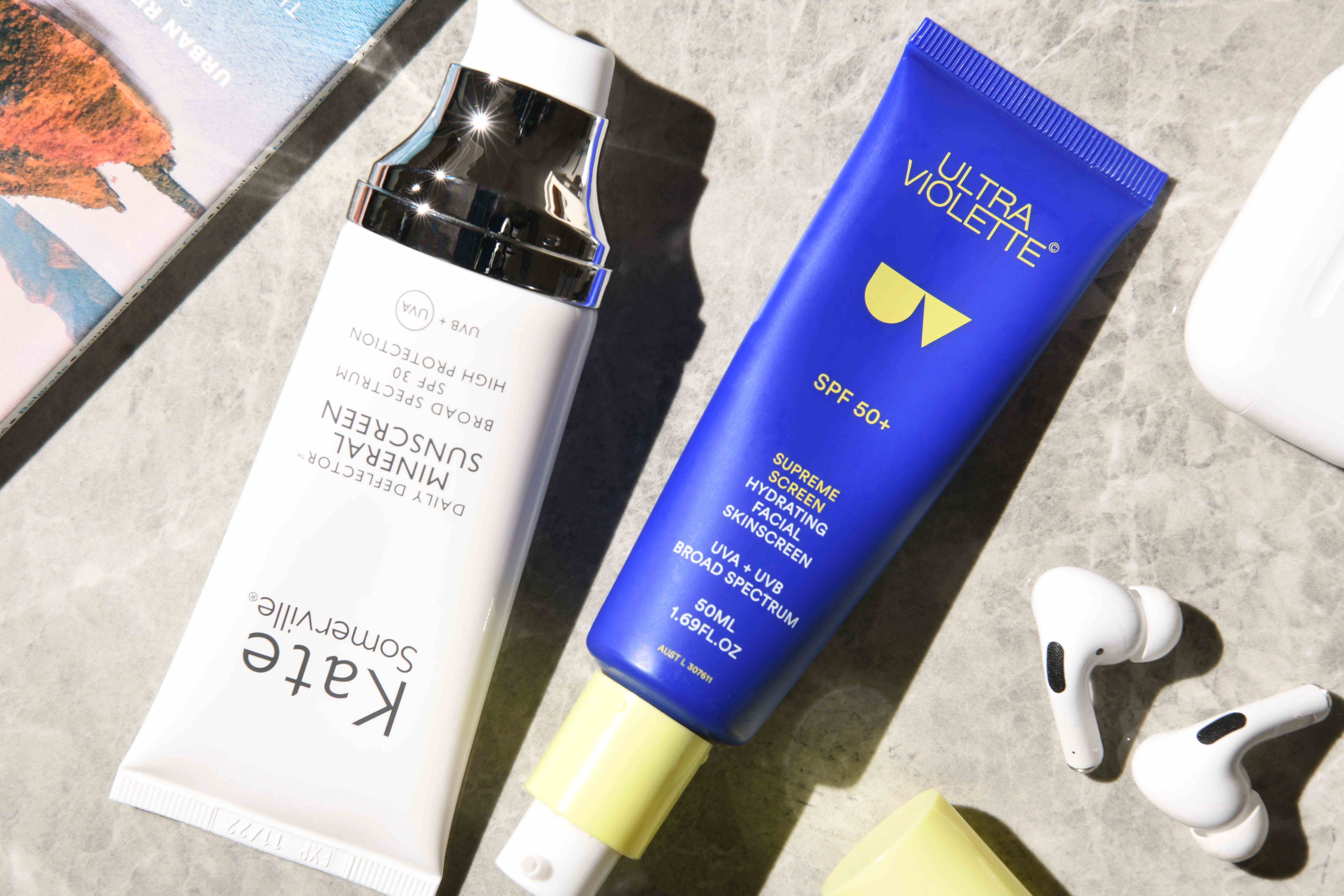 Choosing a sunscreen can be confusing but, since it's the most important skincare step, it's worth taking a few minutes to get clued up. We asked several experts about the difference between a chemical and physical SPF…
What Is A Chemical Sunscreen?
"Chemical SPFs use active ingredients which are designed to absorb and dissipate UVA and UVB rays by converting them to heat," explains Coola's education marketing manager, Kristine Guanzon. Make sure you apply your chemical sunscreen at least 30 minutes before sun exposure so it can fully absorb into your skin. "The word chemical can be unhelpful at times as it does have negative connotations but you shouldn't be put off by this as everything is a chemical - including water!" says Natalie Fisher, dermatology nurse specialist.
What Is A Physical (Or Mineral) SPF?
Physical sunscreens are commonly referred to as 'mineral' due to the ingredients they are formulated with. "A mineral SPF usually contains titanium oxide or zinc oxide to reflect and absorb UV radiation from the sun," says consultant dermatologist, Anjali Mahto. "Physical sunscreens sit on the skin's surface and act like a shield," adds consultant dermatologist and brand founder, Dr. Dennis Gross. Unlike chemical sunscreens, mineral formulas are effective right away so once it's on, you're good to go.
What Is The Difference Between Chemical And Physical SPFs?
The main difference is the ingredients and how they work as we've explained, however their textures and which skin types they suit best are slightly different. "Chemical sunscreens are often easier to formulate in higher SPFs and cannot be seen on the skin when applied," says consultant dermalogist and brand founder, Dr Howard Murad. The fact they are usually so undetectable on your skin is why chemical SPFs are favoured.
"Traditionally mineral sunscreens left a white cast on the skin, but a lot are now formulated in a way that makes them feel and look less heavy and white," adds Dr Murad. Some can still appear slightly white initially, but this soon vanishes. One advantage of whiter formulas is that you can see exactly where you are applying it, so you're less likely to miss patches.
"Some skin types can have a reaction to, or be irritated by some chemical filters and may opt for mineral sun protection instead," says consultant dermatologist, Dr. Justine Kluk. "Those with sensitive skin or inflammatory conditions (such as rosacea or eczema), often find that mineral formulas are better tolerated," she adds. That being said, many chemical sunscreens have been expertly formulated to suit even the most sensitive of skin, so unless it is an allergic reaction to a specific ingredient, most should be suitable for all to use.
How Should I Decide Which Is Best For Me?
"One is not better than the other and it largely comes down to personal preference," says Dr Anjali. Natalie agrees and goes on to say, "the best sunscreen is the one that you will use. If you don't like it, you won't use it." Much like any other skincare product, it's about seeing what suits your skin type. Whatever you decide, be sure to look for one with at least an SPF of 30 or above and one which have protection against both UVA and UVB rays.