MOST WANTED
Here's Everything You Need To Know About Drunk Elephant's B-Goldi Drops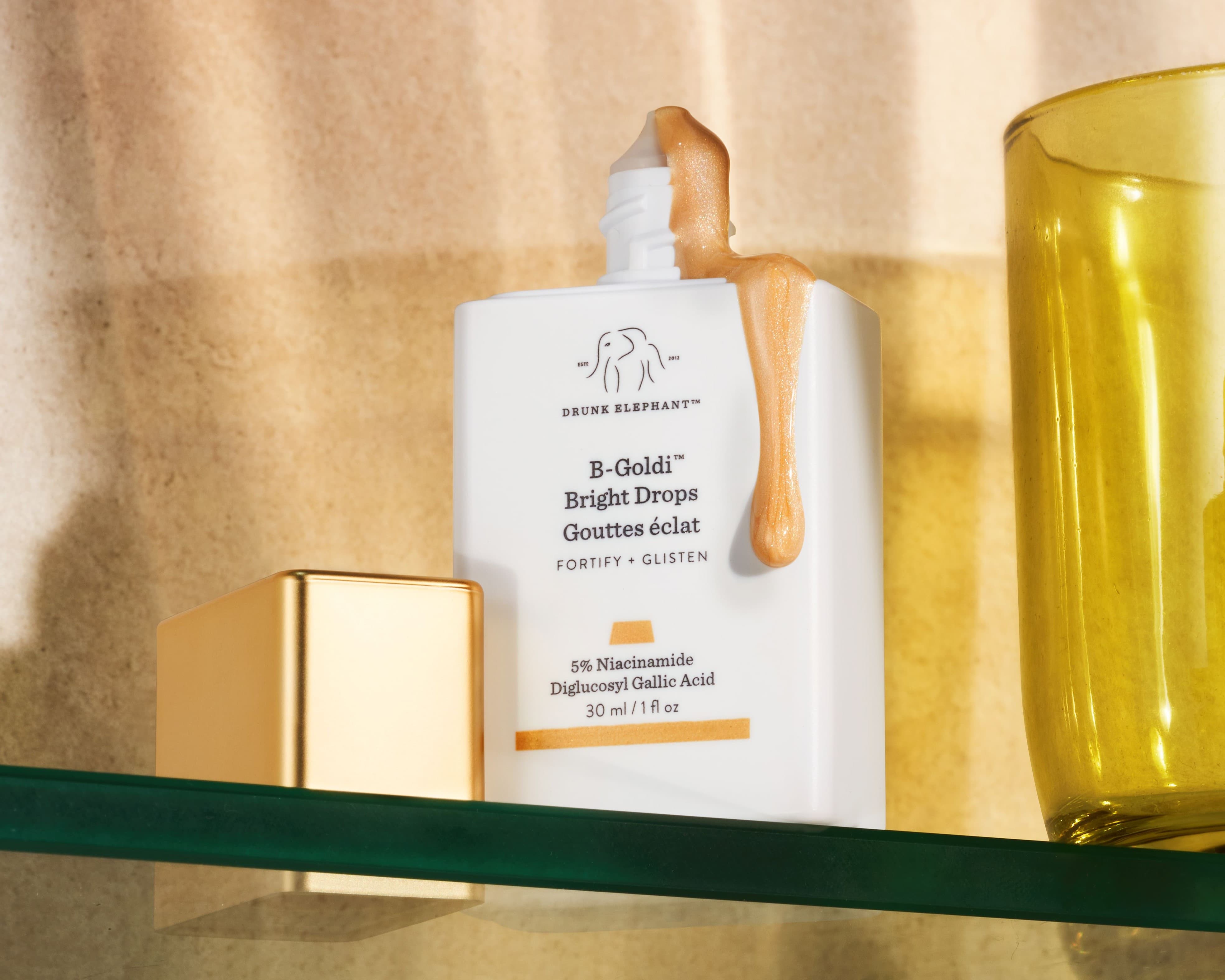 To say there is some hype around
Drunk Elephant D-Bronzi Anti-Pollution Drops
would be an understatement. For the past year, Drunk Elephant's bronzing drops have come back into stock for a hot minute and almost instantly sold out. It's easily one of, if not the, most in-demand product at Space NK. The question on everyone's lips in the office is whether the new and much-anticipated Drunk Elephant B-Goldi Bright Drops be equally as coveted?
That's right, in case you haven't heard,
Drunk Elephant
has added another skincare-makeup hybrid to its collection alongside the bronzing drops and liquid blush.
Drunk Elephant B-Goldi Drops
are all about brightening your skin instantly and if the reviews on
TikTok
are anything to go by, they need be on your beauty wishlist.
BeautyTokkers are going wild for the new launch and #bgoldi has already amassed 22.4 million views on the platform. Unsurprisingly, there are lots of videos comparing B-Goldi to Drunk Elephant's bronzing drops, as well as showcasing how to use the brightening drops.
We managed to get our hands on a sample ahead of Drunk Elephant B-Goldi arriving in the UK and we asked three Space NK team members to try the illuminating drops. Here is everything you need to know about Drunk Elephant's latest product…
Key Benefits Of Drunk Elephant B-Goldi Drops
• Non sparkly or glittery drops that help to brighten your skin instantly
• 5% niacinamide helps to refine pores and strengthen your skin barrier • The formula is free of essential oils, silicones and fragrance
• Can be worn alone or mixed into your moisturiser or foundation • B-Goldi can also be used on your chest, legs and anywhere else you want to glow
What's The Difference Between Drunk Elephant D-Bronzi and B-Goldi?
Both B-Goldi and D-Bronzi can be mixed with any Drunk Elephant serum, oil or moisturiser and they can be used on your face and body. The main difference between Drunk Elephant D-Bronzi Drops and the latest launch is the former warms up your skin with a gorgeous, bronzed glow, while Drunk Elephant B-Goldi Bright Drops, £33.00 is all about brightening your complexion with a subtle pearlescent glow. If you want the best of both worlds, you can mix the two together.
How Do You Use Drunk Elephant B-Goldi Bright Drops?
Just like D-Bronzi and O-Bloos drops, you can mix Drunk Elephant B-Goldi Drops into your serum or face cream. If you use Drunk Elephant Protini Polypeptide Cream, £61.00, you can mix a drop or two onto the pump, as the photo shows below.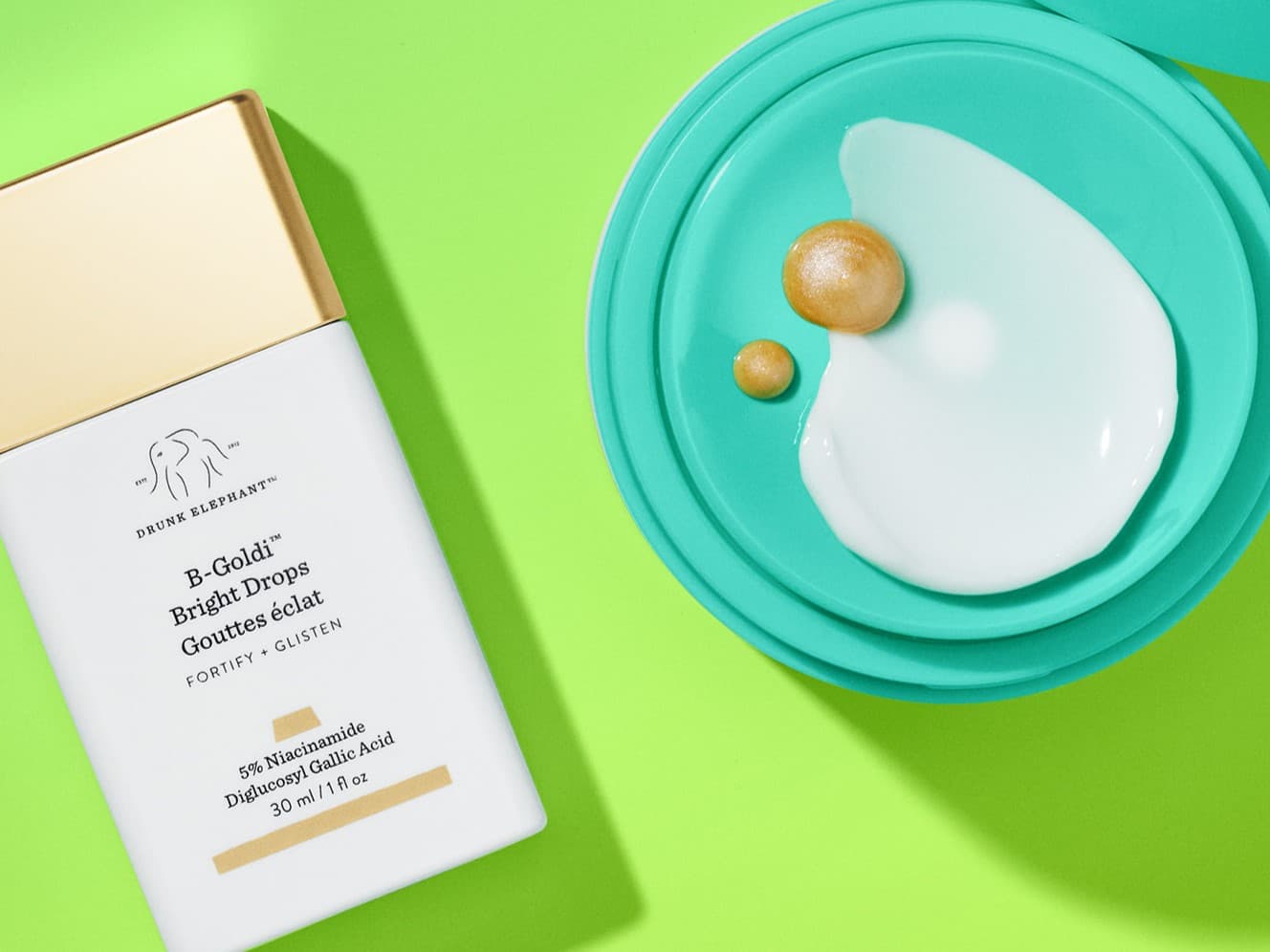 You can also add a couple of drops into your foundation or tinted moisturiser to give your base a boost of radiance. We've seen a lot of TikTokkers apply a drop directly onto their cheekbones like you would with a typical highlighter too.
Keep reading to see how Space NK's senior marketing manager Eleanor Middleton, our HR administrator Tanya Chikanda and our senior buyer Emily Montila used Drunk Elephant B-Goldi.
Eleanor's Drunk Elephant B-Goldi Drops Review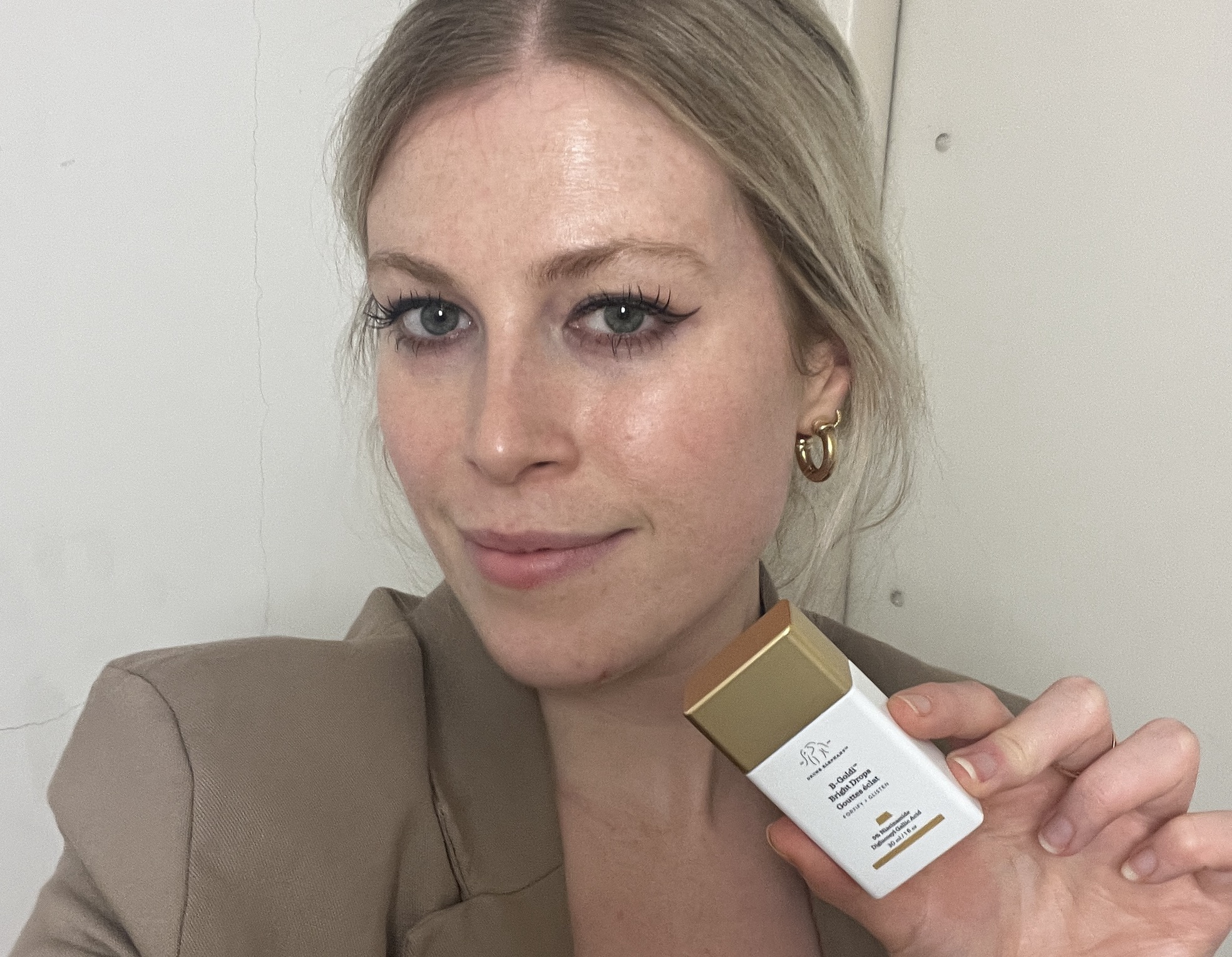 Having tried D-Bronzi before (Alix Earle made me do it!) and been slightly underwhelmed, I was intrigued to see if B-Goldi was for me. Perhaps because I'm quite fair, Drunk Elephant's bronzing drops felt a bit too intense, especially when I then put a light foundation over the top.
Texture-wise B-Goldi is very similar to D-Bronzi, but in terms of colour, it's a lot lighter and more golden (as the name suggests). You can immediately see the luminescence in B-Goldi, it almost has a pearly finish which I really liked. I also felt like I could be more liberal with my dose without worrying that my face and neck would be different colours.
I used the drops as a highlighter and patted onto the high points of my cheeks, cupid's bow and the bridge of my nose to add luminosity. These drops were super easy to use, and I enjoyed the subtlety of the results. You can see the before and after photos below.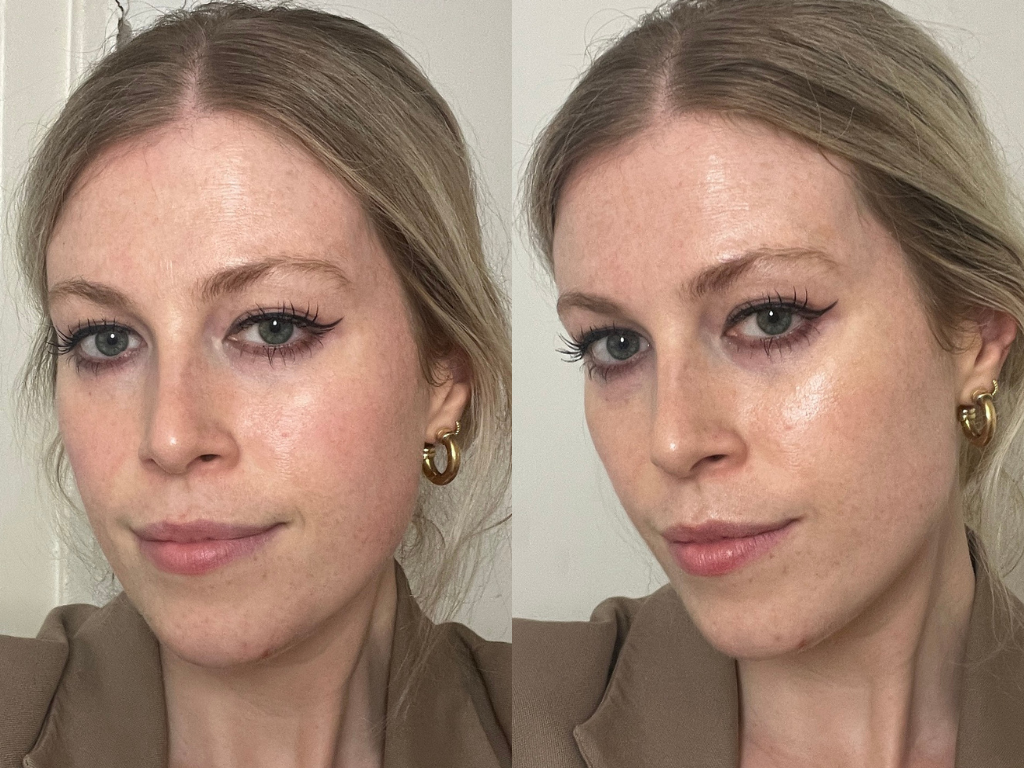 Having used B-Goldi directly on my skin, I'm keen to experiment with mixing the drops with my moisturiser as the texture dried down a bit after a while. I feel like the hydration of a face cream would dial up the plump, glowy effect. With this in mind, I will definitely be buying Drunk Elephant B-Goldi Bright Drops, £33.00 now they're available in the UK as I can see them being a part of my everyday routine in the way that I never quite did with D-Bronzi.
Tanya's Drunk Elephant B-Goldi Drops Review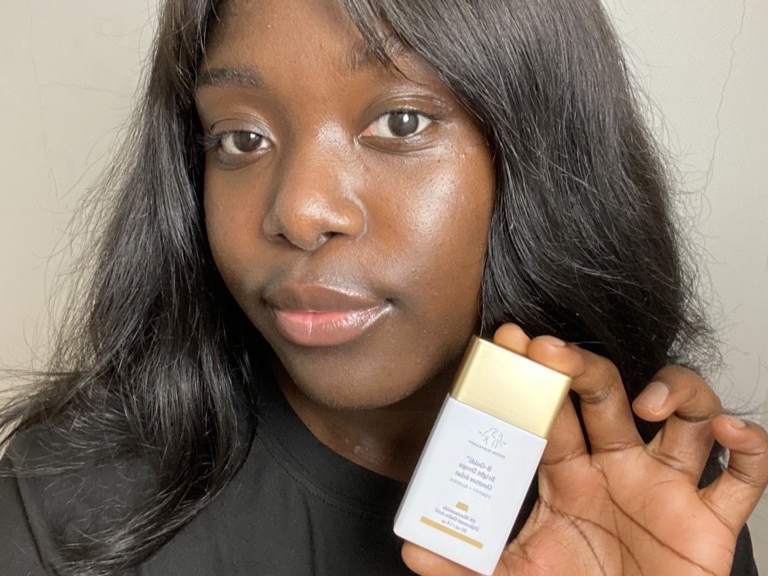 Unlike almost everyone in the Space NK office, I have never tried Drunk Elephant's famous D-Bronzi Drops, or the liquid blusher. B-Goldi is the first time I've used any of Drunk Elephant's skincare-makeup hybrids.
My initial thoughts on Drunk Elephant B-Goldi Bright Drops, £33.00 was that they would make my foundation pop and the consistency would ensure the formula blended in seamlessly. I was impressed with the colour too as it suited my complexion.
I mixed a couple of drops in with a moisturiser and then applied a drop onto my cheeks for a more prominent look. You can see my B-Goldi before and after photos below.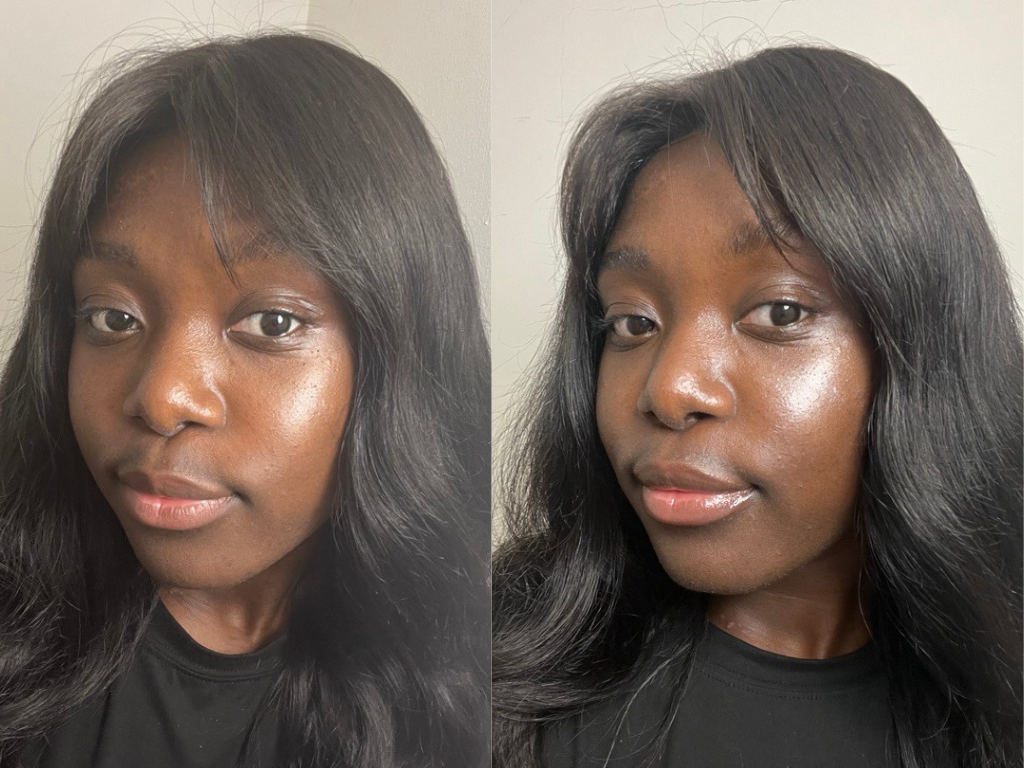 On a scale of one to 10, I'd give Drunk Elephant's B-Goldi Drops a solid eight. I liked the soft glow it gave my skin and can imagine that it would look even better mixed in with my base for a glam night look.
Emily's Drunk Elephant B-Goldi Drops Review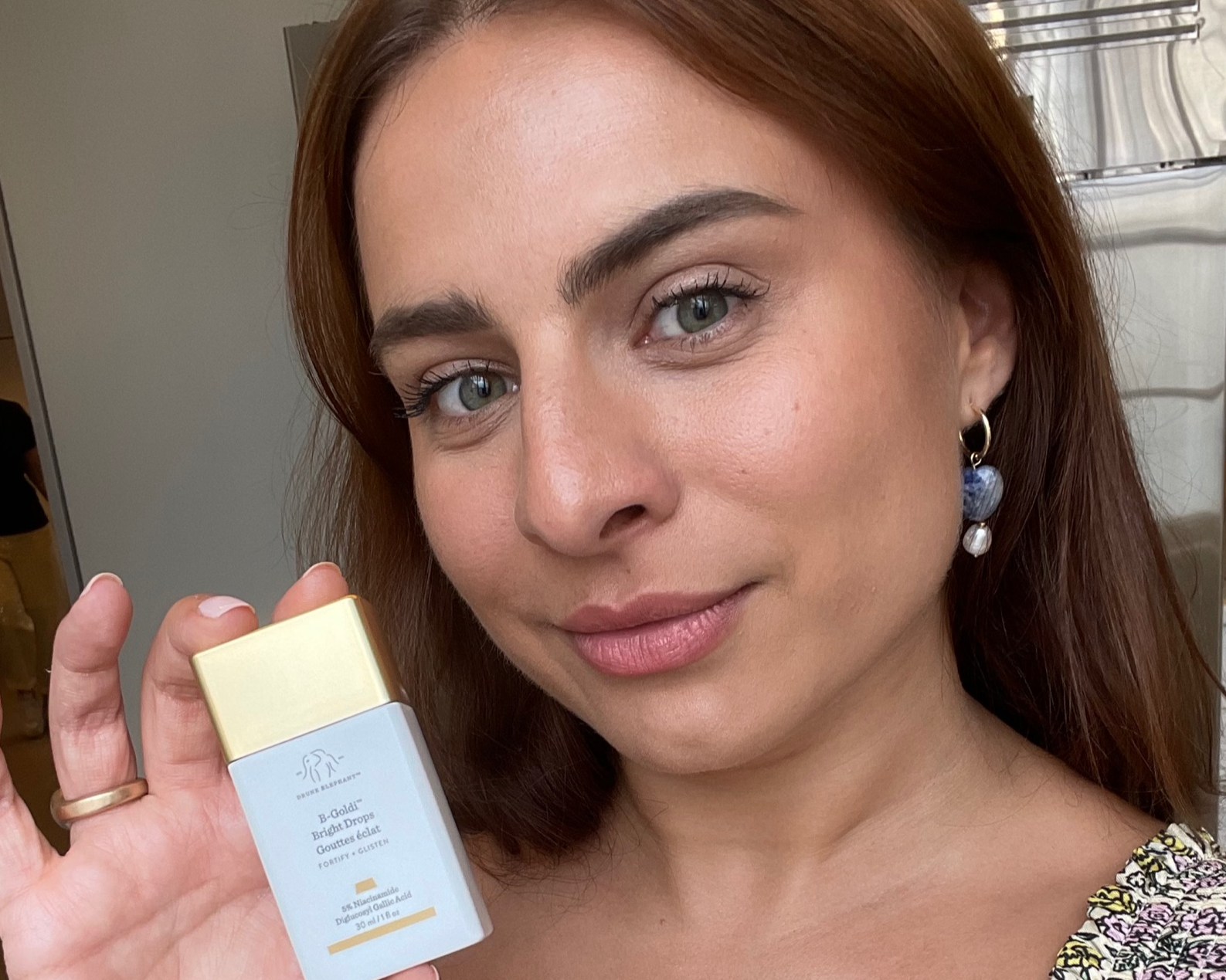 Drunk Elephant D-Bronzi drops became a staple in my makeup bag earlier this year and I haven't looked back. I tend to mix mine in with my moisturiser for light, fresh-looking makeup base. It gives my skin the most gorgeous 'just been away' colour all year round. When I heard about B-Goldi Drops launching, I added them straight onto my wishlist.
When we received an early sample in the office ahead of the B-Goldi UK launch, I was instantly into the gorgeous light champagne colour with the very fine shimmer. The texture of B-Goldi is very similar D-Bronzi, it's a slightly thicker liquid that blends in effortlessly.
I already had my makeup on when I reviewed the B-Goldi Drops, so I popped them on the back of my hand and pressed onto the high points of my face with my finger, like you would a highlighter – forehead, nose, cheekbones and just above the Cupid's bow. You can see my before and after B-Goldi photos below.
Drunk Elephant B-Goldi Bright Drops, £33.00 are super easy to use and blend in seamlessly. They created a really natural, lit-from-within glow. I will 100% be buying and using B-Goldi Drops in my routine moving forwards. They'll be amazing mixed in with my moisturiser during the winter months. Also, any skincare product with makeup benefits gets a firm 'yes' from me.
Read More Honest Product Reviews
• Review of the NARS Light Reflecting Eye Brightener
• Review of the Sol Janeiro Bum Bum Cream • Review of the Hourglass Veil Hydrating Skin Tint
• Review of the Iconic K18 Hair Mask • Rare Beauty Liquid Blush Review