MOST WANTED
Space NK's Buying Coordinator Reviews NARS' New Foundation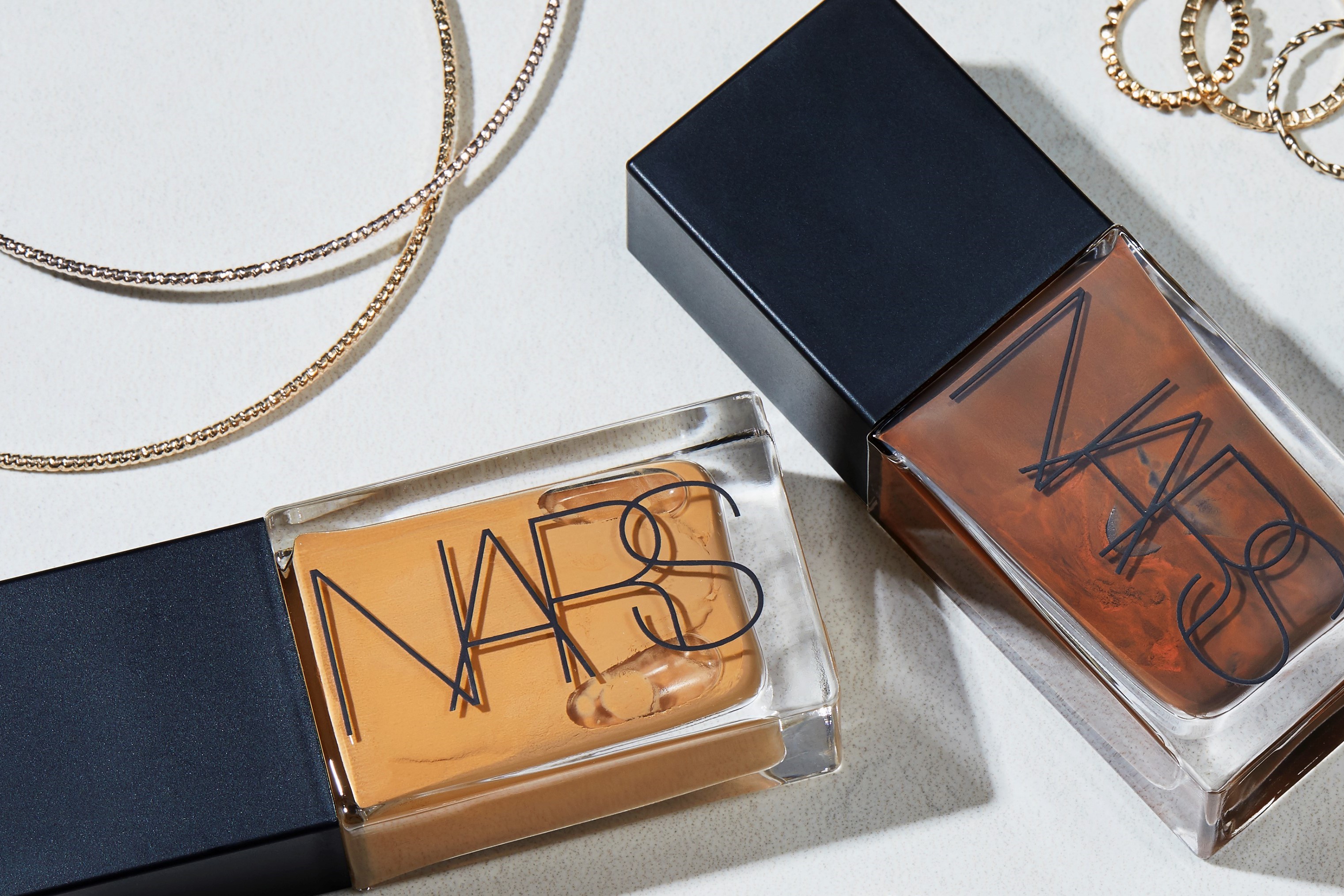 Brands have been blurring the line between our skincare and makeup products for years. Pre-pandemic BB and CC creams, along with tinted moisturisers, were the go-to base products for anyone who wanted makeup formulas that included key skincare ingredients such as
hyaluronic acid
. Roll forward to 2022 and the landscape is very different. Like a lot of people, I've spent the past two years investing in my skincare while my makeup bag gathered dust.
While foundation was always a big part of my makeup routine before Covid-19, as I've eased back into office life and in-person socialising recently, my favourite formulas have felt a little heavy after wearing minimal makeup for so long. As if by magic, the new
NARS Light Reflecting Foundation, £37.50
landed on my desk.
I'm no stranger to
NARS
foundations, the brand makes some of the best in the business and as a buying co-ordinator I've tried more than my fair share. As someone with combination skin, I've always been drawn to a matte finish foundation, but I was a huge fan of the much loved and now discontinued NARS All Day Luminous Foundation (RIP) – it left my skin looking healthy without being shiny and lasted all day. When I heard that the brand was launching a new foundation, I had just one question: will it make me fall back in love with base makeup? Spoiler alert: yes. Scroll down to read my full NARS foundation review…
NARS Light Reflecting Foundation summary
In a nutshell, this is a medium coverage foundation that gives skin a natural finish – it's neither matte nor dewy, it looks like healthy skin. The formula is available in 36 shades that line up with the brand's other formulas, so if you use Sheer Glow Foundation in Fiji, you can opt for the same shade with the Light Reflecting Foundation. It's a vegan-friendly formula, comprised on 70% skincare ingredients to ensure it hydrates, strengthens and protects even the most sensitive of skin types.
What makes the new NARS foundation different?
If you use a NARS foundation already you probably want to know how the Light Reflecting Foundation compares to the brand's other formulas. Given the name of the new foundation, anyone who uses Nars Sheer Glow Foundation, £30.40 is probably wondering if they should consider switching. While both formulas definitely give your skin a dreamy, healthy glow, I think the Light Reflecting Foundation makes your skin look bright and dewy rather than radiant and glossy, like Sheer Glow. The more obvious difference is that the former is much lighter in texture and fluid.
If you use Nars Natural Radiant Longwear Foundation, £31.20 and prefer a full coverage foundation, you might find the new formula too light. I would say that you could team it with your concealer if you wanted to try a lighter texture without forgoing coverage.
Everything you need to know about NARS' Light Reflecting Foundation
A lot of makeup brands have been touting the line "makeup with skincare benefits", but NARS Light Reflecting Foundation is by far the most impressive one I've tried so far – and pretty every NARS foundation review I've read agrees. From nourishing algae extracts to cacao-derived peptides to smooth and plump, this foundation goes further than just camouflaging blemishes and uneven skin tone. The blend of ingredients promises to strengthen your skin barrier, protect from blue light (which is essential if, like me, you spend far too much time on your phone) and eases redness.
I haven't been using the new NARS foundation for long enough, so I can't vouch for the brand's claims that is will even out skin tone and improve clarity within six weeks. However, I can say with full confidence that the formula leaves my skin feeling hydrated and stays in place all day. With combination skin, I find that by mid-afternoon my complexion can go either way; I either get a shiny T-zone or my skin can look a little bit dry and tired. I don't get this with the Light Reflecting Foundation. My skin looks even and healthy and feels comfortable and balanced. I'm going to put this down to the ingredients in the formula because I haven't changed my skincare routine.
I use a sponge to apply NARS new foundation, but you could just as easily use a makeup brush. I'm not sure you'd achieve a smooth finish with your fingers and the formula is looser than traditional foundations, so it could get messy. If you have oily to combination skin, you might need to powder your T-zone as this is a natural finish foundation and doesn't mattify.
The Verdict On The Latest NARS Foundation
You've probably already sussed that this is a positive NARS foundation review and if, like me, you have been struggling jumping back into your old makeup routine, I would highly recommend Nars Light Reflecting Foundation, £31.20. It conceals and camouflages blemishes and uneven skin tone without looking like you're wearing makeup – it's the ultimate formula for anyone who wants to channel that effortless minimal makeup look. The fact that it's jam-packed with skincare ingredients is another huge bonus and is particularly good for anyone who has dry or sensitive skin and has found some foundations can irritate. While the 36 shades aren't exclusive to the Light Reflecting Foundation, I think it's important to flag because regardless of your skin tone or undertone (warm, neutral and cool), you'll find a shade that works for you.
Space NK's Related Reviews
• We Put Selena Gomez's Liquid Blush To The Test
• Our Chief Merchandising Officer Reveals Why Drunk Elephant Babyfacial Is Worth The Hype • Our Verdict On Charlotte Tilbury's Collagen Superfusion Face Oil
• Why Drunk Elephant Retinol Oil Is Ideal For Beginners