MOST WANTED
We Put Stella By Stella McCartney Alter-Care Serum To The Test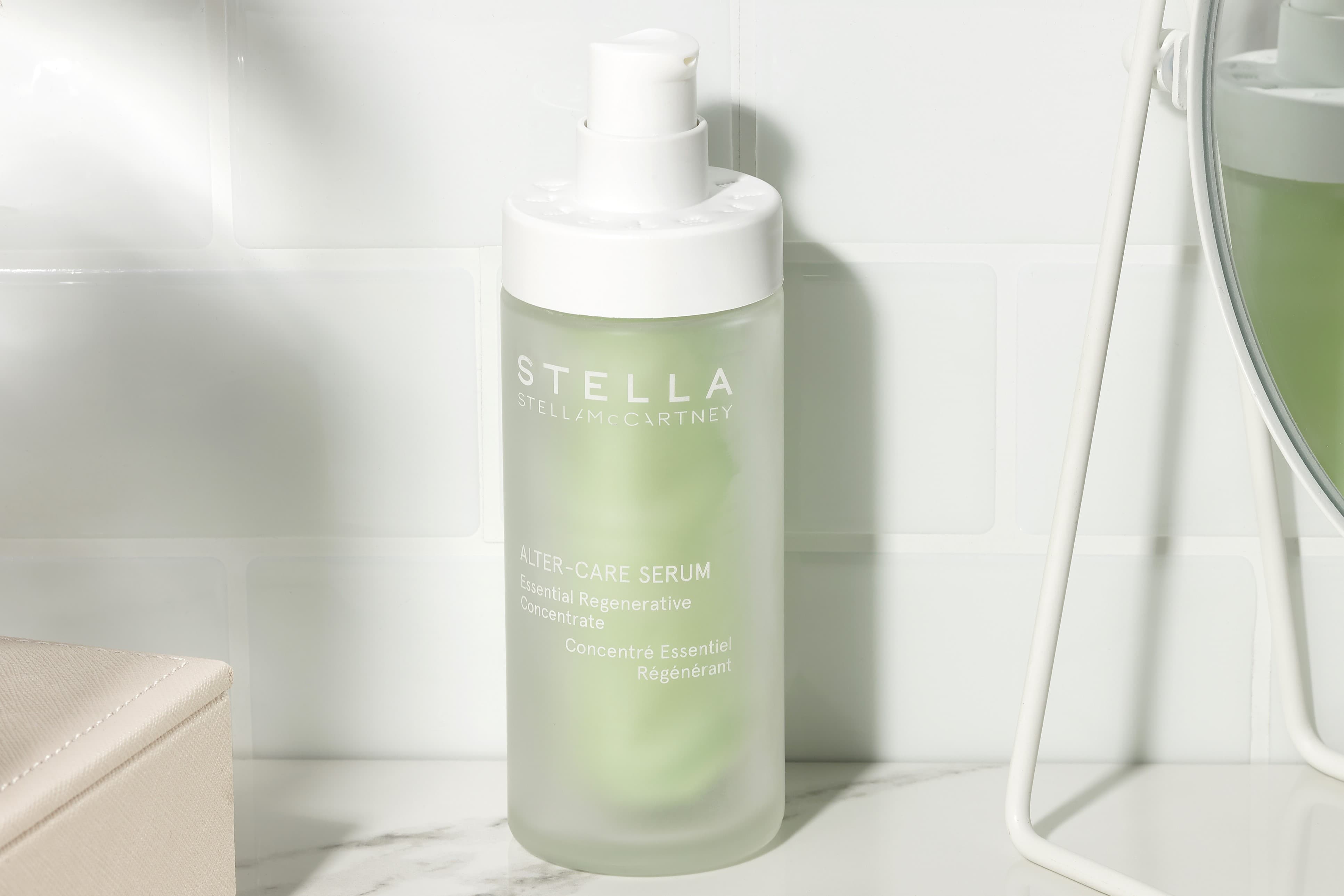 Honestly, where would our skin be without serums? I often think back to past, simpler (decidedly less effective) skincare times when a thick emollient cream would be the go-to cure for
dryness
, while rough physical exfoliators supposedly solved bumpiness. Sure, these products did something, but just think of all those efficient, serum-based ingredients to protect, strengthen, smooth and plump skin that would have done the job so much better.
Luckily, we now have all sorts of serum saviours at our fingertips. Take
hyaluronic acid
for example. Yes, we could find this super ingredient in a cream, and sure our skin may soak up some thirst-quenching goodness from said hyaluronic moisturiser, but it isn't comparable to the potent burst of benefits skin receives when choosing a serum. Why is this? Simply put, serums are made of smaller molecules than creams, so can penetrate further, carrying any ingredients (like our beloved hyaluronic) just that bit deeper.
So, when a new beauty brand lands on my desk, it's for this reason that serums are the product I seek out first, and the highly anticipated launch of
Stella by Stella McCartney
was no different.
Stella By Stella McCartney Alter-Care Serum Top Line
In an act to encourage customers to clean up their skincare act, Stella McCartney has launched just three products: a cleanser, cream and - the one I'm most excited about - the Stella by Stella McCartney Alter-Care Serum, £110.00. Packed with wrinkle reducing 'retinol like' organic rock samphire, along with the antioxidant-rich lingonberry extract, olive squalene for a strengthened skin barrier, and the hero of all skin quenchers, hyaluronic acid (harnessed from wheat), this serum may come from a simplified line-up, but its skin-enhancing action is anything but.
Everything You Need To Know About Stella McCartney's Alter-Care Serum
You may have noticed something about the ingredient line-up in this serum - they're naturally derived. 99% naturally derived in fact, which is great for a number of reasons. Firstly, it supports Stella's idea of a kind-to-planet creation (the packaging is also completely refillable and recyclable), but beyond that, it approaches skincare in a sustainable way - working to boost skin's natural ability to defend and repair itself with gentle, supportive ingredients. As someone with skin that flares up at the slightest hint of anything 'hard-hitting', we're talking retinol, tretinoin, even vitamin C in certain strengths, I tend to look to gentler formulas that still offer great results. This serum ticks both those boxes. It also makes my skincare addiction feel pretty guilt free thanks to the 100% cruelty-free, refillable, recyclable benefits it boasts, too.
The Verdict On Stella By Stella McCartney Alter-Care Serum
A lightweight fluid formula that leaves my skin feeling quenched without any stickiness - what's not to love? As for the results, a few days in, I'm noticing things. Positive things. My skin hydration (which can tend to falter midway through the day, causing me to reach for a top up of hydration - usually in the form of a mist) has noticeably improved. I'm yet to discover if the wrinkle and pore-reducing powers of the serum are as great as founder Stella claims, but in terms of boosting skin luminosity, this serum gets a 10/10. Oh, and did I mention the serum is so gentle, it doubles up as an eye treatment too? For me - and anyone else looking to streamline their skincare routine - that really is the icing on the cake.
More From Stella By Stella McCartney
Of course, this product is just one of a trio chosen to launch Stella's super-conscious skincare brand. And after my Alter-Care Serum success, I was eager to try out the other two. First up, the Stella by Stella McCartney Reset Cleanser, £50.00 - a pH balancing, gentle cleanser which effortlessly removes makeup and daily grime while leaving skin nourished and comfortable - tick! And of course, there's the Stella by Stella McCartney Restore Cream, £85.00 - perfect for adding extra hydration to skin when layered over your serum. Highlights of the cream include a lightweight feel (no claggy finish here), immediate skin comfort, and a long-term promise to strengthen skin's barrier function while plumping out fine lines - double tick!
Read More
• Review of the Stella by Stella McCartney Skincare Line
• Stella McCartney on Cleaning Up Skincare • What is the Skin Barrier?
• What is Double Cleansing? • What is Slugging in Skincare?