SPACE SESSIONS
Nadine Baggott On Her Ageless Beauty Essentials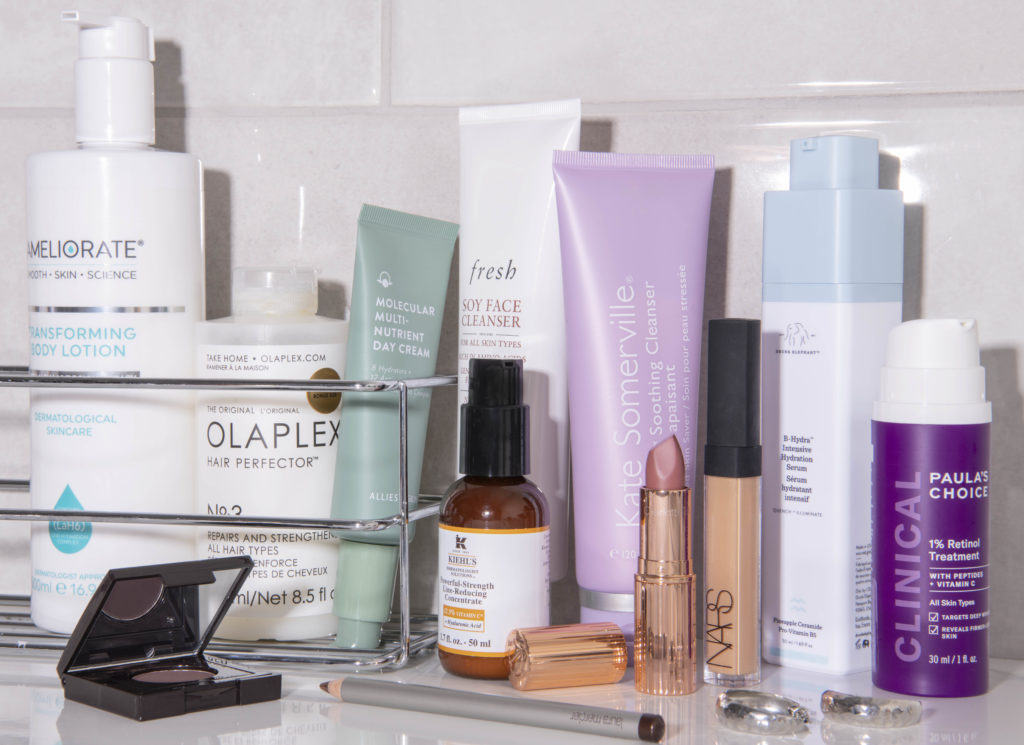 If there is one person who knows the secret to looking fabulous it's Nadine Baggott. At 58, the veteran beauty journalist, TV presenter and YouTuber has a wealth of experience and knows exactly which products will deliver the best results. Here are the Space NK beauty buys that Nadine swears by…
Always Start With A Great Cleanser
In the morning, I want a hydrating gel cleanser that leaves my skin cool, calm and clean, but never feeling tight. Fresh Soy Face Cleanser, £12.50 is a classic bestseller and for good reason; it also smells of cucumbers, which I love. I avoid anything that foams and leaves my skin looking dry or feeling like it's a size too small for your face. This is the perfect first step, morning cleanse for everyone.
At night, I opt for a gentle cream cleanser and Kate Somerville DeliKate Soothing Cleanser, £34.00 is ideal. My top tip is to team with a microfiber face cloth. It's all you need and it even gets rid of eye makeup, leaving your skin hydrated and ready for night products.
Demand More From Your Moisturiser
You don't want it just to soothe dry skin. And, the latest generation of formulas also contain antioxidants, prebiotic ferments to keep your skin healthy, as well as lots of humectants to lock water in and emollients to keep that water in. My current go-to is Allies of Skin Molecular Multi-nutrient Day Cream, N/A; keep an eye on this brand, it's my new favourite kid on the skincare block.
Stock Up On Olaplex
My hair is triple processed; coloured to hide greys, smoothed and straightened with a Keratin blow dry and I use heat pretty much most days to combat the frizz. Nothing, and I repeat nothing, helps rebuild my hair like Olaplex No. 3 Hair Perfector, £26.00. I have steps one and two in the salon at my beloved Salon Sloane, regularly and during my colour. At home, I use No.3 Hair Perfector as my repairing conditioner. I also use it as a leave-on blow-dry treatment to smooth split and dry ends.
Body Lotions Must Have Actives In Them
Approach your bodycare like you do your face care. In other words, load up on active ingredients. is the best smoothing body lotion because it contains lactic acid, a hydrating, exfoliating acid derived from milk that will smooth alligator legs, get rid of those annoying red bumps on the backs of arms and legs (it's called keratosis pilaris), and even smooth dry feet and rough elbows. It works full stop. Try it every night for six weeks and you will never look back.
Accentuate Your Eyes
I have had a lifetime of hayfever and allergies and, as a result, my eyes are lined and I have under eye shadows. Having tried every concealer, Nars Radiant Creamy Concealer, £24.50 is still the best by far. My shade is Custard and I was introduced to it by a brilliant makeup artist at Space NK. It never sits into crepey skin and blends perfectly.
Usually I'll add a tightline (inner eyelid pencil) for definition, a trick I learned off of Hannah Martin, a great makeup artist. I love Laura Mercier Inner Eye Definer, £21.00 in Brown Copper, topped off with the brand's Laura Mercier Tightline Cake Eyeliner, £5.50 in Mahogany Brown. It's so much easier to get an eyeliner to look good if you just use a deeply pigmented powder instead of a tricksy liquid pen.
Just use my idiot-proof to work into the base of your lashes and you're good to go.
Nude Lipstick Is Fool-Proof
As I said my beauty mantra is minimum effort, maximum results and no one does nude lips better than my friend Charlotte Tilbury Matte Revolution Lipstick, £25.00. I love her Pillow Talk Lipstick both in the original Matte Revolution and the Superstar Lips, a glossier alternative. As she would say, "Fabulous Darling".