IN FOCUS
The Clean Haircare Products your Need in your Routine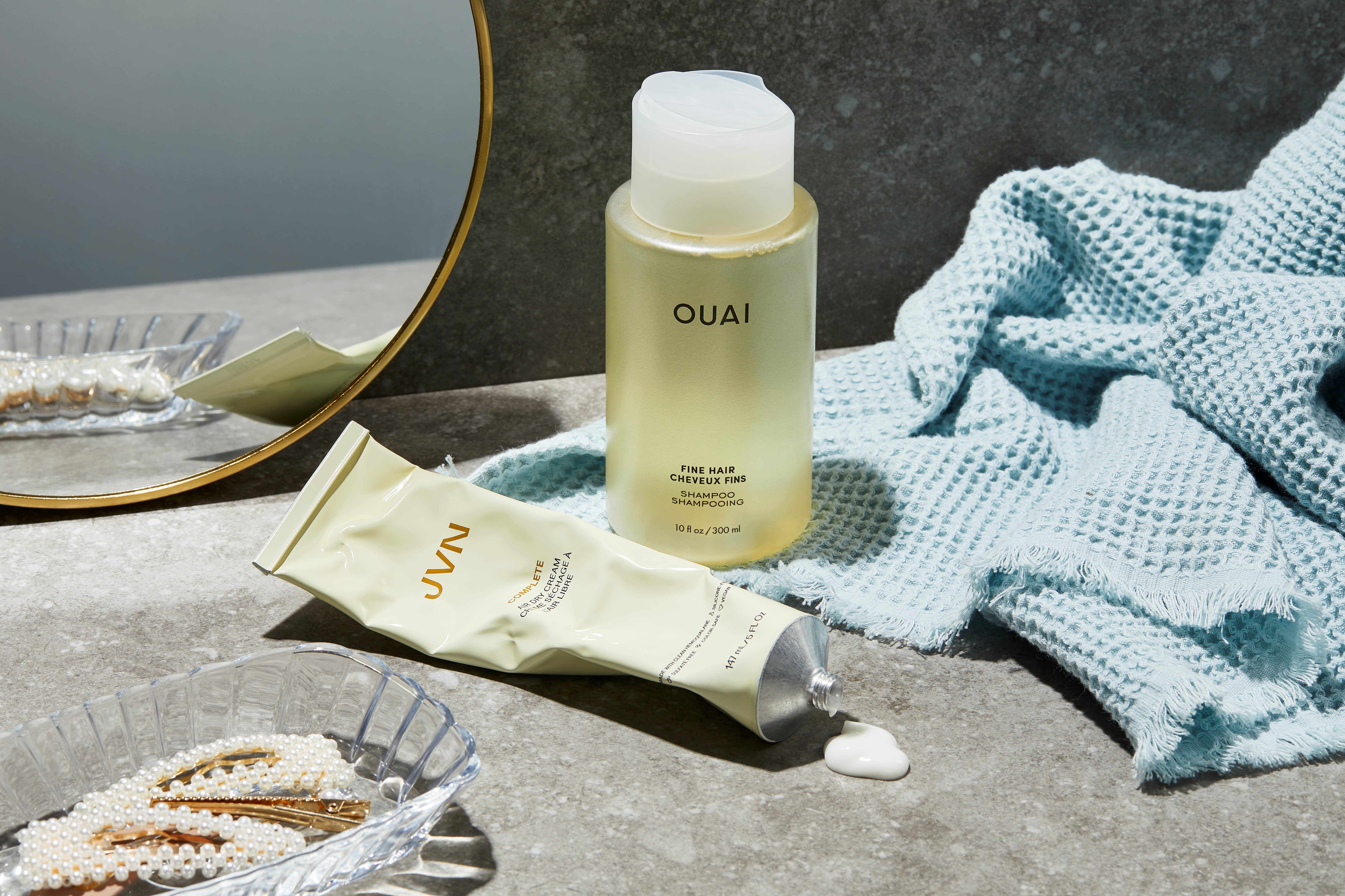 Over the past few years, there's been a lot of buzz around
clean beauty
, and while we mostly talk about it in
skincare
and
makeup
, clean haircare is growing. Healthy hair is just as important healthy, good-looking skin, so maybe it's time we paid close attention to the ingredients that go into our haircare.
If you are worried that switching to clean hair products is not going to give you the results you get with your current
hair routine
, don't worry we have got you covered. Especially when we have set routines, change is not always the easiest but it can also be good. And when it comes to clean haircare, this change will be good for your hair and the planet. With experts talking about the
skinification of hair
– that's treating our scalp (and hair) with the same reverence we do our faces, change is afoot, and it begins with all things clean.
A hair routine is just as important as a skincare routine, both are special rituals where we take care of ourselves and switching to clean haircare could make this ritual even better. Let's delve into what clean beauty actually means for our haircare, and how we can implement it and still get the same results.
What does Clean Haircare mean?
The clean beauty movement is about using products that are not as irritating for your hair and skin. Especially in haircare, there are a lot of formulations that can help clean your hair but on the other hand, the formulation is so irritating that it can dry out the scalp and the hair as well. With clean, natural haircare, the aim is to use ingredients that are kinder to hair but will still be effective for every hair type and hair goal. "Natural ingredients are the best allies to cleanse and nourish hair since they now don't require detergents or agents to make suds or shine", says colour whizz Christophe Robin .
The Difference Between Natural and Organic
In the clean beauty space, we hear a lot of natural, organic, safe, clean… but what do these terms actually mean and how do they actually impact haircare products and our beautiful tresses. Let's break it down to avoid further confusion when you see these words on a haircare product.
Natural means that the product uses plant-based ingredients to formulate their products and no synthetics ones. Think of natural as a products packed with botanicals and fruits to benefit your hair. Natural haircare is a dream for your hair because it shows the simplicity of ingredients that can be used in your products to make your locks smooth and shiny.
The term organic has to do with how the ingredients were farmed, with no pesticides. It's not a term that has an impact on the actual ingredients list but it can mean something about the quality of the ingredients used in haircare products. Both natural and organic haircare are good for your hair – so if you see these terms on a label, you can add them to your cart.
What ingredients should I avoid in Skincare?
Over the years, experts have shown that some ingredients that have been in haircare for as long as we can remember are not actually as useful as we thought. Some of them can be damaging the hair instead, especially when used on a daily basis. In the list of ingredients that are a no-go for us:
• PARABENS are quite drying and can irritate the scalp, and is often associated to the production of dandruffs. In some cases, parabens can also be the cause of hair loss, especially if your scalp is irritated and promoting healthy hair growth.
• MINERAL OIL is one of those ingredients that sounds like it would be really good for your hair but you might actually want to stay away from it. Although applying mineral oils on your hair may feel really nice on your hair, it's actually quite hard to completely wash off. The result? There's a build up of oil on your hair, resulting on your hair being more oily and getting quite heavy. There are so many other hair oils you can go for if you want silky smooth hair.
• SILICONES: similar to mineral oils, silicones will usually give you super shiny and soft hair. But again, silicones tend to build up on your hair and end up creating a film on your hair, which can disrupt the texture of your hair. How to spot silicones? Ingredients ending with "con" are usually part of the silicone family. We'd recommend staying away, especially if there's a small cluster of those in the ingredients.
• DENATURED ALCOHOL is one of the types of alcohol that are bad for your skin and bad for your hair. Some alcohols can sometimes be used as preservatives and in that case are actually good, but denatured alcohol can often cause your hair to dry and frizz. Just like it does in skincare, this ingredient is quite harsh and can actually dry the hair and long-term, can cause split ends to appear sooner.
Clean Haircare Products to Buy in 2022
Best shampoo: Ouai Fine Hair Shampoo, £28
This bestseller will give anyone with fine hair the volume they have been craving to see. Celebrity hairstylist Jen Atkin created Ouai the formulate clean formulation that could be used at home by everyone.
Best conditioner: Aveda Botanical Repair Strengthening Conditioner, £12
Aveda is a has been formulating clean formula for a long time, using botanical blends in each product. This conditioner is no different and is amazing at strengthening the hair and keeping it from breaking. We definitely recommend, especially if you have fine, fragile hair.
Best hair mask: Briogeo Don't Despair, Repair! Deep Conditioning Mask, £15
We love a good hair mask and this line by Briogeo is our go-to to give our hair some love, restore hydration and over bring sone life back into our hair. With algae and argan oil, this conditioner will give you sleek and beautiful tresses after only a couple of uses.
Best hair serum: JVN Hair Complete Instant Recovery Serum, £12
Get the benefits of a hair mask and the lightness of hair oil with this dreamy hair serum. Formulated with clean, good-for-your-hair ingredients, this JVN Recovery Hair Serum is a lifesaver for dry, heat-damaged tresses that need to be brought back to life. You can apply this in the morning and go about your day, it will dry beautifully and your hair will reap the benefits throughout the day.
Best hair oil: Olaplex No.7 Bonding Oil, £28
We could not not mention the Olaplex hair oil that has everybody talking. Use this oil on either damp or dry hair to minimise frizz but also give your hair a healthy sheen. This oil is also a great one to use for hair slugging and deeply nourishing each strand of hair.
Best air drying cream: JVN Hair Complete Air Dry Cream, £10
Quickly becoming a favourite, the Queer eye star has done it again. This cream is game-changer, especially for those with wavy, curly hair. No need to blow dry your hair after styling it, this cream will tame frizz and protect your hair from UV damage.

Are Sulphates Bad for your Hair?
Sulphates is definitely one the ingredients that would be deemed controversial in the clean beauty movement. Sulphates can potential sensitise your scalp and your skin, so our experts would not recommend using sulphates too often. However, they do clean your hair really well, so you could actually use it on a weekly basis in a clarifying shampoo. Especially if you enjoy using different balms and pomades on your hair, sulphates are actually great to give your hair and scalp and clean slate. It's a matter of balance and of making sure you're not over stripping your hair with this type of ingredient.
The Takeaway on Clean Haircare
Clean beauty is just as important as it is in skincare and we can only expect hearing more about it as a standard in beauty moving forward. The important thing is to pay attention to the ingredients used in our haircare products. We just want to make sure we maintain healthy hair and a healthy scalp with the right products for our specific hair types and textures.
Read More
• How to Look After your Scalp
• How to Keep your Hair from Shedding • The Best Shampoos for Every Hair Type
• Best Routine for Textured Hair • Brigeo vs Olaplex? Which one is Better?