IN FOCUS
Cream vs. Powder Bronzer: Which Is Best For Summer?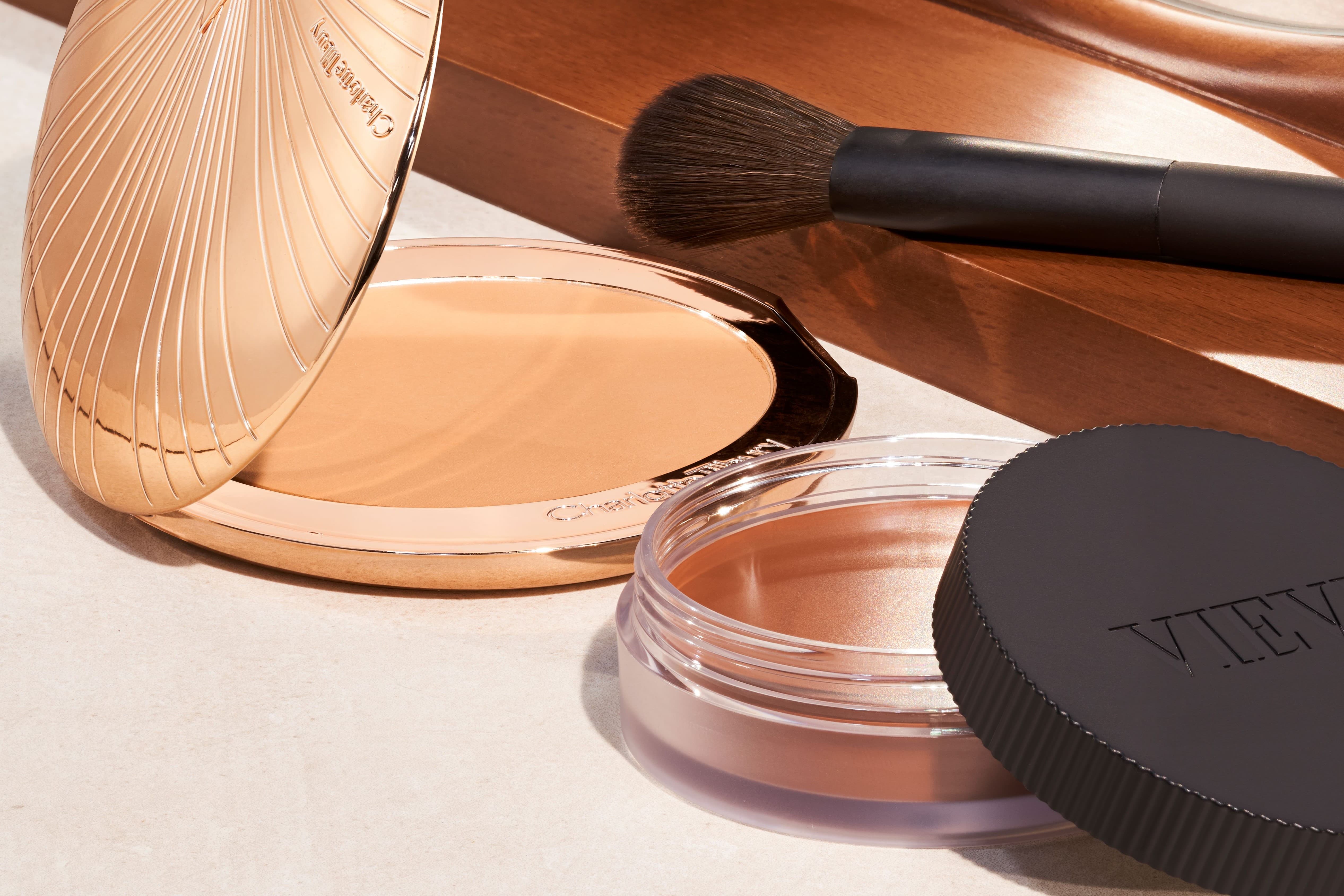 Cool or warm toned, buttery or luminous,
bronzer
is the skin brightening, colour boosting, base topper that gets us glowing every time. Particularly as we head into summer and a sunkissed tan becomes the new season essential. Which bronzer should we invest in for 2023? Good question. Afterall, it's no longer a case of sparkly vs matte. With a full selection of shades, finishes and textures to choose from, we really have a chance to find our
best bronzer
yet. But first we have a choice to make - powder or cream?
To help us make the right decision for our skin type, we've called on two brilliant makeup artists,
Jamie Genevieve
to tell us why cream bronzers deserve our vote, and
Emma O'Byrne
who's flying the flag for traditional powder bronzers. And the best part is, there are shimmery and matte options for each. Let's find out what the experts have to say on this bronze matter.
Why Powder Bronzers Are The Best
It's the bronzer texture we've come to know and love. Tiny powdery particles, packed into a palette, which swoop effortlessly onto skin courtesy of our favourite fluffy makeup brush. "Generally, powder bronzers are more long lasting" Emma tells us, which is a major benefit as we head into summer with the extra heat adding risk of a makeup slide. "Powder bronzers also work very well over foundation and can be used on all ages," she adds.
When it comes to skin types, there is one category who should probably avoid this type of summer glow booster. "Avoid putting powder bronzer on dry skin as it will stick to any dry areas, turn darker and look patchy," Emma warns. For all other skin types, "the key is to properly moisturise and let your foundation or tinted moisturiser settle before applying."
3 Of The Best Powder Bronzers
How To Apply Bronzing Powder
"I like the look of powder bronzer over a tinted moisturiser, as it looks finished and natural but not too shiny during the day. Use a big, angled bronzer brush, and sweep over the forehead, cheekbones and under the chin to accentuate your jawline," Emma advises. As for choosing the best powder bronzer, Emma has some words of expert advice, "choose a bronzer that's two shades darker than your natural skin tone and avoid orange-looking shades. I tend to go for the browner bronzer shades, as they generally flatter all skin types."
If you enjoy a touch of shimmer and shine, "choose a matte bronzer and then add a separate shimmer product where you want it rather than opting for a glittery bronzer," says Emma. "Charlotte Tilbury Filmstar Bronze & Glow, £49 is great for this." she adds.
Why Cream Bronzers Are Better
The main reason Jamie Genevieve, founder of VIEVE and expert makeup artist loves cream bronzer so much is, "a cream bronzer gives a more natural finish," she tells us. "You are also able to build up the colour gradually giving you more control on the finish." What's more, "If you apply too much you can easily tone it down by using the left-over foundation on your brush or sponge over the top," she adds.
Of course, a cream bronzer isn't for everyone - especially if you prefer a matte finish or have oily skin. "Drier skin types will benefit the most from using a cream bronzer as it's less likely to move around," Jamie tells us. Age should be considered too, as "on slightly more mature skin, I would also recommend trying a cream bronzer as it's slightly dewier. Cream bronzers can also have skincare benefits depending on ingredients (they might add hydration, add extra glow etc)," says Jamie.
Concerned about your cream bronzer fading or slipping throughout the day? Jamie has a tip to boost its lasting power. "Setting your cream bronzer with a powder bronzer will add more dimension and top up with translucent powder to ensure the bronzer lasts longer," she advises.
3 Of The Best Cream Bronzers
How To Apply Cream Bronzer
"Start with less product and gradually build up the colour. A densely packed brush or a beauty blender will work best when applying a cream bronzer as you will get the best colour pay off whilst having the most control. Apply the bronzer with your sponge or a densely packed brush in a stippling/dabbing motion to give an even blend," Jamie directs.
As for bronzer sticks, "If you're afraid of applying too much directly with the stick you can brush over the top of the product to pick up colour before stippling the product onto the face," Jamie advises. Similarly, "applying a liquid bronzer with a sponge/beauty blender will give you the most control when applying," she tells us. And as for the best cream bronzer for you, "Choosing warm-toned bronzer one shade darker than your natural skin tone, will give you the most natural and sunkissed look." Jamie suggests.
Which formula is best for your skin type?
Both formulas work for all skin types, however those with dry skin tend to use creamy bronzer while people with oily skin will be leaning towards a bronzing powder. In the summer, cream bronzers tend to be the winner to avoid a cakey finish. But at the end of the day, it's really up to your skin, which finish you like and the type of look you want to achieve.
Does powder or cream bronzer look more natural?
With bronzers, you can quickly apply too much but the beauty of this product is that it's quite easy to blend in when using the right formula. If you've never used a bronzer before, powder is the easiest to work with as you can always grab a fluffy brush and blend it out. With cream bronzers, avoid a streaky finish by using cream products underneath and blending the formula using a damp Beautyblender The Original Beauty Blender, £17.
Powder Vs Cream Bronzer - The Verdict
Those seeking a more natural or dewy finish may benefit from cream bronzer, as will those who suffer from dry skin. Meanwhile, the lasting power and matte finish you can achieve from a powder bronzer may appeal to others. Both can be built up to achieve varying levels of bronze, but surprisingly, it doesn't need to be one or the other. In fact, for added dimension and staying power, Jamie urges us to try a combination of cream bronzer topped with powder bronzer to set it in place. Just be warned that once powder has been added, your cream bronzer will need to be dismissed - cream on powder is a recipe for patchiness.
A stick bronzer blended onto your existing (powder-free) base is arguably the best option for those wanting to top up on the go (we still haven't quite recovered from dropping our last powder bronzer palette), and for those wanting a touch of shimmer in their bronzed look? Well, powder or cream - take your pick.
Read More
• Beauty Essentials for a Wedding
• The Best Lipsticks for Summer • What is Mascara Cocktailing?
• Best Sweat Proof Makeup Products • Nars vs Charlotte Tilbury Foundations