IN FOCUS
The Skin Detox Experts Approve Of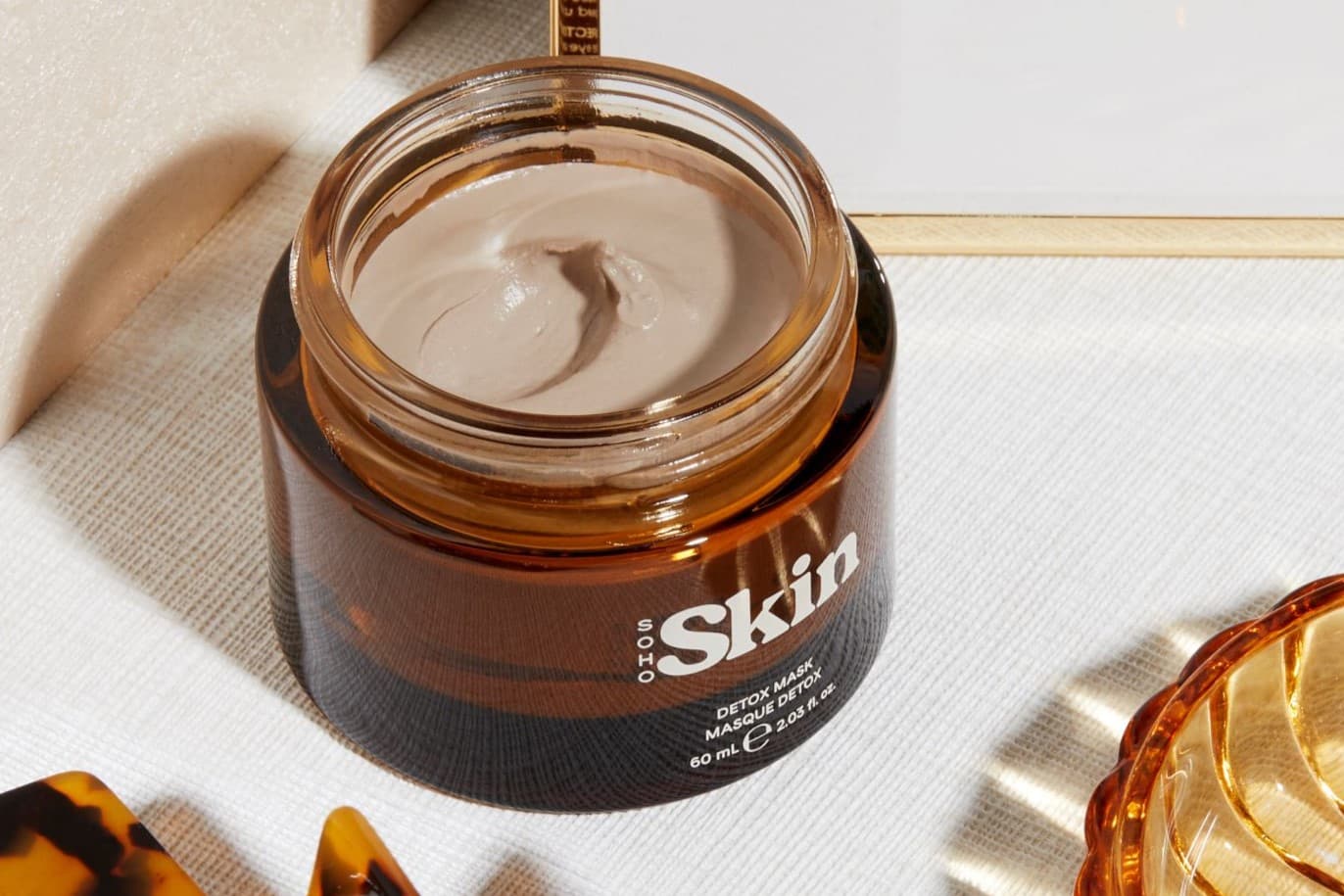 You are likely still recovering from a month of excess, of late nights, rich food, little sleep, and the odd drink or two. But here's the thing, everything you go through, so does your skin.
By now your skin is feeling partied out, and with cold weather and central heating thrown into the mix, it has seen better days. This is why now is the perfect time to put your skin on a detox. The word 'detox' comes with some negative connotations, namely deprivation, but in the case of skin it means a programme of deep cleansing, calming and rebalancing, treating (for the inevitable breakouts that follow a period of indulgence), and repair. Here's what you need to know.
Eliminate impurities with clay
Your first step in your skin reset is to clear out the gunk, rebalance sebum, and unblock pores. Nothing does the job quite like clay. Clay masks are normally formulated with bentonite, kaolin, or pink clay, or a combination of them all, and they work by absorbing excess sebum from your skin.
Once a week and after cleansing apply a generous layer of a clay mask, such as Soho Skin Detox Mask, £60 to dry skin. This particular mask has been formulated with salicylic acid and a probiotic ferment to help prevent breakouts and support cell renewal.
You can leave it to dry or, as recommended by Eilidh Smith, founder of renowned skincare studio SKINWORK, you can use the opportunity for massage to help drain lymph, reduce puffiness, and aid detoxification. "Wet the tips of your fingers and massage the mask into your skin before it has a chance to set. Make sure you pay attention to areas of congestion, which is normally around the chin and nose."
Only allow the mask to sit on your skin for the time specified in the instructions or you risk dehydrating your skin further and, to clear your pores, remove with a warm damp cloth, allowing the warmth from the flannel to bathe your skin and lightly steam it.
Reduce Redness
If you're prone to rosacea and redness you may find some foods and alcohol exacerbates the problem. The key to reducing redness is less about what you use and more about what you avoid.
During your skin detox it is wise to avoid heavily fragranced products, harsh active ingredients, alcohol, and sugar. According to Eilidh, you should follow and inside-out approach. "Drinking hot water and lemon will help internally, while externally you should stick with hydrating and calming products such as a fragrance-free cleansing balm, hydrating serum, and calming moisturiser."
Soften Texture
Fatigued and dehydrated skin can feel rough and uneven. Incorporate chemical exfoliators into your detox regimen. "AHAs and retinol are your friends for improving texture," says Eilidh. "Add vitamin C for brightness, too. At night, start with an effective cleanse, then use a peel pad or liquid exfoliator. Follow with a hydrating serum and calming moisturiser. For a longer-term benefit, introduce retinol a couple of nights a week."
Banish Breakouts
It's not uncommon to break out following a hectic period but your detox mask will start the healing process by balancing skin and absorbing excess sebum. For any angry spots, Eilidh recommends salicylic acid. "To treat a spot quickly overnight, you should cleanse and exfoliate thoroughly and then apply a leave-on treatment containing salicylic acid."
Top Up Moisture
Alcohol is severely dehydrating so your final step in your detox regimen should be boosting moisture. Eilidh suggests avoiding too hot water when cleansing or showering, and bolstering your routine with barrier building ingredients. "Hyaluronic acid, glycerin, and ceramides are excellent for hydrating and calming skin," she says. "Make sure they're in your serum and moisturiser."
Read More
• Best Skincare Routine for Winter
• How to do the Retinol Sandwich Method • Best Winter Face Creams
• What is the Skin Barrier? • What is Double Cleansing?