MOST WANTED
Tried & Tested: Drunk Elephant Ceramighty AF Eye Balm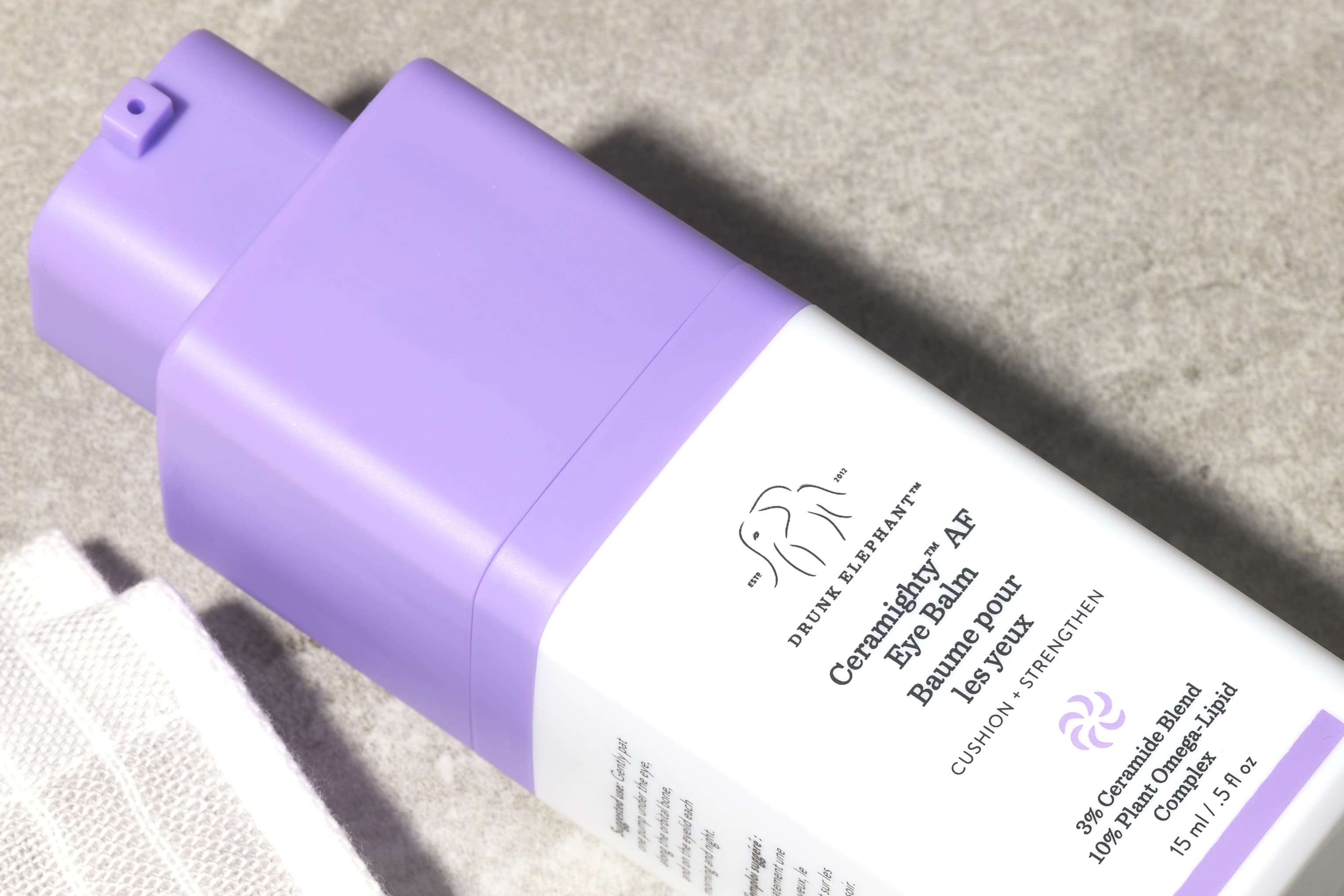 Well before it launched into the UK market in 2018,
Drunk Elephant
was a brand to add to your US holiday shopping list. From the skin smoothing T.L.C Sukari Babyfacial, to the fan favourite C-Firma Fresh Day Serum, the brand that features heavily in skincare lovers' bathrooms with its distinctive, colourful packaging.
Don't be fooled by the cute exterior,
Drunk Elephant
always delivers on the formula front. With biocompatibility at the forefront, the brand isn't fussed if an ingredient is synthetic or natural, it's more important that it
works
, which is why healthy pH levels is the main focus. It's essential that the molecules of any active ingredient used within Drunk Elephant formulas are actually small enough to be absorbed and support and maintain the skin's delicate acid mantle.
The new
Drunk Elephant Ceramighty AF Eye Balm, £52.00
is no exception and I've been road testing the latest eye product launch from the brand…
TOP LINE ON THE DRUNK ELEPHANT CERAMIDE EYE BALM
With many of us struggling to hit the daily recommended water intake, or clock up enough hours of slumber each night, Drunk Elephant's eye cream promises are music to our ears. It's simple - a formula that delivers long-lasting moisture, restores elasticity, and soothes signs of fatigue for a refreshed well-rested look.
EVERYTHING YOU NEED TO KNOW ABOUT THE DRUNK ELEPHANT CERAMIDE EYE BALM
As someone with a chronically dehydrated under eye area, no matter how many pints of water I manage to gulp down a day (promise!), I like my eye creams to be rich, balmy and not shy when it comes to topping up moisture levels. Drunk Elephant Ceramighty AF Eye Balm delivers on all three fronts. The texture has a buttery balm finish that feels cooling as you apply it, and my eye area looks and feels smooth and hydrated with almost a sheen to it. Bonus points for the fact that concealer goes on like a dream over the top too.
That added hydration hangs around all day thanks to the 3% Ceramide Blend, which helps to maintain the moisture balance of skin, while protecting against water loss. It's always a good ingredient to look out for in your skincare if you're looking to combat dryness. Plus, the pump lid is a great format for an eye cream as it means you apply exactly the right amount and don't contaminate the product each time you use it. It's a super easy product to use during busy mornings and evenings when you just want to be in bed already. Easy and effective? I'm in.
THE VERDICT ON THE DRUNK ELEPHANT CERAMIDE EYE BALM
If it's a long-lasting, skin-soothing, hydration-station of an eye cream that you're after, then you can't go far wrong with the Drunk Elephant Ceramighty AF Eye Balm, £52.00. It's the eye cream equivalent of a tall glass of water, filled with ice, on a cool day. Now that is just what I need right now…
MORE ON DRUNK ELEPHANT
Drunk Elephant is one of the bestselling skincare brands at Space NK. If you're looking for a top-up of vitamin C, reach for the Drunk Elephant C-Firma Fresh Day Serum, £70; if you're looking for overnight resurfacing, see Drunk Elephant T.L.C. Framboos Glycolic Night Serum, £78; and if you want a rich, nourishing oil, try Drunk Elephant Virgin Marula Luxury Facial Oil, £35. The buying team and our customers collectively love Drunk Elephant Protini Polypeptide Cream, £61, the multitasking moisturiser is a bathroom cabinet must-have. While the brand might be known for its skincare, in recent years it has delved into hair and body care too.
Read More
• Review of Drunk Elephant A-Gloei Maretinol Oil
• Rare Beauty Liquid Touch Foundation Review • Dermalogica Daily Milkfoliant Review
• Ultra Violette Daydream Screen SPF 50 Review • Nimya by NikkieTutorials Spill the Juice! Lip Gloss Review