IN FOCUS
Mineral vs Chemical: What's The Best SPF For You?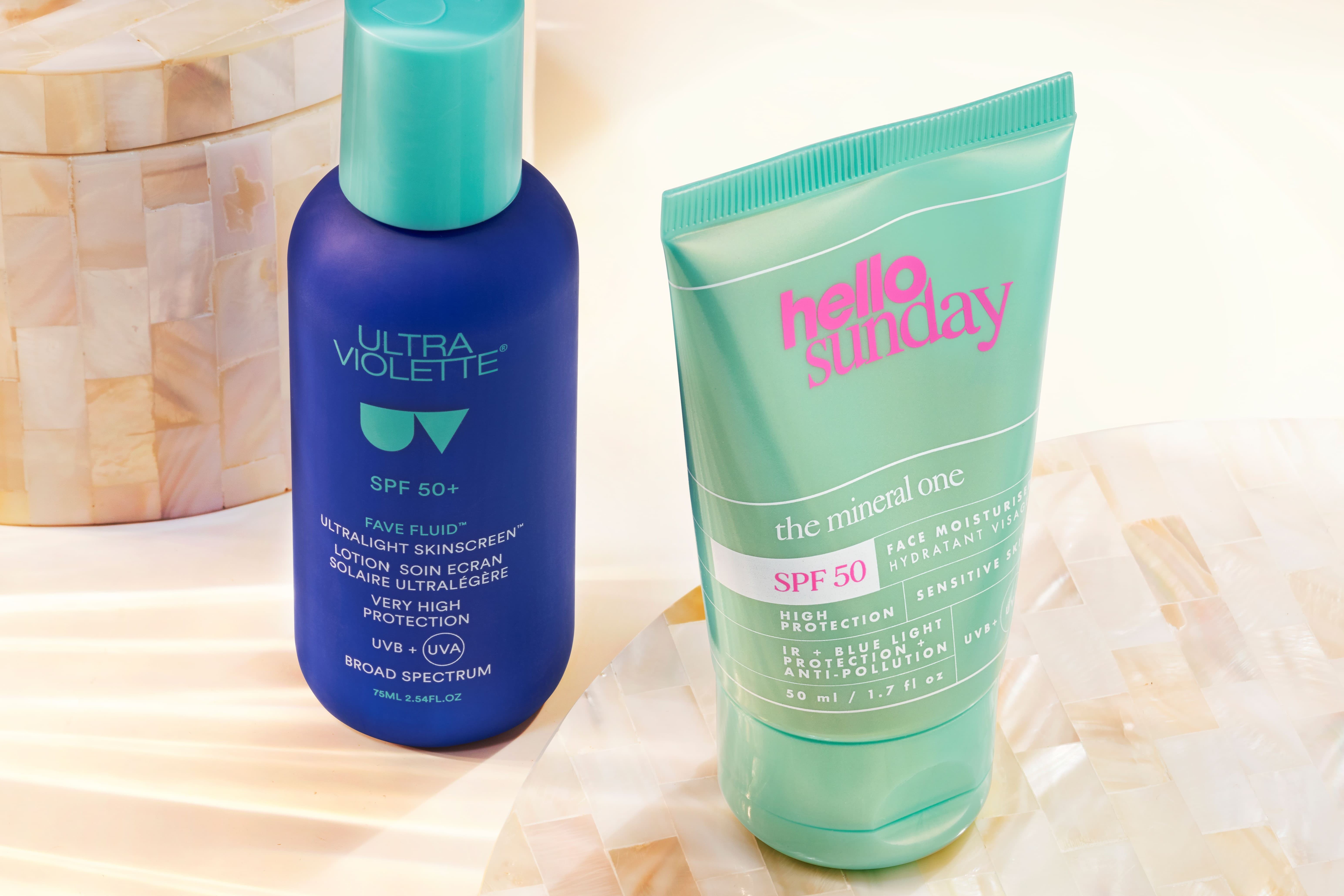 When sun protection is an everyday essential, you have the choose the
best sunscreen
for your skin type and skin tone. The key is to find an
SPF
that fits easily into your daily skincare routine – a formula that feels nice on your skin and sits well over makeup.
From Coola and
Lancaster
to
Supergoop!
and Ultra Violette, there are a lot of options when it comes to shopping for SPF. One of the biggest questions around sun protection is whether to choose a mineral or a chemical sunscreen. To help you decide, we've asked the experts to outline the differences between the two.
What is a Mineral Sunscreen?
Also known as physical sunscreens, "mineral sunscreens create a physical barrier on the skin that blocks UV rays by reflecting them away from the skin" explains Sapna Valenzuela, Brand Director at Coola. The main two UV filters to look out for are zinc oxide and titanium dioxide, which are often recommended if you have sensitive skin and/or acne-prone skin.
When it comes to the texture of physical sunscreens, Ava Matthews, co-founder of Ultra Violette explains that, "Mineral filters can be difficult to formulate and are usually responsible for the dreaded white-grey tinge to your skin and have a dry, paste-like texture. They can be less likely to slide around your face and into your eyes, but it depends on the formula." There are now modern formulas that seamlessly blend into the skin without leaving a white cast or feeling heavy. These are some of best mineral sunscreens in our opinion:
What is a Chemical Sunscreen?
"Chemical filters work by absorbing UV light to protect it from reaching your skin and are known for being lightweight and leaving no white cast," Ava explains. Sapna adds that, "Chemical sunscreens are often desired because they offer a much more transparent finish, a lighter feel, and a wider variety of applications on the skin." The lightweight texture is one of the main reasons why chemical sunscreens are more commonly used.
Even though some people can be put off by it, "The word chemical can be unhelpful at times as it does have negative connotations, but you shouldn't be put off by this as everything is a chemical - including water!" says Natalie Fisher, a dermatology nurse specialist. A formula like Ultra Violette Fave Fluid SPF 50+ Lightweight Fragrance Free Skinscreen, £ 37,00 is perfect to wear day-to-day, it protects with SPF 50 and feels so light on the skin, you won't even notice it. Here are more of the best chemical SPFS:
Mineral vs Chemical Sunscreen: What's the Difference?
The main difference between mineral and chemical sunscreens is the way they protect your skin. Mineral sunscreens shield from UV rays, while chemical sunscreens absorb them. Both mineral and chemical filters protect your skin from UV rays as long as you apply your SPF correctly.
They can also differ in texture. "Chemical sunscreens are often easier to formulate in higher SPFs and cannot be seen on the skin when applied," says consultant dermatologist and brand founder, Dr Howard Murad. He adds that, "Traditionally, mineral sunscreens left a white cast on the skin, but a lot are now formulated in a way that makes them feel and look less heavy and white."
You also want to consider your skin type. Chemical sunscreens are suitable for all skin types, but those with sensitive skin may want to lean towards mineral formulas to minimise any potential irritation. The Coola SPF30 Organic Mineral Sun Silk Crème Full 360 spectrum, £ 45,00 uses mineral filters yet still feels light on your skin.
Mineral vs Chemical Sunscreen: Which One is Better?
When looking at mineral vs chemical sunscreen, neither is actually better than the other. "It's really a matter of personal preference," says Ava. "It depends on what textures, filters, finishes suit you and your skin best." The key is to find a formula that works for your skin and that you enjoy using. As consultant dermatologist, Dr. Anjali Mahto explains: "The best sunscreen is the one that you will use. If you don't like it, you won't use it."
Mineral vs Chemical Sunscreen: What You Need to Remember
When choosing between a mineral or a chemical sunscreen, the main thing you want to consider is your skin type, especially if you have sensitive skin. The most important thing is to find a sunscreen with a consistency and a texture that you like and know that you'll be able to wear every day, come rain or shine.
Read More
• How to Reapply Sunscreen Over Makeup
• The Best Sunscreens for all Skin Types • Summer Skincare Essentials
• Best Self Tan Products • How to Fix a Patchy Tan