IN FOCUS
The Skin-Clearing Benefits of Salicylic Acid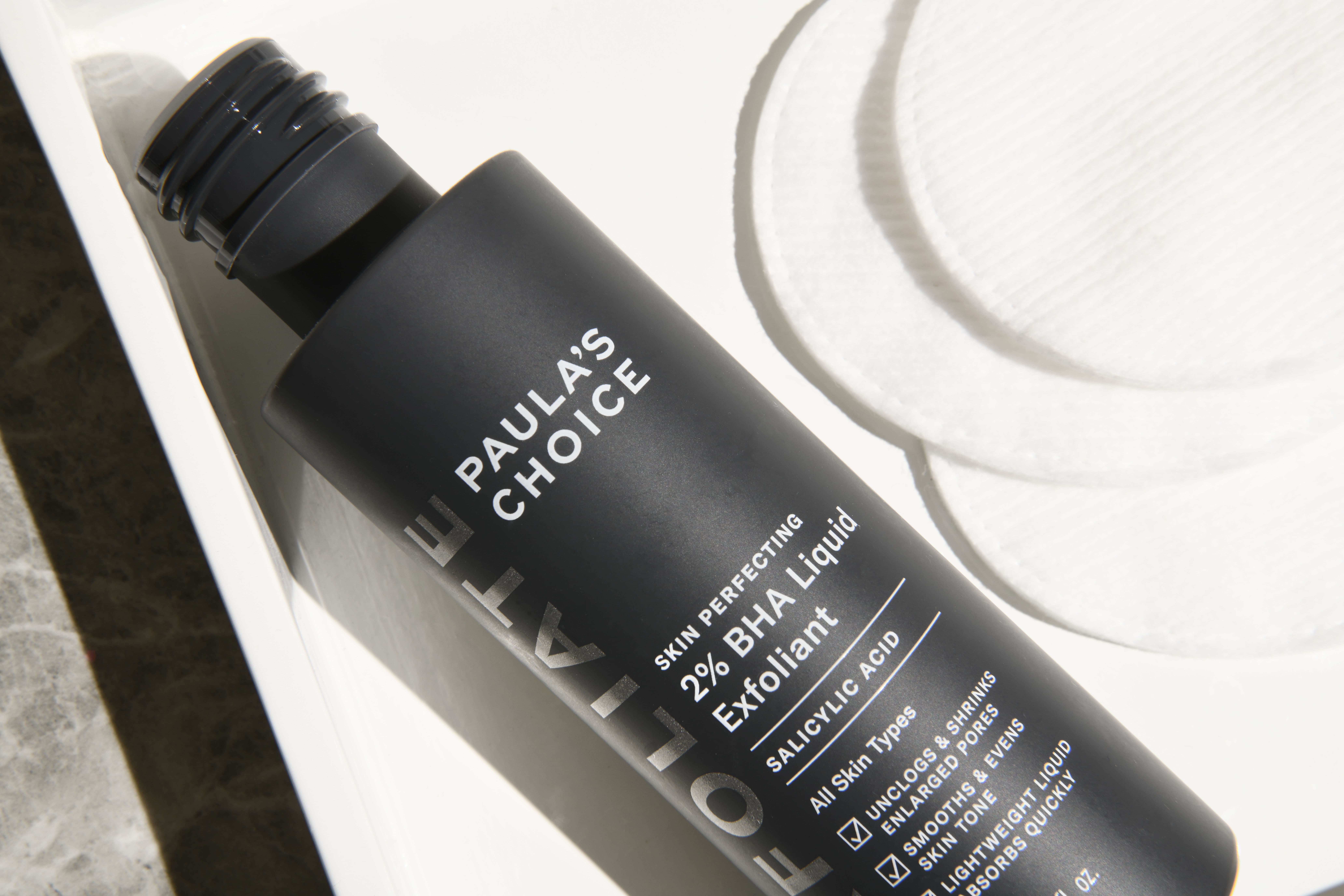 If there is one way to truly transform your skincare routine, it's levelling up your ingredient knowledge. And while a science or medical degree would definitely be a plus, luckily we're here to give you some straightforward pointers about the powerhouse ingredients your skin won't get enough of – such as the at times underrated hero that is salicylic acid. Still unsure about what salicylic acid can do for skin, and whether it will work for you? Read on to find out why this ingredient could revolutionise your skincare.
What Is Salicylic Acid?
Also known as beta hydroxy acid (BHA), salicylic acid is an active ingredient extracted from willow tree bark – we spoke to Paula's Choice Skincare Education Specialist Heather Wish to get lowdown: "Salicylic acid is a desmolytic ingredient, which means it's able to exfoliate by dissolving the bonds that hold the dead cells to skin's surface," she explains. Think of it as a hard-working exfoliant.
The Benefits Of Salicylic Acid For Skin
To put it simply, if you have oily and acne-prone skin, salicylic acid may just be your saviour. "If you're struggling with breakouts, blackheads or excess sebum, then salicylic acid is a great choice. Because salicylic acid is oil soluble, it also has the ability to penetrate into the pore lining and exfoliate inside the pore," says Heather. "This makes it especially effective for reducing breakouts, blackheads and whiteheads."
However, that doesn't mean other skin types can't reap the benefits of this BHA. "Even though salicylic acid is best known for its ability to address acne-prone skin concerns, it offers many additional properties that any skin type can benefit from," explains Heather. "By exfoliating the build-up of dead skin on the surface, it also helps reverse the appearance of dull, uneven skin tone, as well as other visible signs of ageing skin."
If your skin is sensitive, don't feel like you have stray away from salicylic acid entirely. "You can look for a lower percentage of BHA," says Heather. "1% will be more gentle and better suited."
Can I Use Salicylic Acid Every Day?
In short, you can use salicylic acid every day – but not without building your skin's tolerance first for a certain period. "The most important thing when introducing any active ingredient into your routine is to introduce it slowly," says Heather. "In the case of salicylic acid, I always recommend to start using it 2-3 times a week and gradually increase to a frequency that works best for your skin. Paula's Choice BHA exfoliants are safe to be used twice daily – however, not everyone will need this frequency."
Are There Any Side Effects To Salicylic Acid?
With any potent ingredient, controlled – and monitored – usage is key, as you want to avoid excessive exfoliation that could lead to skin barrier damage. As Heather reminds us, "Many things can irritate your skin such as fragrance, essential oils and harsh alcohols, so before assuming your skin barrier is hurt because of excessive use of an active ingredient, always ensure to look at what else you're using. Your skincare routine is only ever as good as your weakest product."
How To Use Salicylic Acid In Your Skincare Routine
Unsurprisingly, salicylic acid comes in all shapes and sizes these days. So, whether you choose to have a salicylic acid cleanser, serum, moisturiser or even body wash, look out for the percentage, preferably don't mix it with other exfoliants and make sure the rest of your routine is filled with more soothing formulas and ingredients. And let's not forget sun exposure – if you're going to be in direct sunlight, it's best to incorporate into your PM routine.
Our Favourite Salicylic Acid Products
Naturally, we are devotees when it comes to Paula's Choice much-loved Skin Perfecting 2% BHA Liquid Exfoliant (now available in a jumbo size – hooray!). "It's our global bestselling product," says Heather, "and it's clear why. Most skincare products take time and consistency to show a difference – but the qualities of this formula's salicylic acid make it one of the fastest-acting ingredients in skincare, with almost immediate results. The pH is another crucial factor — salicylic acid works best at a pH between 3 and 4. Formulas outside of this pH range will be less effective or could significantly disrupt the skin's barrier. By creating an irritant-free, gentle, pH-appropriate formula, we effectively yield the benefits of this amazing bio-active ingredient for skin, while keeping the sensitisation rate under control – even with daily usage."
We also love Medik8's super soothing Blemish Control Pads, infused with 2% salicylic acid. Then there's The Ordinary's Salicylic Acid 2% Anhydrous Solution, a water-free serum, and the brand's bestselling AHA 30% + BHA 2% Peeling Solution. For a lower dose, turn to Sunday Riley's famed U.F.O. Ultra-Clarifying Face Oil. And for a truly luxurious lather, try Dr Dennis Gross' Alpha Beta® AHA/BHA Daily Cleansing Gel.
Our Final Thoughts On Salicylic Acid
Given that it exfoliates, clears pores, fights acne, removes excess sebum and reduces inflammation, this is a BHA many of you won't want to miss out on. For a deeper look at treating blemish-prone skin, take a look at our Guide to Acne.
Read More
• The Best Products from Paula's Choice
• The Best Products from The Ordinary • The Best Dr Dennis Gross Skincare Products
• What is Slugging in Skincare? • What Is Retinol?