IN FOCUS
What Are The Strawberry Girl and Tomato Girl Makeup Trends?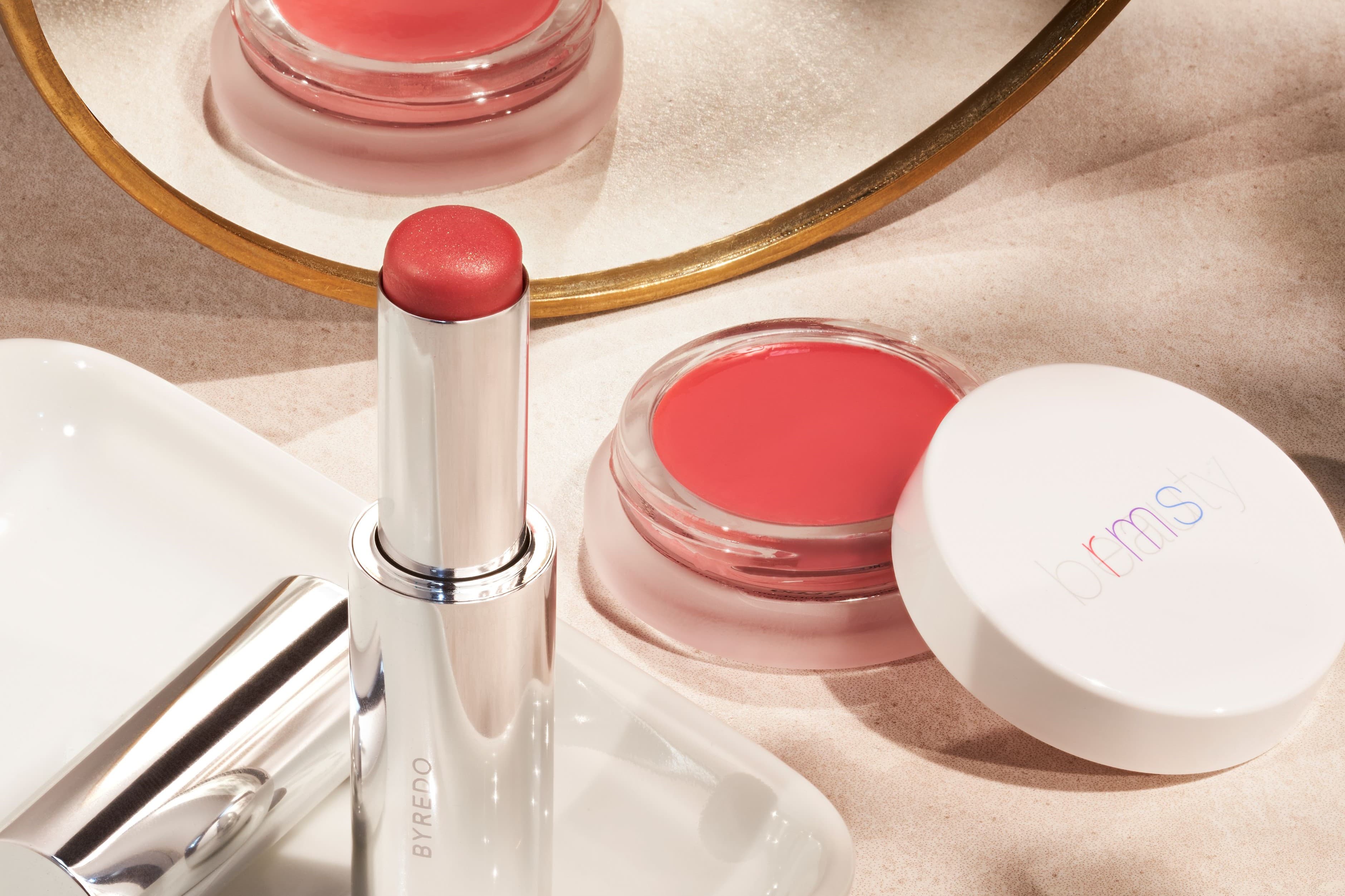 TikTok has been awash with fruity makeup trends of late and it's partly down to Hailey Bieber, again. A couple of years ago she championed the glazed donut look, last month she offered up her take on the
latte makeup trend
, and last week Hailey Bieber gave us a strawberry makeup tutorial. Admittedly, Hailey is yet to tap into the tomato girl aesthetic which has been equally as popular on TikTok, but there's still time.
If you're not up to date with the latest makeup trends TikTok seems to churn out, you might have some questions. What is strawberry girl makeup and how does it differ to tomato girl makeup? What products do you need? Fear not, we've created a speedy cheat sheet to get you up to scratch. We've also asked Space NK's social media team to try out the two looks and give us their honest opinions and must-have products.
What Is Strawberry Girl Makeup?
The strawberry girl makeup aesthetic is all about using a pink hue across your cheeks, lips and eyes. The look is super fresh and radiant, and it's proving very popular with #strawberrymakeup racking up over 16.6 million views to date.
"I first came across the trend when I saw Hailey Bieber's strawberry makeup tutorial," Space NK's social media coordinator Olivia Chenery explains. "I think people are tapping into the look because it's easy to create and doesn't require a million products."
How To Do Strawberry Makeup
Cream products are best suited to this look. "Keep your base light with Summer Fridays Sheer Skin Tint, £ 42,00 and use your concealer to touch up any areas that need a bit more coverage," says Olivia. "The strawberry makeup base is natural, radiant and ever so slightly bronzed." Using Rare Beauty Warm Wishes Effortless Bronzer Stick, £ 15,40 along your jawline, cheekbones and around your hair line will give you sculpted bronzed finish.
"I used Rose Inc Cream Blush Refillable Cheek & Lip Colour, £ 25,00 in Wisteria on my cheeks and nose and Nars Afterglow Sensual Shine Lipstick, £ 26,50 in On The Edge on my lips," says Olivia. "You can use the same product for your cheeks and lips and go a bit bolder with the pink. I finished the look with softly applied mascara."
Best Strawberry Girl Makeup Products
What Is Tomato Girl Makeup?
The tomato girl aesthetic isn't wildly different to strawberry makeup. Instead of using pink, tomato makeup focuses on terracotta tones. It is very Mediterranean summer vibes – think silk headscarves, light linens and gingham print tablecloths.
"TikTok's tomato girl trend is the perfect antidote to the patchy British weather we've been experiencing," says Space NK's social media assistant, Grace Herman. "I'm more of a latte makeup girl, but I was intrigued to experiment with a pop of colour and the trend has been all over my TikTok feed for the past week." On that, a quick browse of #tomatogirl on TikTok will provide you with plenty of makeup tutorials – if you're considering creating your own, don't forget the Frank Sinatra's Somethin' Stupid backing track.
"Similar to the strawberry makeup, you need to keep your base fresh and light for the tomato girl aesthetic," says Grace. "I used the VIEVE Sunset Blush, £ 27,00 in Piazza for all parts of my face, focusing on my cheeks and eyes. I finished with a tiny bit of clear lip gloss." If you prefer using cream formulas, there are plenty to choose from. Nars Afterglow Liquid Blush, £ 30,50 has a rather apt shade called Dolce Vita that we recommend checking out for the tomato girl makeup look.
The finishing touch to the tomato girl aesthetic is a striking red lip. "I'm not quite ready to channel such a bold lipstick colour, but I can definitely see how it would complete the look," Grace adds.
Best Tomato Girl Makeup Products
Our Verdict On Strawberry Girl Makeup and The Tomato Girl Aesthetic
Both looks are incredibly similar, and both received rave reviews from our social media team. "I love strawberry girl makeup!" Olivia says. "I'm going on holiday next week and it will be my go-to look while I'm away as it basically only requires one product and it'll look great against a tan." Grace was equally as impressed with the tomato girl makeup look: "It's definitely more out of my comfort zone, but I actually really liked the result and I'm going to keep using the VIEVE Blush."
Will strawberry girl makeup work for you, or should you go down the tomato girl aesthetic instead? It's all down to preference. If you naturally gravitate towards pinky tones, then tap into the strawberry makeup look. On the flip side, if you prefer a strong red lip, then tomato girl might be more your vibe. As with all these TikTok makeup trends, it's all about having fun so you can't really go wrong.
Read More
• Six Makeup Essentials To Tap Into The Soft Glam Trend
• Is Cream Bronzer Better than Powder? • Our Take on the Everything Shower Trend
• Everything you Need to Know about K-Beauty • Everything You Need To Know About Skin Cycling
• Everything You Need To Know About Skin Flooding