MOST WANTED
Why Ultra Violette Daydream Screen Is A Summer Skincare Essential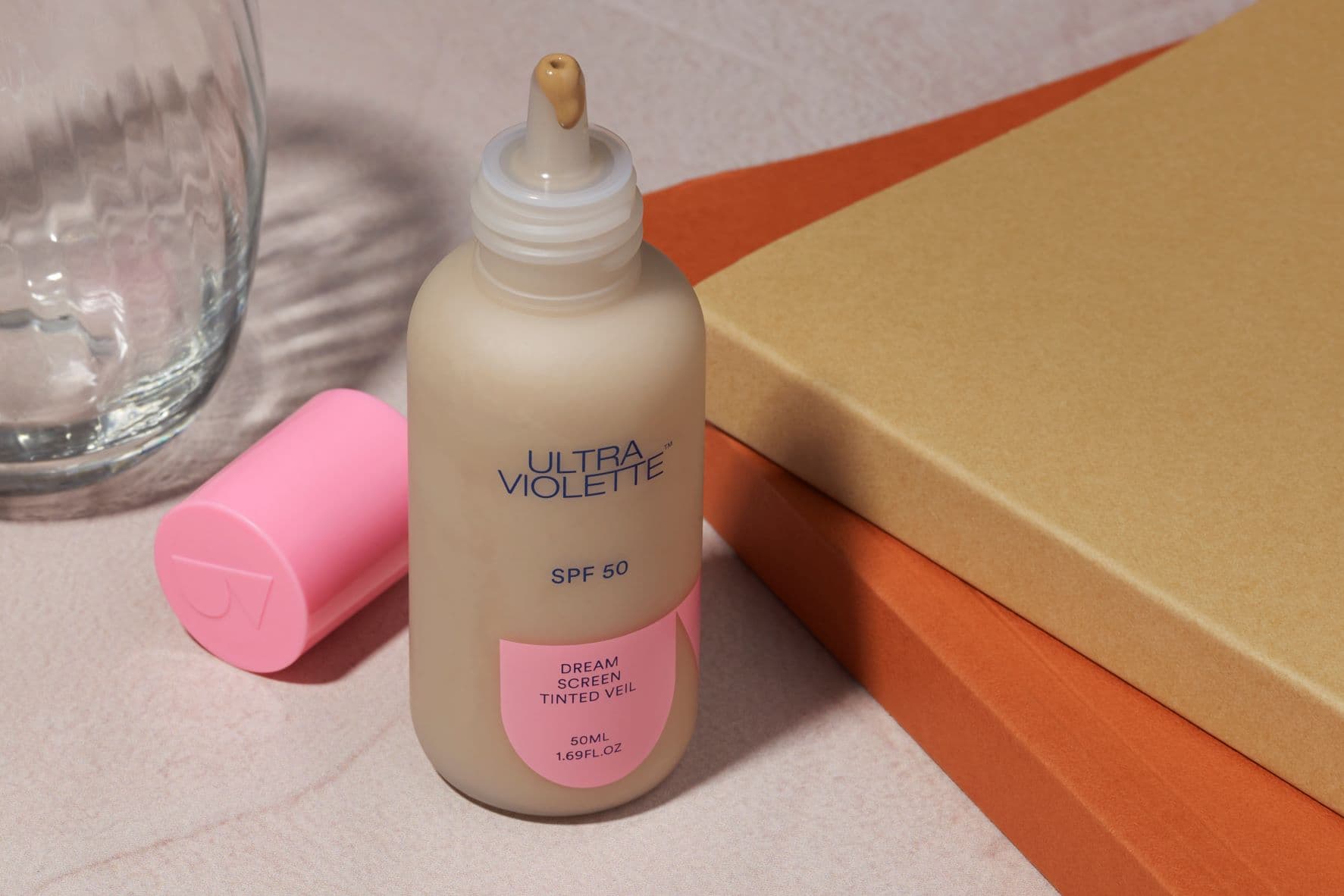 Top Line On Ultra Violette Daydream Screen SPF 50 Tinted Veil
Let's clear one thing up straight away, Daydream Screen SPF 50 Tinted Veil isn't an alternative for your usual SPF, you should use it like you would a tinted moisturiser. Available in 15 flexible shades, the Tinted Veil offers light to medium coverage with a dewy finish. It's oil-, silicone- and alcohol-free, and yes, it's super lightweight.
Everything You Need To Know About Ultra Violette Daydream Screen
With Daydream Screen SPF 50 Tinted Veil, Ultra Violette is venturing into the very crowded market of makeup, and I want to reiterate the point above. Before you trade in your trusted daily sunscreen, this product is makeup with benefits rather than a tinted SPF. If you use an Ultra Violette SPF, you can get away with using three or four pumps of your favourite skinscreen underneath the Daydream Screen, rather than the seven or eight that the brand usually recommends.
I think what's most impressive about Daydream Screen SPF 50 Tinted Veil is the texture. It blends in easily with very little effort required (I used my fingers) and doesn't have a filmy finish – even after a few hours of wear. On average I used about between a 20p and 10p amount which was enough coverage to even out my skin tone, but I did use concealer to touch up a blemish. In terms of finish, it's somewhere between natural, bare skin and dewy. An unexpected added benefit was that I found myself using the Tinted Veil to top up my SPF in the afternoon – something that (shamefully) I only ever usually do when I'm on holiday. It's super easy and quick to use and you're topping up your sun protection and your makeup at the same time.
The Verdict On Ultra Violette Daydream Screen SPF 50 Tinted Veil
Ultra Violette Daydream Screen SPF50 Tinted Veil, £ 38,00 is a summer essential for anyone who channels the no makeup makeup look and wants something quick and easy to use that offer maximum protection. Throughout the summer I rarely wear more than a slick of concealer and Ultra Violette Clean Screen Sensitive Skinscreen SPF 30, £ 32,00, so Daydream Screen is perfect for me. However, if you like a medium-to-full coverage foundation, you might be better using one of Ultra Violette's skinscreens and sticking to your usual base.
More From Ultra Violette
New to the brand? Try , there's a taster-size tube of Ultra Violette's bestsellers. If you want to go all in, I would recommend reaching for Ultra Violette Supreme Screen Hydrating Facial Skinscreen SPF 50+, £ 34,00 or Ultra Violette Clean Screen Sensitive Skinscreen SPF 30, £ 32,00, especially if your skin is on the dry, sensitive side. For those who hate that SPF is a daily skincare essential and want the lightest possible formula, you will fall in love with Ultra Violette Queen Screen Luminising Sun Serum SPF 50+, £ 36,00.
Read More
• Everything you need to know about SPF
• Tan Luxe vs Isle of Paradise Tanning Drops • How to Get the Best Body Glow this Summer
• The Difference Between Chemical and Mineral Sunscreen • Best Tinted Moisturisers