IN FOCUS
Three Expert Tricks For Banishing Frizz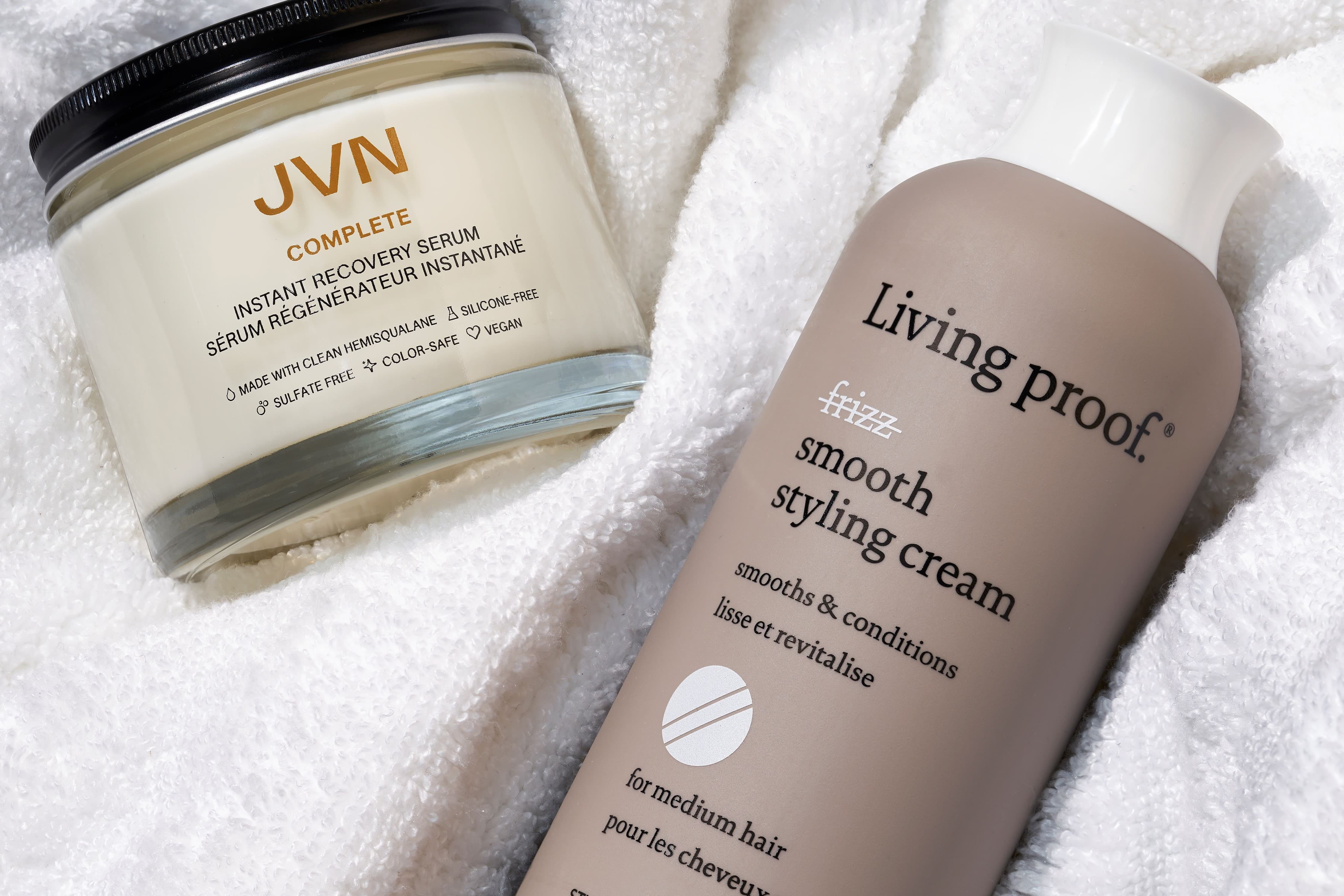 Hands up who has frizzy hair that refuses to stay smooth? We thought so. No matter what your hair type is (or the time of year), frizz is a hair affliction that affects us all. Cue the endless pursuit of silky soft,
glass hair
that doesn't take multiple hours or a professional blow-dry to achieve.
"Achieving smooth hair isn't a one-size-fits-all approach. Different hair types, porosity, curl patterns and textures require individualised approaches," says Living Proof's Global Creative Director, Michael Shaun Corby.
Luckily, there's a new wave of anti-frizz hair products determined to deliver frizz-free hair with minimal effort, whatever your hair texture. Plus, we quizzed three hair pros on their go-to tips and tricks for fighting the frizz once and for all.
What Causes Frizzy Hair?
Sometimes it can feel like the real question here is, what doesn't cause frizzy hair? From humidity to heat damage, dehydration to over styling, or even just using the wrong towel, there's a whole host of elements contributing to our wavy frizzy hair becoming, well, even frizzier.
"In winter, hair is subjected to extremes of temperature and humidity, with cold, damp weather outside, and a warm and dry atmosphere inside from central heating. This can cause excessive moisture loss from the hair, leaving it, rough, frizzy, and tangled," explains Olaplex Artist, Tom Smith.
In fact, unfortunately for us Brits, humidity is the number one cause of frizz. "The hair will absorb moisture, lifting the cuticle and causing it to swell, resulting in frizz," says Michael adding that "harsh hair treatments like chemical processing, excessive heat styling, and over-brushing can also damage the hair cuticle and contribute to frizz. Over washing and harsh ingredients can also play a role."
How To Treat Hair Frizz
It's not all bad news, in fact, there's endless easy tips and tricks for how to tame hair frizz, and a shelf full of anti-frizz hair products promising smooth, glossy lengths for every hair type.
Beat The Frizz Tip 1: Halt The Humidity
"Instead of relying on tying your hair up, you can fight the humidity and the frizz with essential hair prep," says Michael. "Make sure you're using conditioning masks weekly, then choose a styling spray, cream or serum that will help create a barrier to prevent any outside moisture absorption." We love Living Proof No Frizz Smooth Styling Cream, £16.00 – its genius smoothing tech blocks humidity to give long-lasting frizz prevention without weighing hair down. Or, as Michael puts it, "It's like a pro blow-dry in a bottle."
Beat The Frizz Tip 2: Fight The Friction
How you brush your hair, what you use to dry your hair and your personal choice of pillowcase are all important when it comes down to how to tame hair frizz. "Opt for a wide toothed comb or a brush with bristles that are far apart, and detangle from the ends to the roots," advises Color Wow Ambassador, Michelle Thompson.
When drying your hair, the old 'rough' dry with a towel is not your friend. "Try squeezing out the excess water with your hands instead and use a micro fibre towel or t-shirt to remove the rest of the water. Remember don't rub as this causes friction, delicately squeeze!" says Michelle. Lastly, a silk bonnet and pillow case, such as Slip Pure Silk Turban, £75.00 and Slip Silk Pillowcase - Queen Standard, £89.00, will take your wavy frizzy hair from static to oh-so-smooth overnight.
Beat The Frizz Tip 3: Up The Hydration
Fact – your frizzy hair is thirsty, but simply drinking water isn't going to cut it. "You need to drip feed your hair with moisture to keep the cuticle of your hair strands supple and polished," explains Tom. "I recommend keeping a bottle of hair oil (we love Olaplex No.7 Bonding Oil, £28.00) with you for top ups during the day, plus a few drops through the mid-lengths and ends every night before bed is a great habit to get into."
Hair masks and leave-in serums packed with hyaluronic acid and ceramides help to hydrate and strengthen the hair shaft leaving it smoother, silkier, and, crucially, less frizzy.
Your Anti-Frizz Kit
From the hair-smoothing serum to the nourishing hair oil, these are the best anti-frizz products on the market right now.
Read More
• Everything You Need To Know About Hair Slugging
• Why Is My Scalp So Itchy? • The Smoothing Benefits of Keratin for Hair
• The Best Living Proof Products • Bread Beauty Supply's Founder's Haircare Routine