IN FOCUS
Tatcha Lip Balm VS Tatcha Lip Mask: What's The Difference?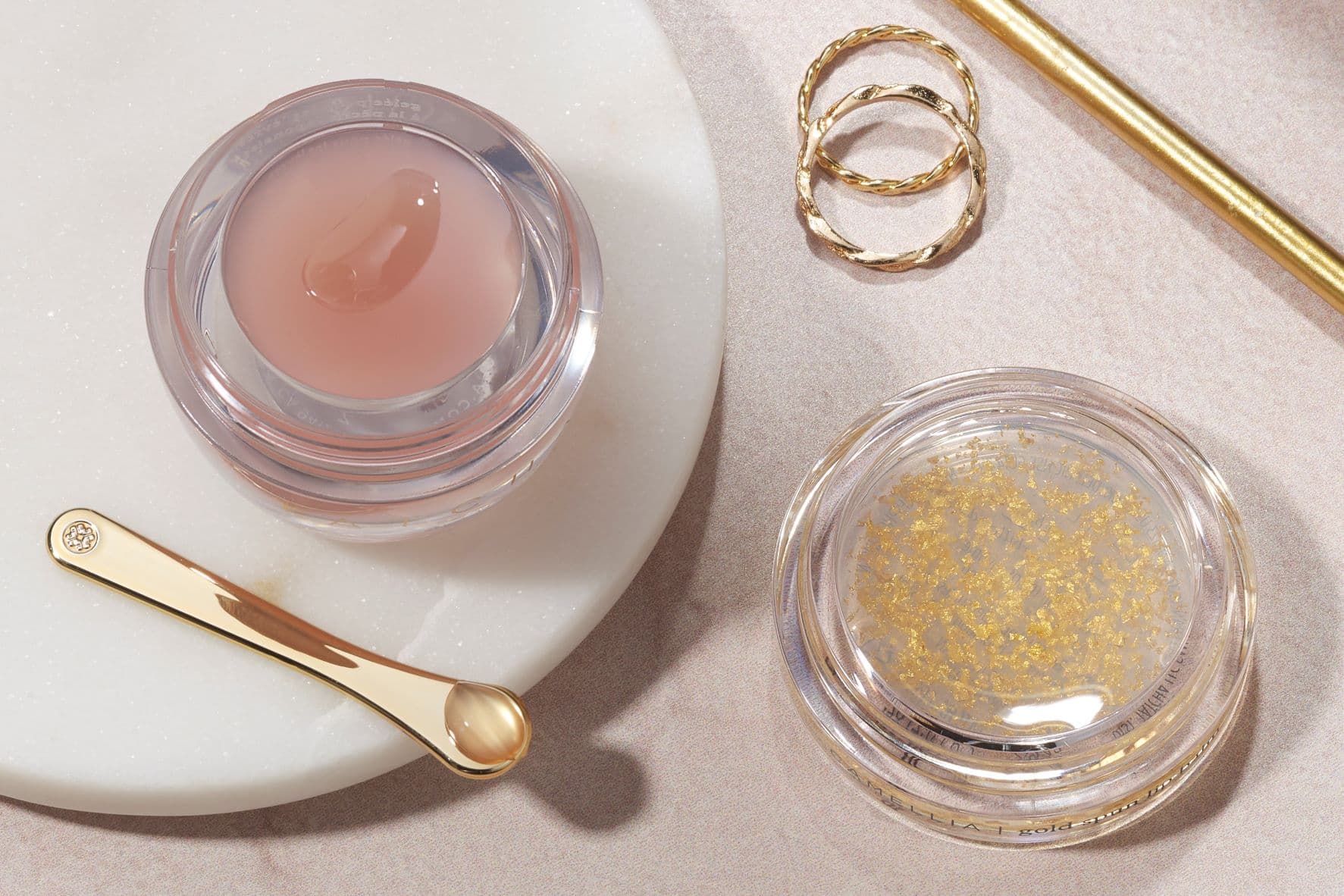 We recently launched
Tatcha
in the UK and the response has been incredible, from customers but also from our team. It's a brand that everyone has fallen in love with, from the pastel packaging to the luxe formulations and the beautiful approach to Japanese beauty. We love that the brand stands for self-care and prioritises our wellness as much as our skin with their innovative formulations.
Tatcha products are one everyone's radar, from the Water Cream to
the Dewy Skin Cream
, not to mention the Cleansing Oil and Essence. The brand also has two lip products that we can't get enough of. There is some confusion around the difference between Tatcha The Camelia Gold Spun Lip Balm and The Kissu Lip Mask, so we decided to dive in to help you find the right one for you. We get into all you need to know about these products, the formulations, the texture and why we love them.
If you're on the hunt for a new (or two) lip product, read on because we're pretty sure you will be convinced by the end. Our Social Media Assistant Olivia shares why the lip mask is one of her must-haves, while our SEO Content Coordinator Hanitra talks about her love the lip balm.
Everything you need to know about the Tatcha Kissu Lip Mask
The Tatcha Kissu Lip Mask is the product my lips have been longing for. Its jelly-like texture works to restore the lips to full lushness, and it has quickly become a non-negotiable in my skincare routine. The sleek packaging looks great on my nightstand and allows me to really feel like 'that-girl'.
Crafted with natural ingredients and Japanese botanicals including peach extract and orange peel, it does wonders to repair damaged lips and calm irritation. An ingredient that really stood out to me is the natural squalene, which helps to restore moisture while strengthening the skin barrier. And the best part is, it doesn't leave my lips feeling sticky or oily.
Although it's suggested to best to apply overnight so it can work its magic during slumber, I also love wearing it throughout the day as it leaves a glossy shine to the lips that drumroll, please… actually lasts! My lips felt hydrated and plumped from the first use and as a great bonus, I've found I'm no longer constantly having reapply lip balm throughout the day (you know the struggle). My lips are really thankful for this little jar of luxury.
Everything you need to know about the Tatcha Camellia Gold Spun Lip Balm
As an avid lip balm collector, when browsing through the Tatcha product range, I knew that the Camellia Gold Spun Lip Balm was going to be at the top of my most wanted list. First off, let's talk about this packaging because it deserves an entire review to itself. Not many things have made me feel as luxurious as carrying this little pot of (actual) gold around.
One of the key ingredients is camellia oil, which is like a fountain of hydration for your pout and you can really feel it once you start working it into you lips. Packed with antioxidants like vitamins A and C, this formula protects your lips from environmental stressors, which can usually dry your lips and you can really feel when living in a city like London.
As for the lip balm itself, it was love at first try. The texture goes on super smoothly and instantly gives your lips a boost of hydration that lasts for hours, which is not something I can say for all of the lip balms I've tried. I also love that it this lip balm leaves a beautiful sheen and can double up as a subtle gloss. I already know this lip balm has become one of my staples and I'll be carrying it with me everywhere I go.
The Verdict
Whether you choose to go for the Kissu Lip Mask or the Camellia Gold Spun Lip Balm, you can't go wrong with either of these. The main difference is that the lip mask was formulated to be worn at night but as Olivia said, it is an amazing daytime lip balm as well. If you like to wear lip colours during the day, from lipstick to lip gloss, the lip balm might be a better fit because it creates that perfect base. What we're trying to say is that you can definitely get both and keep the lip mask on your nightstand and have the lip balm in your bag to reapply throughout the day.
Read More
• Tatcha's Vicky Tsai's Skincare Rituals
• Tatcha The Rice Polish Deep Review • How to Get Glass Skin
• Best Summer Makeup Products • A Guide to the Perfect Natural Make up Look