SPACE SESSIONS
Inside Tula founder, Dr. Roshini Raj's Skincare Routine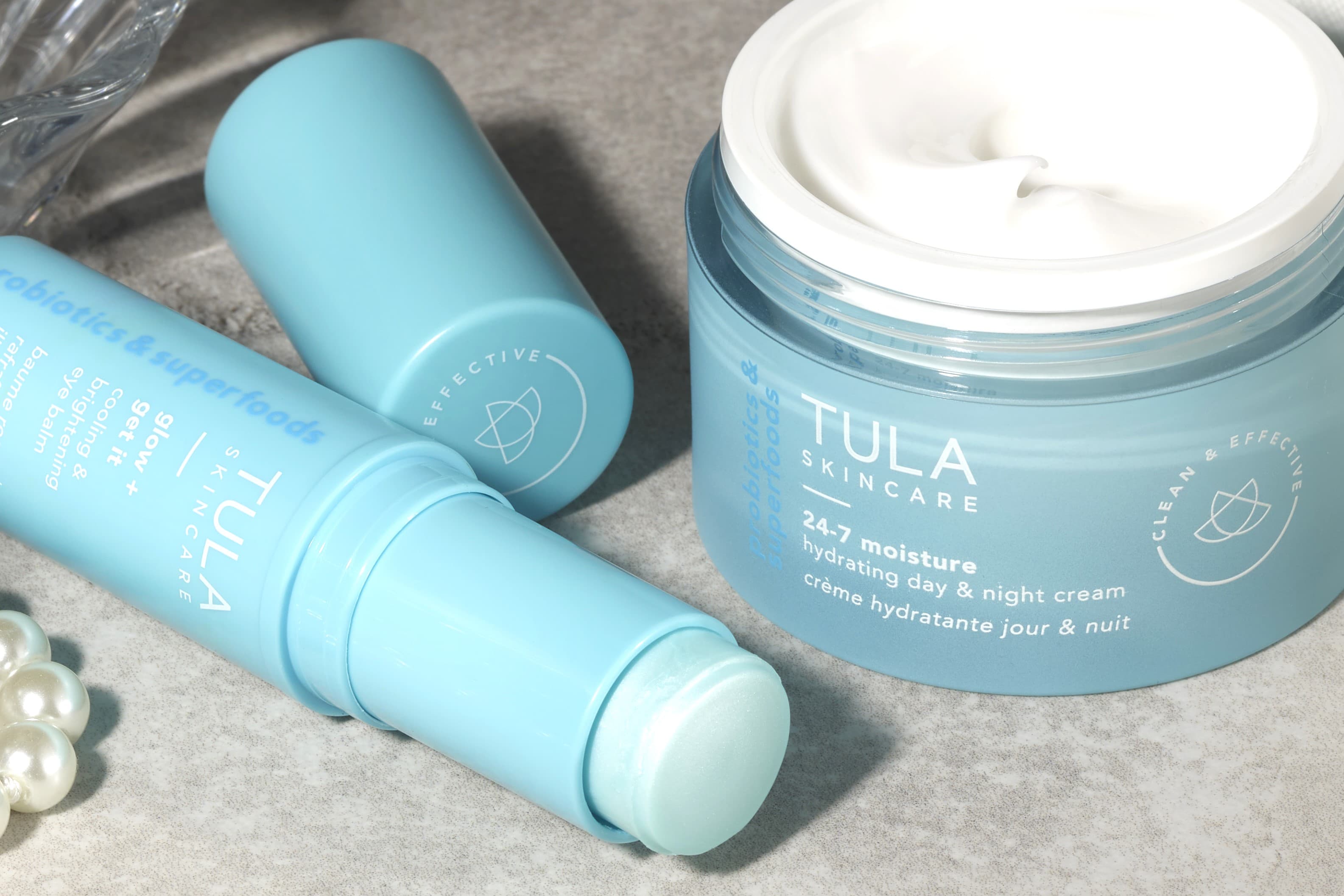 We've all heard that beauty comes from within, but according to gastroenterologist and doctor of internal medicine, Dr. Roshini Raj, it's scientifically true. Especially for our skin. "Ingesting probiotics, either by consuming probiotic-rich foods or taking probiotic supplements, can help improve digestive balance and calm inflammation to improve skin issues and overall health and wellness from the inside-out," she tells us. It was this link between gut and skin health that encouraged Dr. Raj to create her skincare brand,
Tula
- a probiotic skincare range of 'superfood' products designed to balance and calm skin, while nourishing it with all the good stuff.
"Probiotics are a powerful, clinically effective addition to any routine," she tells us. That said, Dr. Raj doesn't claim her products alone can work miracles. For true skin results, it's about making the right lifestyle choices. "I am a big believer in approaching beauty from the inside out," says Dr. Raj. "No skincare routine is complete without a healthy diet, regular exercise, and getting enough rest." Does Tula's founder practice what she preaches? We delve into the expert's own skin routine and find out why probiotics are the one skin step we shouldn't skip.
My own skin is testament that probiotics work
"People with all skin types (sensitive, dry, oily or acne prone) are likely to see improvements in their complexions by introducing probiotics (either topically or ingesting- ideally both!) into their wellness routine. Probiotic extracts are a true breakthrough innovation in skin care and wellness, recognized for their clinically proven ability to soothe and calm skin inflammation and balance skin. I have been studying probiotics and the gut/skin microbiome for over 20 years and there's still so much more to learn! When it comes to topical probiotic extracts in skincare, Tula formulates with our patent pending S6 Pro Complex, a proprietary blend of prebiotics & probiotic extracts that is clinically proven to improve skin's natural balance, strengthen the skin barrier, increase skin firmness, and protect the skin from moisture loss. Since we launched the brand in 2014, I've been able to see firsthand the long-term benefits of probiotic extracts in both myself and the Tula community.
Other skincare ingredients are important too
"My all-time favorite Tula product has to be our Beauty Sleep Overnight Repair Treatment. It's packed with skin powerhouses like AHA's, Vitamin C, and a hydrating blend of fruit extracts to leave skin looking and feeling smoother, hydrated, and more balanced. It's one of my favorite products to recommend! For Tula, it's about not having to choose between skincare that's healthy and skincare that works. All Tula products are formulated with clinically proven ingredients like our patent pending S6 Pro Complex, a proprietary blend of prebiotics and probiotic extracts as well as superfoods and powerful skincare actives like ceramides, hyaluronic acid, niacinamide, and many more. As a practicing gastroenterologist, Tula is committed to skin health and looks to clinical studies and research to decide what's in and what's out of our formulas - we have very strict standards & I wouldn't have it any other way!
My philosophy? Embrace age by living life right
"A happy and healthy body is going to radiate beauty and gut health has a very strong impact on skin health. It's all about feeling confident and healthy, not perfect. Especially after turning 50 recently, I'm more aware of my skin than ever and the way I talk to myself. Something I love about Tula is how we encourage embracing your skin through all of life's stages and how there's nothing "anti" about aging.
Read More
• Tula Rose Glow & Get It Cooling and Brighteming Eye Balm Review
• What is Double Cleansing? • The Benefits of Honey for Skin
• What is Slugging in Skincare? • What Is Retinol?