How To Create A Cosy Ambience
From scented candles to diffusers, here is the secret to creating that chic, cosy feel this Christmas…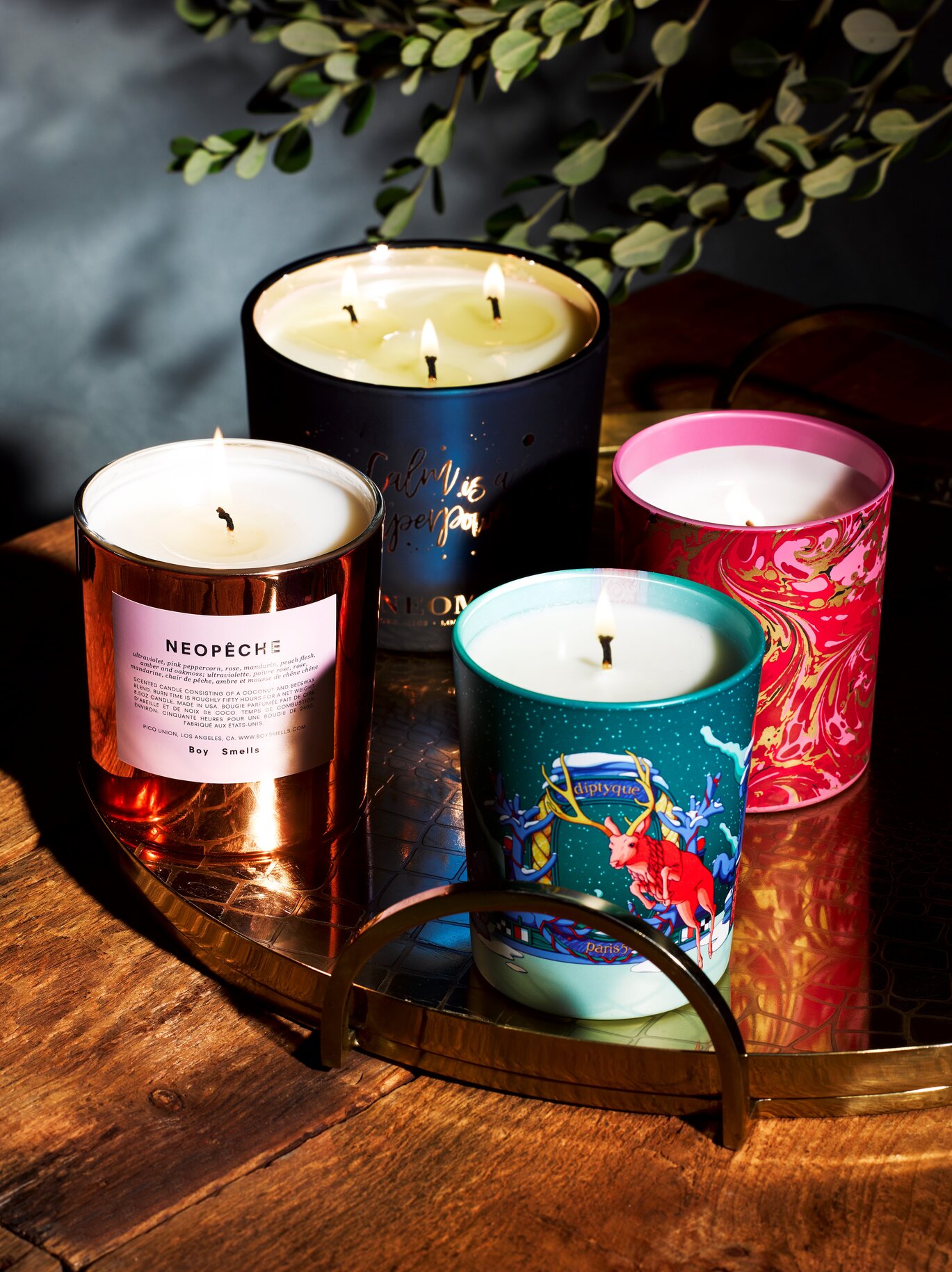 Haven't our homes done well this year? Accommodating us far more than usual, they've been the centre of our devotion as a space to nurture, embellish, lift and love. So what décor deliciousness have you been buying? Maybe some artwork and wall curiosities. A few books with bright spines for jazzing up your Zoom-background bookshelf. Some pretty jars for sourdough starters and ceramic dishes for all those banana loaves. A puppy, perhaps? Now, it's time to treat your interior to a different dimension of pampering: a glorious, joy-inducing wintery home fragrance.
Before we dazzle you with our edit of candles, diffusers and more, think back to those times when you walked through your favourite hotel lobby or boutique and instantly felt at ease. The aroma of 'welcome' is no accident: it is a beautifully staged strategy using specific ingredients that snake into the senses to make you feel comforted, recalibrated and calmed. These expert 'welcomers' weave their spaces with notes such as enveloping woods, sticky sweet resins and fruit, and moreish flavours of vanilla and tonka bean. At the eminent Plaza Athénée Hotel in Paris, for instance, a faint plume of glowing amber and succulent peach fills the air with familiarity and togetherness so that each time you return, it smells like home.
"The aroma of 'welcome' is no accident: it is a beautifully staged strategy using specific ingredients that snake into the senses."
So rather than this being 'yet another candle feature', there is a kindred sumptuous strategy to our selection. We want you to feel welcomed in your own abode – you've worked hard on it (and in it!) – and these beautiful scents have chilly winter weeks in mind when all we crave is mind-thawing cosiness.
There isn't anything more greeting than the fragrance of church – regardless of which religion you follow, or none at all – just the mere concept evokes solace and sanctuary. Byredo Altar Candle channels the Catholic churches of India (where founder Ben Gorham's mother is from) with deep, spiced clove buds and the aged-paper scent of papyrus, sweetened by symbolic flower-garland notes of ylang ylang and carnation. In a similar 'winter wonderlust' theme is the Chinese-tea laced aroma of Atelier Cologne Ooloang Wuyi Diffuser, £60.00. It radiates a slightly smoky, musky perfume that's as cocooning as a steaming pot of soothing loose-leaf infusion.
If it's a winter wonderland you're aiming for, hold onto your reindeers, there are some serious festive feasts ahead! Acqua Di Parma Notte di Stelle Room Diffuser, N/A has an unmistakable that-time-of-year sparkle of clove and pine oil, chopped birch wood and a flash of raspberry. Diptyque Sapin de Nuit Candle, £19.50 is a must-have for entrance hallways as a bienvenue burst of frost-glittered pine. There is no way we can omit the majestic Jo Loves Christmas Trees Home Candle, £55.00 from our edit. It is the exact smell that rises from the box of tinsel and baubles you've just cracked open after a year in dormant storage: nutty, sweet, earthy and emotionally-charged with nostalgia. Its limited-edition vessel by British marbling artist Jemma Lewis adds a next-level lust factor, too.
Winter, for some, is a time to reflect and look after one's wellbeing by finding new ways of pouring self-care joy into the long dark days. Nicola Elliot, founder of Neom Organics, has made this her life work with her aromatherapy empowerment candles and body care. Her blends mandarin, cinnamon and tonka bean with a multitude of essential oils that smells like the most relaxing, snow-surrounded alpine spa you've ever been to.
As we come to the end of this, frankly, unfathomable year, the act of welcoming seems more important than ever. Maybe not physically, what with the non-stop carousel of restrictions and rules, but emotionally, as we relearn our stance on social equality. Boy Smells has captured this inclusive mindset in their candles, and their curious-but-addictive Boy Smells Neopêche Candle, £45.00 is a must-have. Designed for those who don't adhere to gender labels, it's a luminous, mouth-watering glow of sweet peach flesh, powdery violets and incense that brings optimism and togetherness to any room, mood or occasion. It's a perfect self-gift if this year has been so overwhelming that you have no idea what you like anymore because, quite simply, it smells like home.