LOOK BOOK
Three Pride Makeup Looks Created By Wendy Asumadu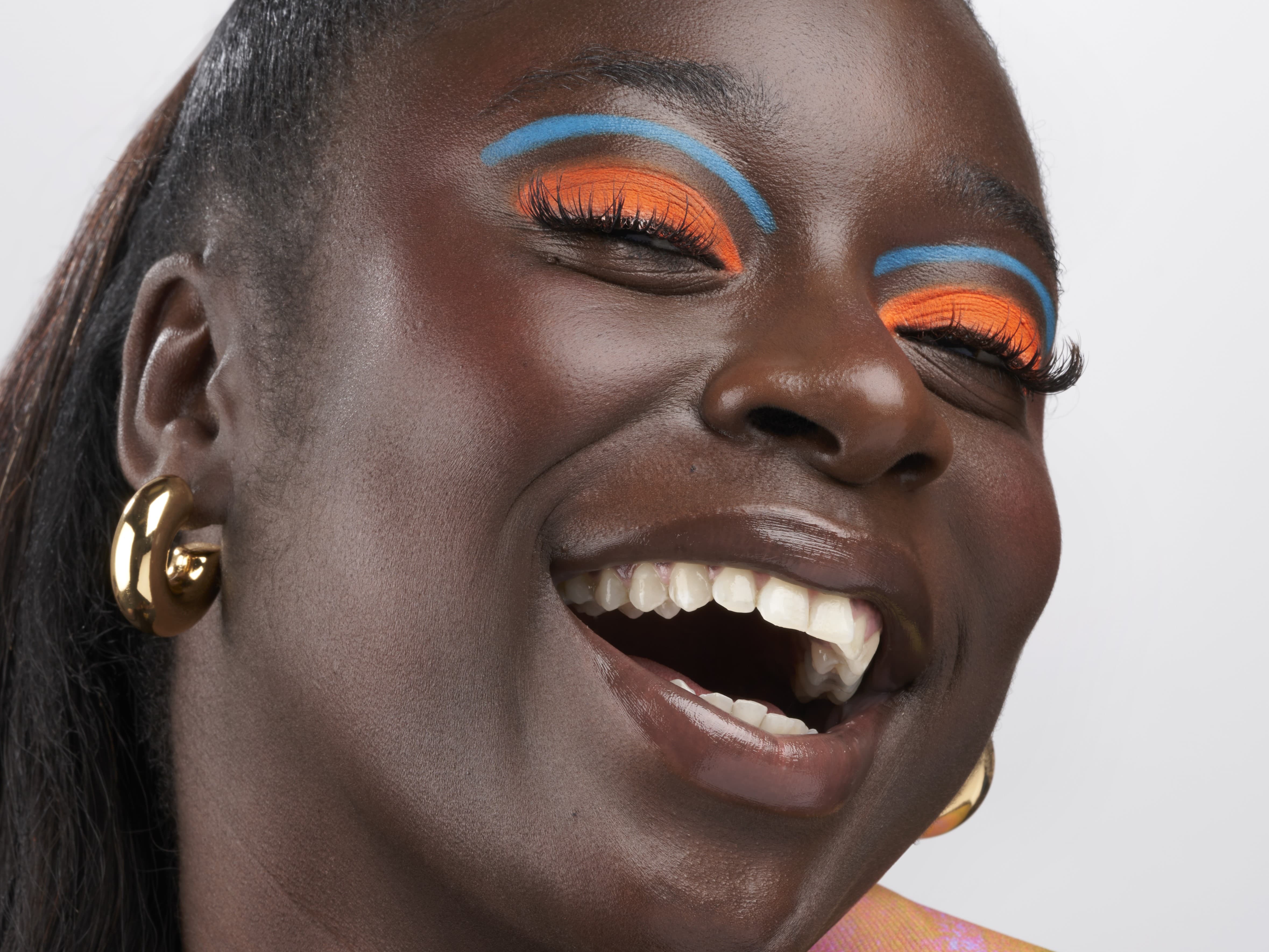 It's Pride month! While we stand by our LGBTQIA+ community all year round, this month we wanted to take extra steps to show our support. Pride means something different to everyone. For makeup artist and content creator Wendy Asumadu, also known as @wendysworld_xox, "Pride is a celebration of being who you are. It's about fighting to be equal and existing peacefully. The hope that everyone can eventually be who they are without fear or judgment. It's the acknowledgement and appreciation for those who have fought for the LGBTQIA+ community."
Makeup is often used as a tool for people to express themselves and to celebrate and support the community. For Pride 2023, our Trade Marketing Coordinator Joseph Wright teamed up with Wendy to create three colourful and expressive Pride makeup looks.
Alongside these show-stopping looks, Space NK is working with Switchboard, an LGBT+ helpline that provides a vital safe space for anyone to discuss anything, including sexuality, gender identity, sexual health and emotional wellbeing. If you donate £5 to Switchboard between 16th and 19th June, you'll automatically receive 20% off your purchases at Space NK. From 1st June until the end of August, you'll be able to donate to LGBTQIA+ charity, Stonewall at checkout. Our payment processing partner Adyen will be matching any donations generated throughout the period.
In the meantime, over to Wendy and Joseph to share their Pride makeup looks…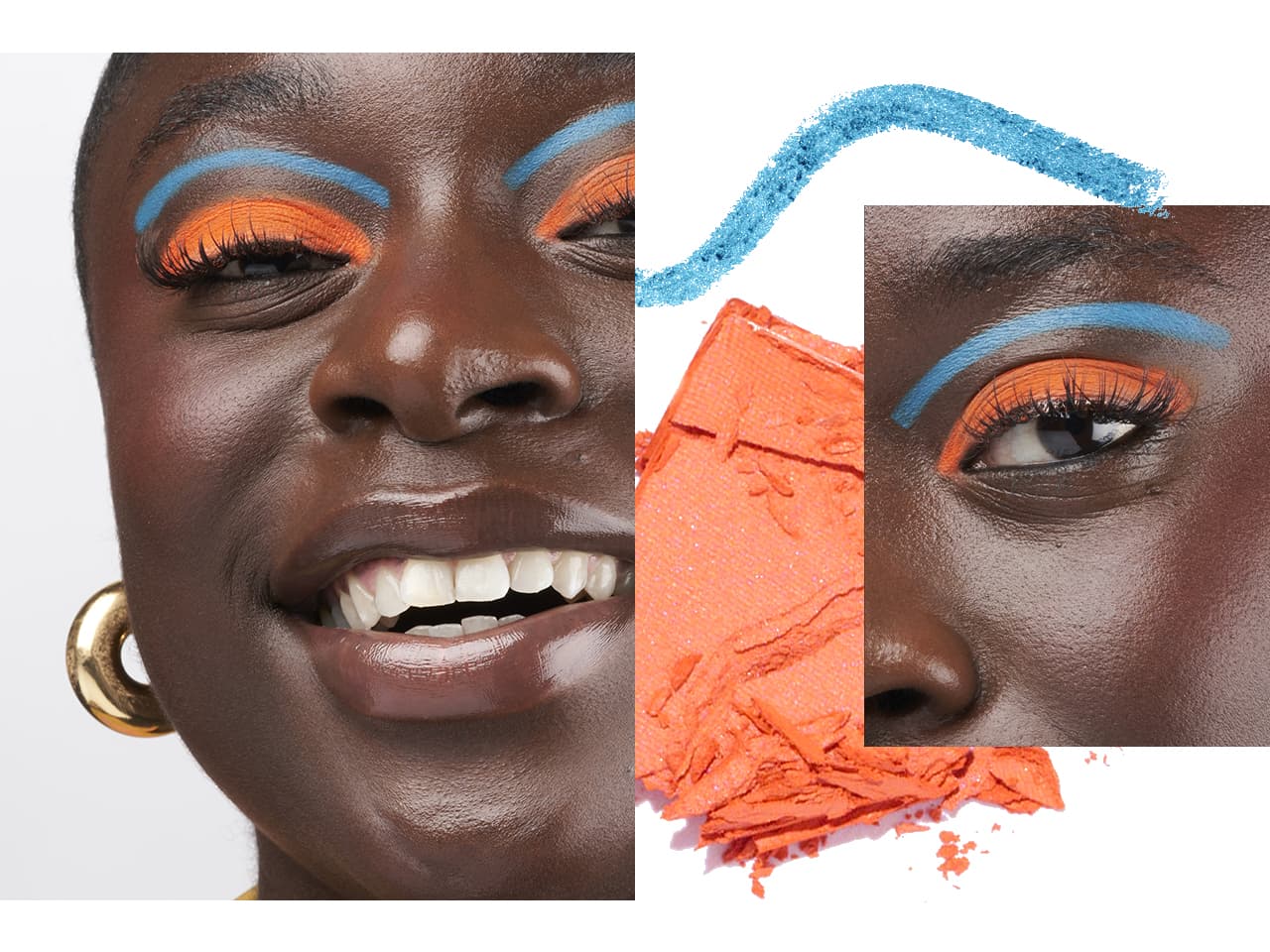 Wendy's Bright Eye
Colour is a big part of what I do. I treat my face as a canvas and usually use paint to create bright, bold looks. I think bright colours express my personality without saying anything. Being experimental with makeup shows my love for colour, art and being creative. With this look, I wanted to go as bright as I could, and Nimya The Palette, £50 provided this punchy orange tone which I paired with Shiseido Kajal Ink Artist, £26.5 in Sumi Sky. For Pride, and in fact all year round, I always advocate experimenting with colour as it always makes you feel good, I promise!
Wendy's top tip: Looking for a punchy finish? Use a white base or eye primer to prep your eyelid as this will really make the colour pop.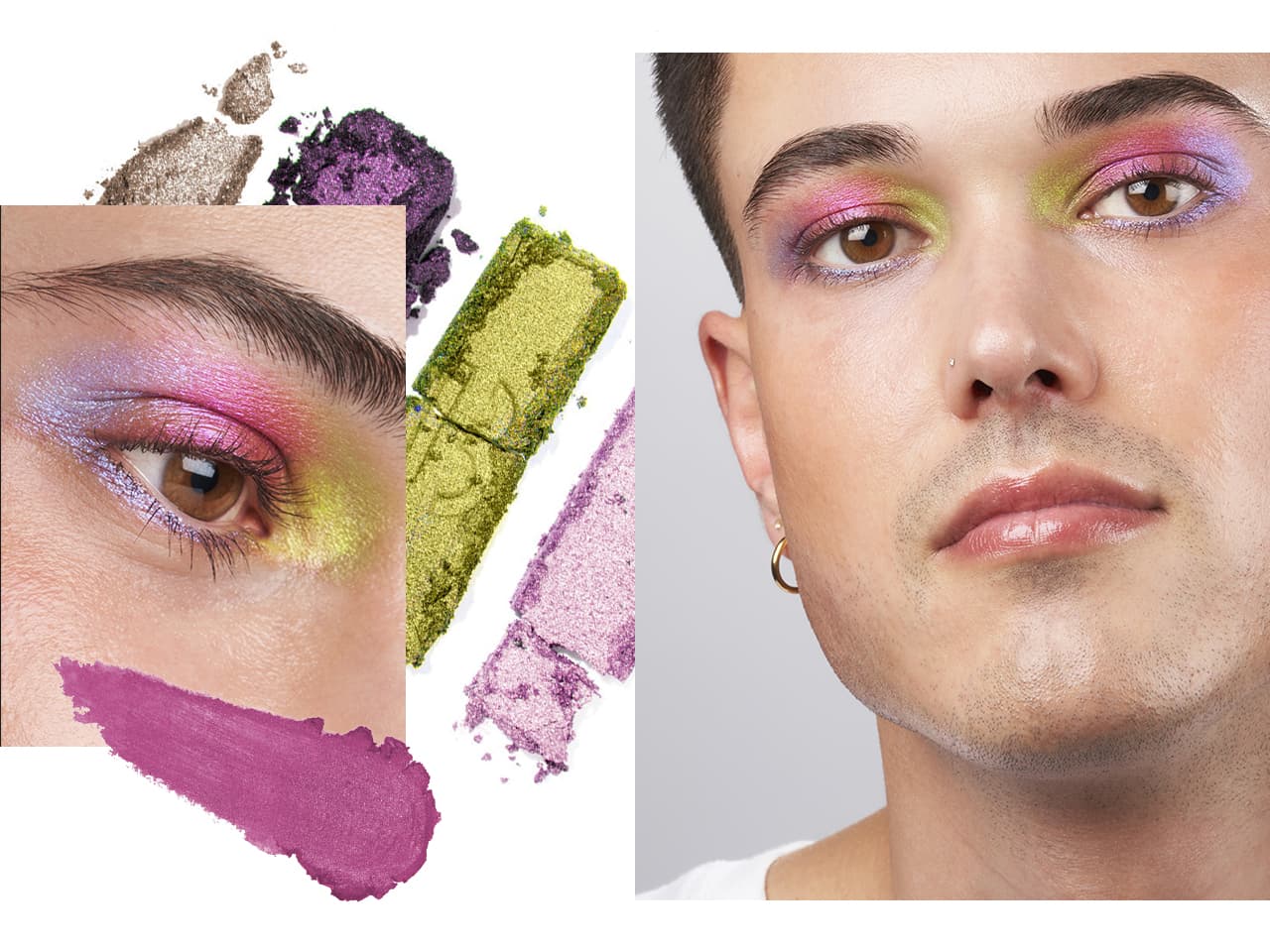 Joseph's Rainbow Eye
For me, Pride is a time of year that I can really express myself – I can wear that outfit, go bolder with my makeup and there's no judgement. The rainbow is synonymous with the LGBTQIA+ community and I asked Wendy to create a Pride eye makeup look that nodded to that. While the Byredo Palette in Syren has five colours, we decided to stick with the green, pink and purple as they suited my skin tone. This look is the ultimate Pride eye makeup look in my opinion as it's fun and colourful – the only thing I might do is add a sprinkling of glitter for London Pride!
Wendy's top tip: When it comes to navigating eye palettes, I always recommend using the lightest shade in the inner corner of your eye as this acts as a highlighter and lifts any darkness.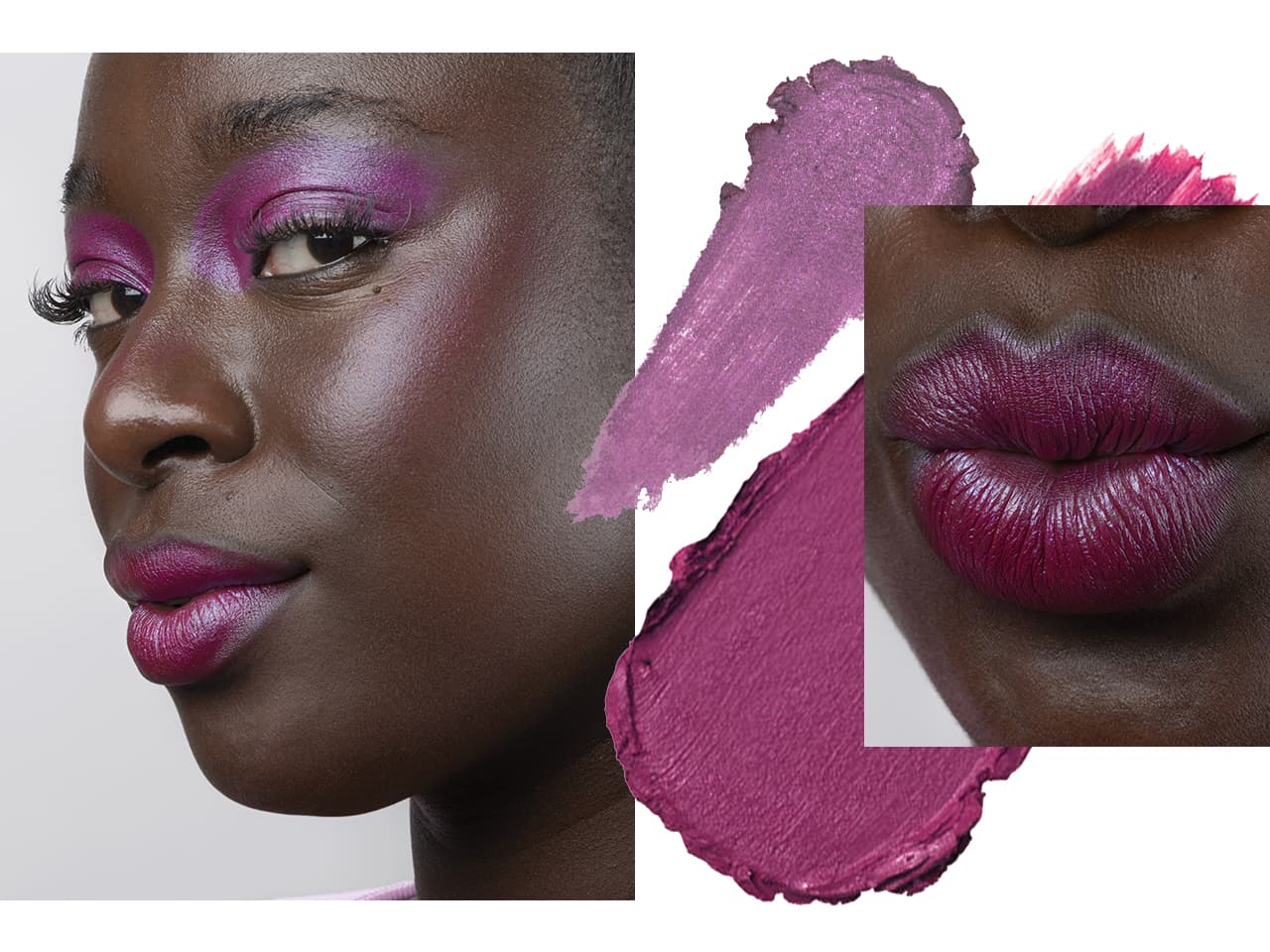 Wendy's Purple Look
You can create this look with a punchy red or pink lip colour, but I don't like those tones on my skin, so I went for a strong purple shade instead. I was impressed with the colour payoff of Laura Mercier High Vibe Lip Colour, £27.5 in Pop and I surprised myself by how much I liked the shade on my eyes, lips and subtly along my cheeks. I layered Byredo Colour Stick, £32 in Mesolithic underneath. This is what makeup is about, it's about experimenting with the colours, the placements and creating something that makes you feel confident and feel seen.
Wendy's top tip: With strong lip looks, I like to use a dark lip liner to leave space between the edge of my lip and the colour. It looks fresher and cooler.

Read More
• What is Mascara Cocktailing?
• Best Sweat Proof Makeup Products • Beauty Essentials for a Wedding
• The Difference Between Contour And Bronzer • The Best Cream Blushes