MOST WANTED
Why The Drunk Elephant Retinol Oil Is Ideal For Beginners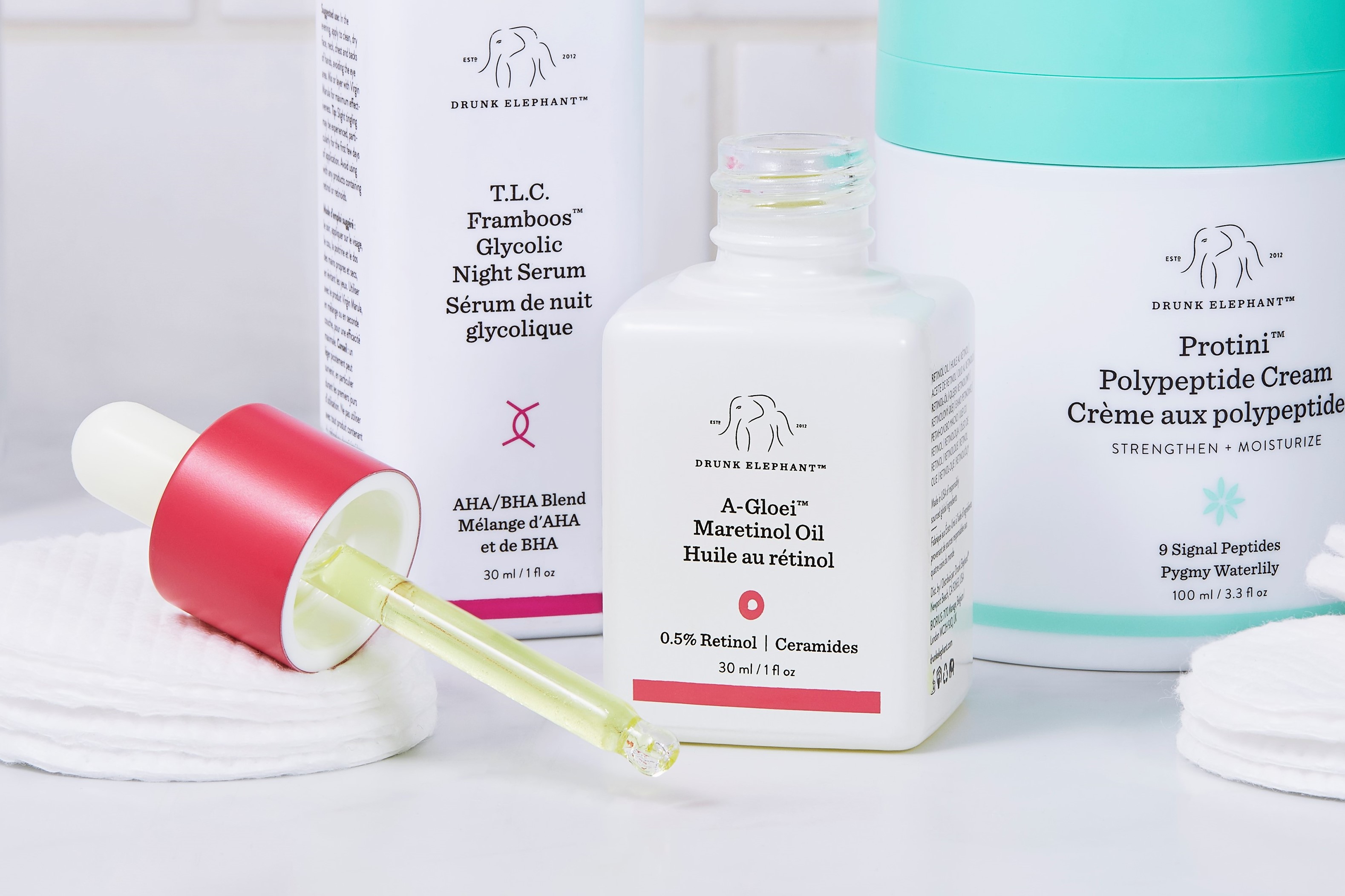 Retinol is one of those ingredients that you feel like you should be using because everyone raves about the benefits. The idea of smoothing fine lines, erasing dark spots and combating acnes with one over-the-counter serum sounds ideal, but retinol (or vitamin A as its also known) can have its downsides. Having experienced the itchy, red, peeling side effects with the two retinol products I've tried in the past, I've shied away from the ingredient.
My go-to ingredients are hyaluronic acid for hydration and vitamin C for a boost of brightness and to help fade dark spots. Having worked in Space NK stores for a couple of years before starting my role as buying coordinator, I know that I'm not alone in my apprehension around retinol. That's not to say I'm not intrigued by the ingredient though and as one of the only buyers in the team not to use vitamin A in one form or another, I've been looking for a beginner-friendly formula. When it arrived in the office, senior buyer Victoria Wiseman promised me that the new Drunk Elephant A-Gloei™ Maretinol Oil, £63 wouldn't ruin my skin as it was made with vitamin A newbies in mind.
This isn't the first time the brand has dipped its toe into the retinol pool, Drunk Elephant A-Passioni Retinol Cream, £24 launched in 2018 and has been a firm favourite among experienced vitamin A fans ever since. The formula contains 1% vegan retinol, which is strong for an over-the-counter cream and definitely not for the likes of me. In comparison, A-Gloei Maretinol Oil contains 0.5% vegan retinol. With this in mind, I agreed to give it a go and share my Drunk Elephant retinol review.
Drunk Elephant A-Gloei Retinol Oil Summary
Put simply, if A-Passioni Retinol Cream and Drunk Elephant Virgin Marula Luxury Facial Oil, £34 had a baby, it would be called A-Gloei Maretinol Oil. The vegan-friendly face oil contains a whopping 95% virgin marula oil, so you can sleep easy that this formula will not leave your skin feeling dry and stripped like some retinol products. In keeping with Drunk Elephant's strict ethos, the retinol oil doesn't contain any of the suspicious six ingredients. For those new to the brand, this includes essential oils, drying alcohols, silicones, chemical sunscreens, fragrances/dyes and SLS.
Everything You Need To Know About The Drunk Elephant Retinol Oil
As someone with combination-to-oily skin, the main reason I've always been quite keen to add a retinol product into my routine is to help rebalance my sebum production and fend off pesky breakouts. The Drunk Elephant retinol oil promises to nourish skin and keep the unwanted side effects at bay without the help of virgin marula oil, which is rich in omega fatty acids. While every skincare expert I've ever spoken to me has told me face oils won't make my skin oiler, I'm still reluctant to fully embrace them.
Full disclosure: I've tried Drunk Elephant Virgin Marula Oil and found it a little bit too rich for my skin - it is hailed as a must-have for drier skin types though. Almost immediately after I dispensed three drops of A-Gloei Maretinol Oil into my hands and warmed them up, I appreciated that it has a slightly lighter texture. Like every oil, you have to massage it into skin for at least a minute, if not longer, but it doesn't leave a greasy, slippery feeling.
I slipped it into my evening routine twice a week to begin with and didn't experience any dryness or itchiness. If anything, my skin felt smoother and more refreshed. I've since upped it to three times a week and use it alongside my hyaluronic acid serum. As my skin can veer towards to oilier side sometimes, I don't use a night cream or moisturiser with the Drunk Elephant retinol. If you have dry skin, you might want to mix a couple of drops into Drunk Elephant Protini Polypeptide Cream.
The Takeaway Point From My Drunk Elephant Retinol Review
This Drunk Elephant retinol oil has changed my opinion not just on retinol, but also face oils. My fears of battling greasy skin and breakouts within minutes of using it were completely unfounded and the gentle 0.5% vegan retinol hasn't resulted in any uncomfortable redness or itchiness. If, like me, you're wary of vitamin A, I would definitely recommend investing in Drunk Elephant A-Gloei Maretinol Oil. It's also a great option for anyone with dry or sensitive skin too.
I can't say for absolute certain that you'd be as impressed by the product if you're more experienced with retinols, but I think it's worth mentioning that the brand say that you can add a couple of drops into your Drunk Elephant A-Passioni Retinol Cream for a seriously powerful vitamin A product.
More On Retinol
Studies have proven that retinol is one of the most effective ingredients we can use to improve the appearance of our skin but finding the best retinol products for your skin type is imperative. If you want to learn more about the gold standard anti-ageing ingredient, check out our guide toretinol.