IN FOCUS
Everything You Need To Know About Retinol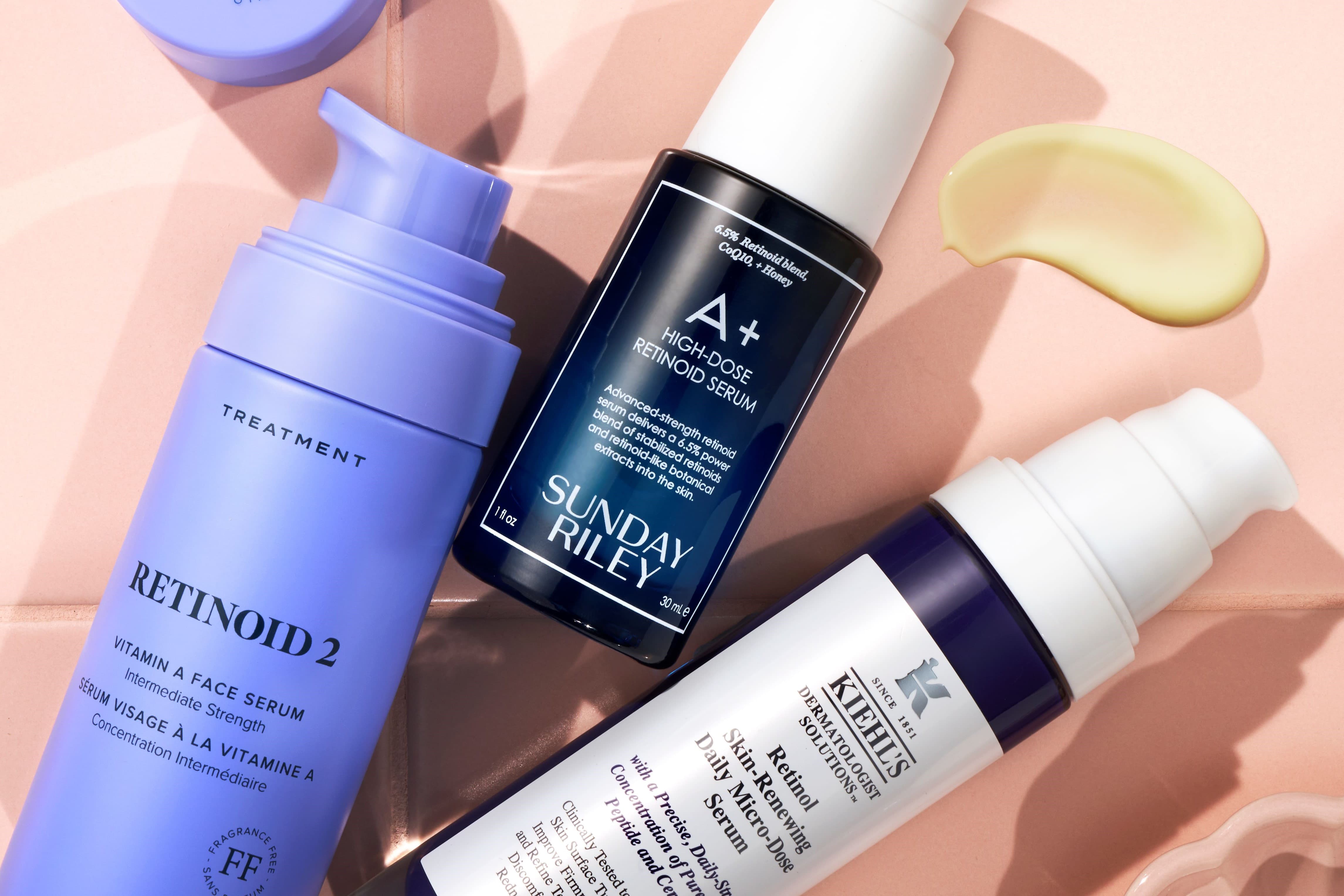 'What is retinol?' is one of the most common skincare questions we get asked and for good reason. Originally used by dermatologists to treat acne in the 1940s, retinol is now used to help smooth out fine lines and wrinkles, ease the appearance of dark spots,
pigmentation
and
acne scarring
, as well as fend off breakouts by keeping pores clear. Speak to almost any dermatologist and they'll tell you that retinol is a gold standard skincare ingredient.
Finding the right
retinol product
for your skin and knowing when and how to use it can be a minefield though. For a start, there's the various names (retinol, retinoids, retinyl palmitate to name just a few) and the different percentages (should you start with 0.01% or 1%?), and that's before you've even considered whether you want to use a retinol cream or serum. We've created a cheat sheet covering all the key questions around the ingredient, including what is retinol? Scroll down to discover the difference between retinols and retinoids, where to slot them into your routine and how long you'll have to wait to see the results.
What is retinol?
Part of the confusion around retinol is that there are so many 'R's', including retinoids, retinal, retinyl palmitate and retinyl acetate et cetera, all of which are derived from vitamin A. In short, retinoic acid is the only form of vitamin A that our skin recognises and all of the 'R's' have to convert into this active ingredient to get to work. The two main 'R's' are retinoids and retinol. Retinoids require fewer conversions and tend to be prescription based (Retin-A is one of the most popular) as they're more potent and can cause irritation, while retinol has to convert twice and is widely available over the counter.
Retinol might not be as strong and does take longer to work than retinoids, studies have proven that biochemically they work in the same way. As technology advances, retinoids are finding their way into over the counter beauty products as Oskia founder, Georgie Cleeves explains: "there are encapsulated retinoids which penetrate deep into layers of skin, and even irritant-free forms that bypass the irritation and peeling that's so often associated with the ingredient."
Nicolas Travis, founder of Allies Of Skin is a fan of retinal (also known as retinaldehyde) as it's a potent retinoid but is gentle on your skin. Fans of the brand might remember that it featured in the original Night Cream. Medik8 is another brand that champions retinal in its Crystal Retinal line.
Who is retinol best for and when should you start using it?
Given its impressive skincare credentials, retinol can help a lot of people achieve smoother, brighter, healthier looking skin. When it comes to deciding whether you should be using retinol or, it's worth considering what your key skin concerns are. If you suffer with acne, including teenage, adult and hormonal, you'll benefit from incorporating a retinol serum into your routine as, "it removes bacteria from pores and reduces oil production in the sebaceous glands," explains Dr. Yannis Alexandrides of 111Skin. Severe acne may benefit from a course of prescription retinoids, so we always recommend seeking advice from your doctor or dermatologist.
If fine lines and wrinkles or dark spots and pigmentation are a concern, retinol serum or cream can help here too. "Retinol stimulates the production of new cells and collagen to improve firmness, while reducing melanin production to help ease hyper-pigmentation," says Georgie.
Retinol and retinoids have a reputation for irritating skin and causing peeling, itchiness and redness, so a lot of people with dry skin tend to avoid it. However, it can help to boost your skin's radiance. Rather than avoiding it, try using a low percentage retinol cream in the evening and lactic acid based treatment in the morning. Retinol creams tend to be gentler and add that all-important moisture, while an exfoliating treatment will get rid of any dry surface skin.
How do you use retinol in your skincare routine?
When it comes to introducing retinol into your routine, keep the motto 'slow and steady wins the race' in mind. Going too hard, too soon could overload your skin and cause irritation. "Start using your retinol cream or serum once a week, in the evening, after cleansing to build your tolerance," says Dr. Alexandrides. If the introduction goes well, after a fortnight up your usage to twice a week, but if the reception is frosty, revert back to one.
Take the same approach to the strength of your serum or cream. If you haven't used retinol before or have dry skin, look for a 0.01% retinol cream or serum, those with oily skin could start with 0.03% retinol product. If you're well-versed with retinol and have used it for years, 0.3% to 1% is generally deemed as a potent over the counter dose.
When it comes to whether you should use retinol in the morning or evening, experts are still fighting it out. It is important to always wear an SPF 30 though as vitamin A can further sensitise your skin to UV rays. In terms of where to slot retinol into your routine, apply it after cleansing and before your hyaluronic acid serum and usual moisturiser. If you're also using vitamin C, use one in the morning and the other as part of your evening routine to avoid overloading your skin. You can use AHAs and BHAs alongside your retinol products to exfoliate your skin, but ensure that you're using hyaluronic acid and peptides alongside to keep your moisture levels balanced.
Skin cycling is the new skincare trend everyone is talking about and it's one for those who don't know how often they should use their actives. With skin cycling, the trick is to use your AHAs and BHAs on night one, your retinol on night two and let your skin recover for two days with hydrating ingredients. If you have sensitive skin and are afraid of strong actives, this might be the way to introduce retinol without irritating your skin.
How long does it take to see a difference in your skin?
All skincare ingredients, including retinol take time to work. When you start using a vitamin A derivative, it can take anywhere from four to 12 weeks before you start seeing visible results. Be patient though and don't be tempted to use your retinol more regularly or up your percentage too quickly as this could result in irritation, peeling and redness.
Our Favourite Retinol Products
If you're new to retinol, we recommend investing in Caroline Hirons' Skin Rocks Retinoid 1 - Vitamin A Face Serum, £ 65,00. The beginner strength vitamin serum should be introduced into your evening routine gradually and followed with your usual moisturiser. Caroline has created a stronger version, Retinoid 2 for those who are used to vitamin A.
We're also fans of the bestselling Sunday Riley A+ High-Dose Retinoid Serum, £ 70,00 which contains a 5% retinoid ester blend and 1% liposomal-encapsulated retinol blend to help ease pigmentation, smooth fine lines and improve the appearance of ageing. Kiehl's Retinol Skin-Renewing Daily Micro-Dose Serum, £ 49,00 is also a very good formula and the new Drunk Elephant A-Shaba Complex Eye Reform Serum, £ 56,00 is our current favourite for smoothing the eye area.
For a comprehensive list, check out our edit of the best retinol serums and creams.
Our Final Thoughts on Retinol
Retinol is a strong ingredient that can do wonders for acne, pigmentation and texture, without being too harsh on the skin when used correctly. With the brighter days around the corner, make sure you wear SPF every day to avoid any sensitivity. If you find retinol to be too strong for your skin, bakuchiol and other retinoids might be a better and gentler alternative for your skin.
READ MORE
• Natural Retinol Alternatives Explained
• Can You Use Vitamin C With Retinol? • The Best Retinol Products
• How to do the Retinol Sandwich Method • What Are Retinoids And How To Choose The Right One For Your Skin?