IN FOCUS
What Is Skin Cycling And Should You Be Doing It?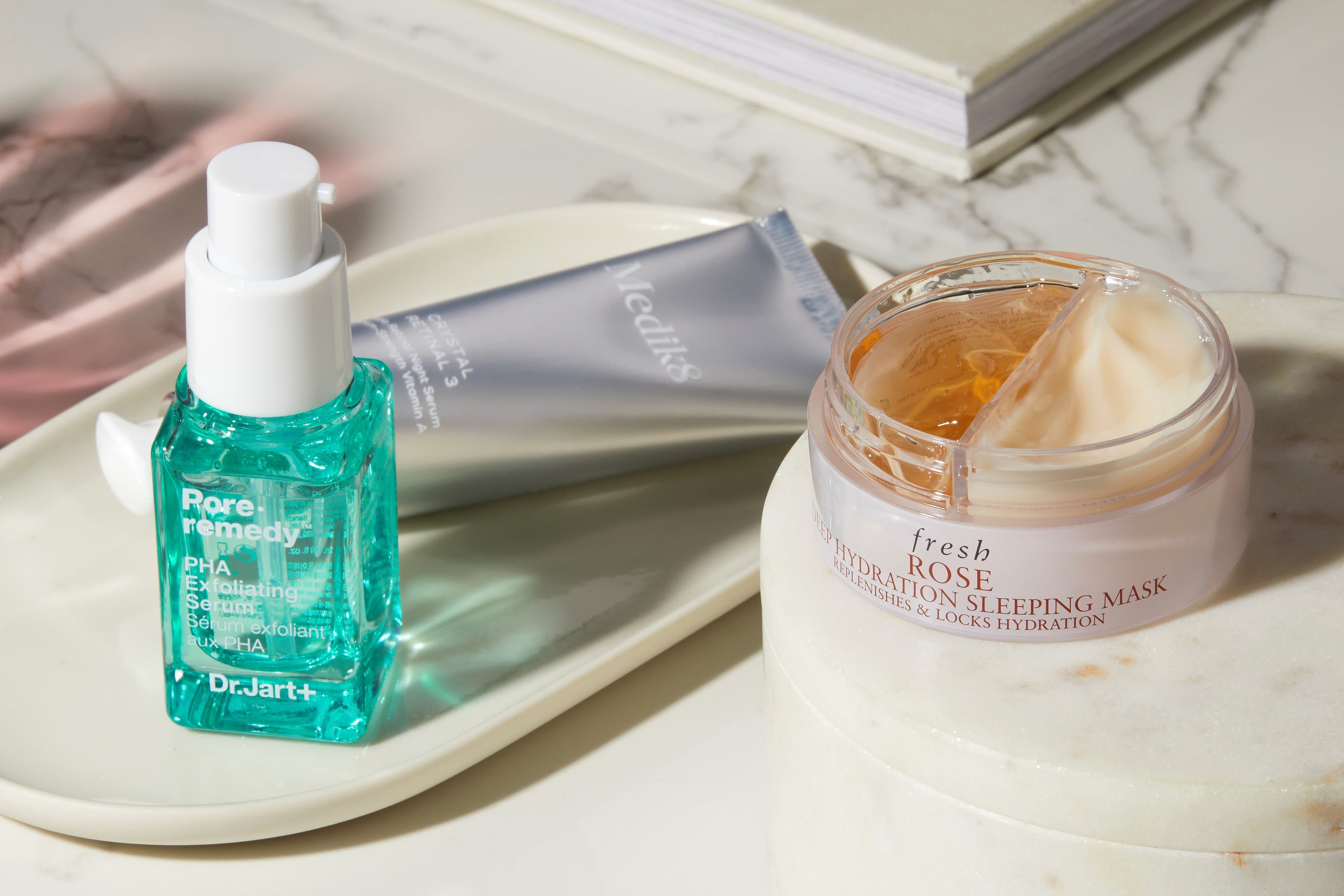 Like
slugging
, skin cycling is one of the latest TikTok skincare trend that's been approved by dermatologists around the world. The hashtag #skincycling has over 3.5bn views with people showcasing the results of skin cycling, and the trend doesn't appear to be dwindling.
Having a consistent skincare routine is key if you want healthy skin, that's why NYC- based dermatologist Dr. Whitney Bowe has come up with the skin cycling method. A quick scroll of your TikTok and it might feel like everyone is tapping into this skin trend. Everyone, including Space NK's Social Media Coordinator Oliva Chenery.
What is skin cycling and what are the benefits?
Skin cycling is a 4-night cycle created by dermatologist Dr. Whitney Bowe and is all about having a consistent skincare routine to support your skin barrier. Many people tend to get carried away when it comes to using active ingredients in skincare, which can result in a damaged skin barrier and sensitised skin. "I've treated thousands of patients for over a decade as a dermatologist, and I find that one of the top mistakes people make when it comes to their skin is that they don't build in nights for their skin to recover," explains Dr. Bowe.
The skin cycling routine is all about using the right actives and giving your skin the time to recover. Here are the four steps Dr. Whitney Bowe recommends.
How to do skin cycling
Night 1: Exfoliate
Use a leave-on chemical exfoliant with ingredients such as salicylic acid to help loosen blocked pores and remove dead surface skin. "A chemical exfoliating serum can give your skin an immediate glow," explains Dr. Bowe. Based on your skin type and needs, you can use a blend of acid that work for your skin. Our Social Media Coordinator, Olivia has been using the Dr. Jart+ Pore Remedy PHA Exfoliating Serum, £ 20,00. AHAs, BHAs and PHAs can help to ease acne and blackheads, but you need to be careful and not overuse them, or it can irritate your skin.
Night 2: Retinoids
Whether it's retinol or any other retinoid, it's never too early to start using vitamin A for skin skincare to fight early signs of ageing, stubborn pigmentation, or acne. It is a powerful ingredient that can do wonders for the skin, however some people tend to overuse it and damage their skin barrier.
"Most people find that if they use them too frequently, or layer them with other potentially irritating ingredients, they end up with irritation rather than results," explains Dr. Bowe. Based on your skin type and skin concerns, choose a strength that will work with your skin rather than against it. Oliva has been using the Sunday Riley Luna Sleeping Retinoid Night Oil, £ 45,00 at the end of her skincare routine. Always remember to apply SPF the morning after to protect your skin from photo-ageing.
Nights 3 and 4: Recovery and Hydration
Following those two nights, hold off on the actives. Focus on hydration and giving your skin some love for the next two nights. This is the time to give your skin some love, nourish your skin barrier and protect your skin microbiome. Focus on ingredients like ceramides, squalane or honey, with rich textures like thick moisturisers and masks.
If your skin is feeling extra sensitive, you can use one of those nights to tap into the slugging skincare trend with a leave-on mask like the Tatcha Indigo Overnight Repair, £ 86,00. Olivia likes to use the Biossance Squalane + Vitamin C Rose Oil, £ 57,00 to give her skin some love on those nights.
Does skin cycling work for all skin types?
Skin cycling is especially beneficial for those who don't know how often to use actives ingredients in their skincare routine and helps to prevent overuse. The main thing is to give your skin enough time to recover in between steps to soak in the benefits. Whether you have dry or oily skin, tend to have acne or rosacea, skin cycling can help improve your skin texture.
Following a skin cycling routine is a good way to understand what your skin needs and how it reacts to different actives.
Are there side effects to Skin Cycling?
If you're only starting to use ingredients like actives and retinoids in your skincare routine, things like slight redness and purging can occur. That's why the nights of recovery are crucial, as they will help you identify how your skin is reacting to them.
Final Thoughts on Skin Cycling
Skin cycling is the ideal approach for the skincare newbies or anyone who needs to be more consistent with the strong ingredients they use. Dr. Bowe says that, "If you stick with skin cycling, over the next few months you'll really see that transformation." She puts an emphasis on the importance of consistency. Remember that you can always adapt the routine to your skin needs, it's not a one-size fits all.
Read More
• A Simple Skincare Routine for Beginners
• How To Do The Retinol Sandwich Method • Inside Caroline Hirons' Skincare Routine