MOST WANTED
Our Review Of Drunk Elephant's Protini Powerpeptide Resurf Serum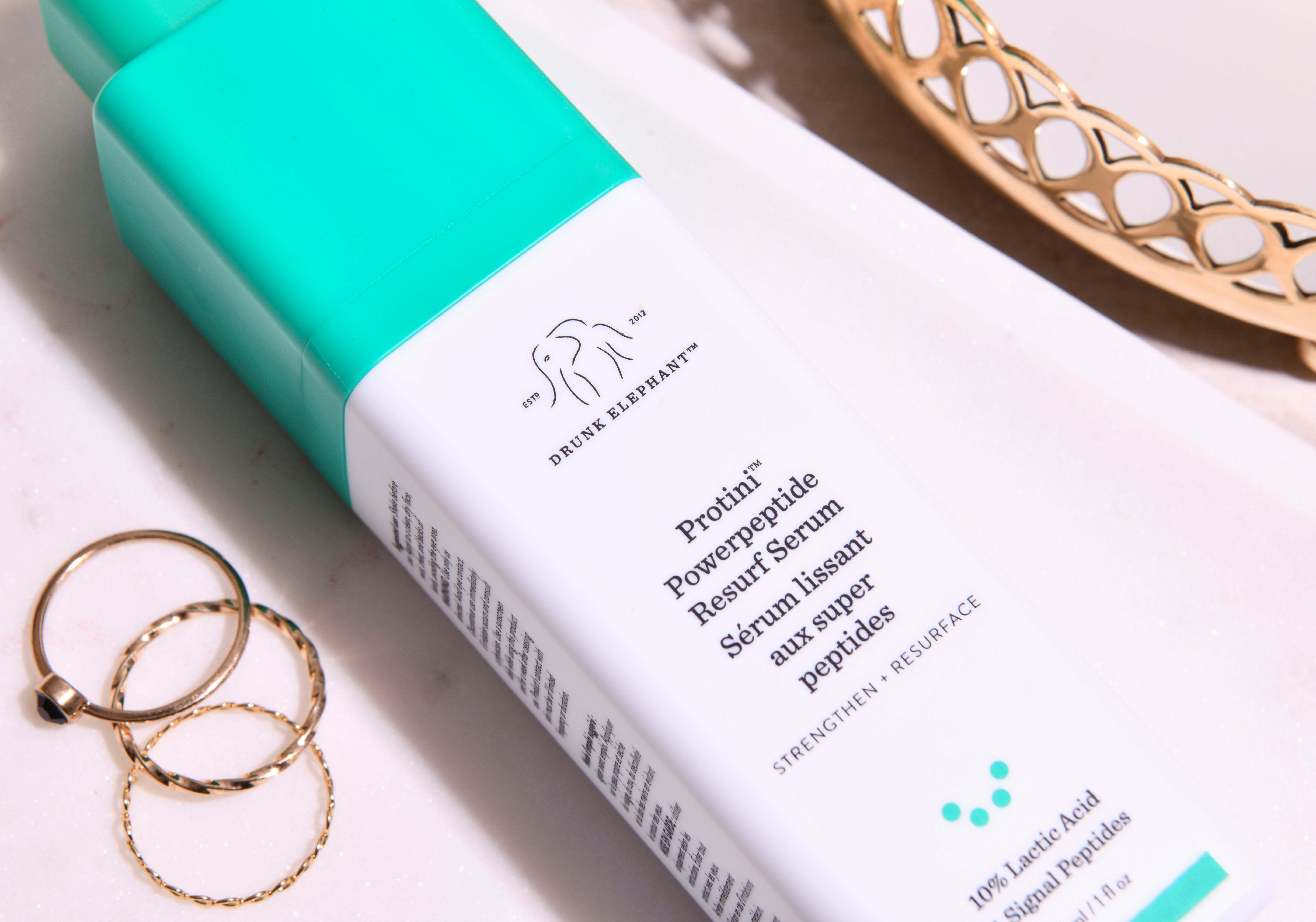 Ever since rumours started swirling that a new
Drunk Elephant skincare
launch was imminent, I've been inundated with questions. When word spread that it was called
Protini Powerpeptide Resurf Serum
– the first serum to launch since Drunk Elephant was founded in 2012 – the excitement was palpable.
Skincare fans and clean beauty devotees approached me with frenzied questions. What does it do? Will it work for my skin? Is it the perfect partner to the bestselling Protini Polypeptide Cream? I was lucky enough to get my hands on a pre-launch sample and have been quietly trying it for the past six weeks. Here's what I found out about Drunk Elephant Protini Powerpeptide Resurf Serum...
1. It's The Ultimate Multitasker
Drunk Elephant Protini Powerpeptide Resurf Serum smoothes, plumps and firms your skin. If you have dry or sensitive skin and find Drunk Elephant T.L.C. Sukari Babyfacial, £ 72,00 and Drunk Elephant T.L.C. Framboos Glycolic Night Serum, £ 78,00 a bit too potent, you'll love this formula as it uses lactic acid, which is a gentler alpha hydroxy acid (AHA). With Protini Powerpeptide's 10% lactic acid formulation, you still see a noticeable difference in how your skin looks and feels.
After a week of using two pumps every morning, my forehead felt much smoother and the pores on my cheeks looked less prominent. What I haven't experienced since adding it to my skincare routine is any dryness. This is partly due to the lactic acid, but also thanks to the blend of 11 peptides, hyaluronic acid and snow mushroom extract, which give your skin a plump, healthy glow.
3. It Pairs Perfectly With Your Other Drunk Elephant Faves
Drunk Elephant C-Firma Day Serum, £ 40,20 is one of our bestselling vitamin C serums and fans of it will be pleased to know that I've been using both as part of my morning routine. Packed full of antioxidants, including green tea seed oil and marula oil, Protini Powerpeptide Resurf Serum compliments C-Firma perfectly, supercharging the skin brightening results. If Drunk Elephant T.L.C. Framboos Glycolic Night Serum, £ 78,00 is already part of your weekly regimen, the new serum can be used on the evenings you don't use the glycolic-based formula.
Read More
• Drunk Elephant Ceramighty AF Eye Balm Review
• Drunk Elephant Babyfacial Review • Drunk Elephant C Firma Fresh Vitamin C Serum Review
• Drunk Elephant O-Bloos Rosi Drops Liquid Blush Review • Drunk Elephant Protini Polypeptide Cream Review