SPACE SESSIONS
Charlotte Giddeon-Powell On Finding Her Hair Space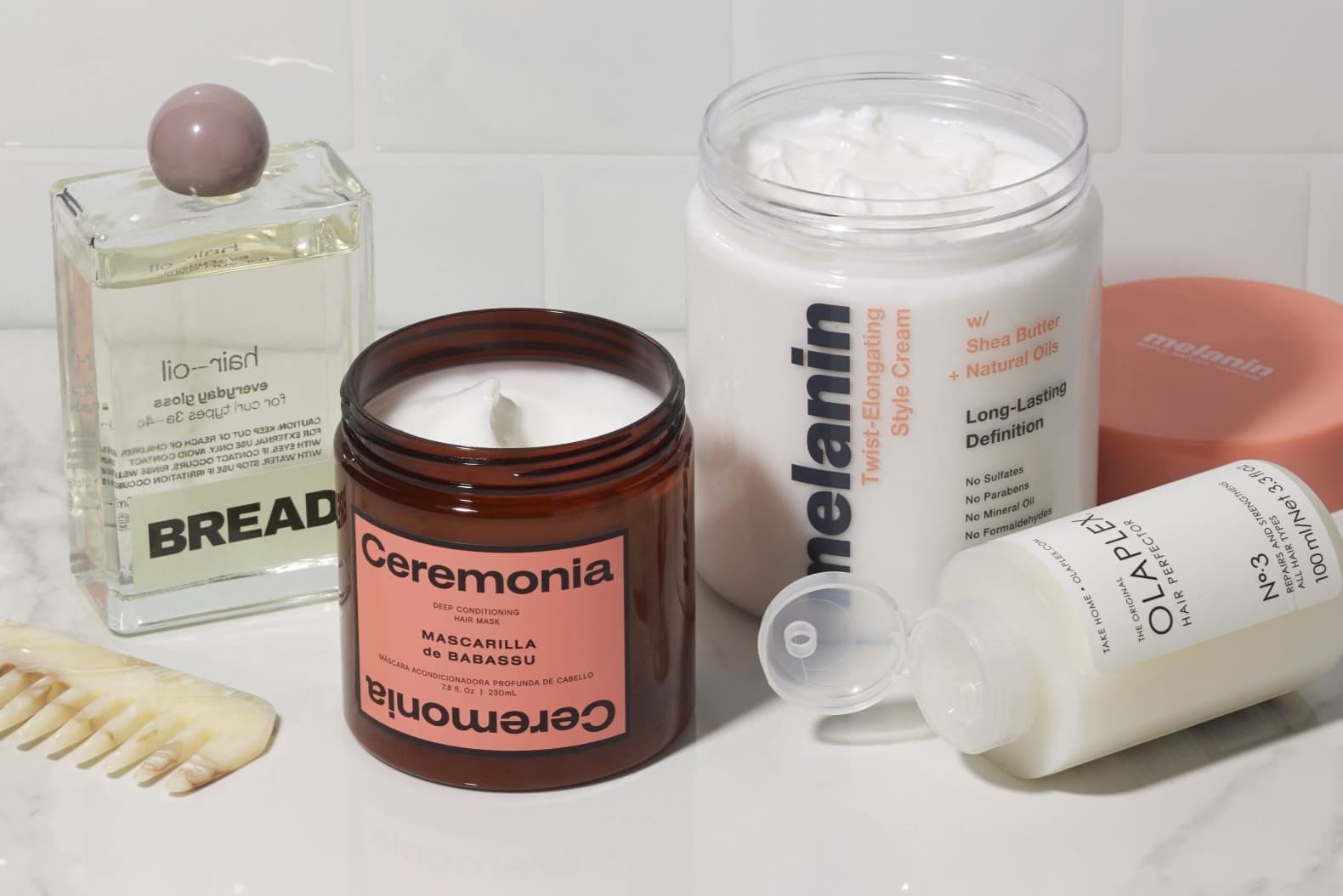 Curating your skincare or makeup space is relatively straightforward as it's easy to rinse off anything that doesn't look or feel right. Experimenting with haircare is another ball game entirely. It's far more effort to get back in the shower and wash out a conditioner that is too heavy for your hair or a texturising spray that leaves it feeling crunchy. Having spent a lot of time searching for the next in-demand haircare brand for Space NK as part of my role in the buying team, I'm all too aware of the hundreds of companies on the market.
I've also tried and tested a lot of brands and along the way I've found a handful of incredible ones to help cleanse and nourish my hair. I have a mixture of tight curls and coils with the tightest coils around my crown. Here is my hair space…
My Hair Routine
Every Sunday I wash my hair and more often than not I try to stick to the same routine. I start with and follow with a moisturising shampoo, such as Bread Beauty Supply Hair-Wash: Gentle Milky Hair Cleanser, £ 12,00. After this I use a scalp treatment; my currently love Briogeo Scalp Revival Charcoal + Tea Tree Cooling Hydration Scalp Mask, £ 30,00. It gives my scalp a deep cleanse and leaves it feeling clean and airy. While Briogeo's mask is doing its thing, I condition the rest of my hair – I am seriously enjoying Melanin Leave-in Conditioner, which can also be washed out.
Conditioning my hair is not a one-step process, so after rinsing out the conditioner, I use a deep conditioning formula. My favourite right now is Bread Beauty Supply Hair-Mask: Creamy Deep Conditioner, £ 14,00 – I leave this on while I do my Sunday chores. Once I'm done, I wash out the Bread conditioner and apply Ceremonia Guava Rescue Spray Leave-In Conditioner - it smells insane. The last two steps including combing through Melanin Curl Elongating Cream and then sealing in all the moisture with Bread Beauty Supply Hair-Oil: Everyday Gloss, £ 13,00 and letting my hair air dry.
My Fail-Safe Hair Fix
If I'm having a bad hair week, I will remedy it with a hot oil treatment the night before I wash it. Put some hair oil into a bottle and heat it up in a pot of water, then apply this to ends of your hair and scalp. It feels incredibly indulgent and works a treat. I then put on a shower cap and cover with a satin scarf before going to sleep. Try this and I promise you will wake up with the softest, most nourished hair. Wash out the oil and kickstart your usual wash day hair routine.
What I Look For In Hair Products
Ingredients are a huge factor for me when I'm shopping for new haircare or exploring a potential brand for Space NK. I really recommend approaching your hair routine like you do your skincare regimen. Hyaluronic acid can hydrate your locks like it does your skin, while salicylic acid can help decongest and rebalance your scalp. For my own haircare routine, I try to avoid sulphates and parabens.
The Trick You Should Employ (Regardless Of Your Hair Type
Whether you have curls and coils or straight, fine hair, my number one tip is to make time for a monthly detox. You would be amazed by how much product and pollution can build up in your scalp and hair. Using a deep cleansing shampoo, such as Living Proof PhD Triple Detox Shampoo, £ 27,00 is a great reset for your hair.
Read More
• Bread Beauty Supply's Founder's Haircare Routine
• The Skinification of Hair • Best Routine for Textured Hair
• A Guide to Hair Oils • How to Use Olaplex